Author R.J. Groves's new book, Save The Date, follows a wedding dress maker helping to plan a wedding. So we asked her for tips about having a wedding during the tumultuous and socially distant year that is 2020…
---
When seamstress Andie Gray from my new book, Save the Date, helps one of her clients find a wedding venue, she finds herself a lot more involved in the planning than anticipated, sometimes agreeing to things she'd never even considered for a wedding—and liking it.
While getting married now is a lot more difficult with COVID-19 restrictions, it doesn't mean you can't still share your day with your friends and family. It might not be the wedding you have always thought of having, but it can still be memorable. Here are some alternatives for a beautiful social-distancing wedding.
Note: remember to check up on your state's requirements and restrictions for weddings as they can change quite quickly and differ between states, especially in regards to attendance, food and drink restrictions, and whether or not dancing will be allowed.
Small Weddings
• Embrace outdoor weddings. Keep your gathering small and intimate, inviting only your nearest and dearest.
• Consider assigning ceremony seating to keep guests in their household bubbles. Get creative. Try using bench seating or antique and eclectic sofas and armchairs for a beautiful seating arrangement with an added flair—all while making the social distancing less awkward.
• Create a Spotify playlist instead of using a band. You'll be able to have a couple of extra friends or family members attend.
• If dancing is allowed, consider a dance-off between individuals instead of crowding the dancefloor.
• Have wedding-themed masks custom made with your initials and the date for your guests—they'll also serve as keepsakes. Consider gifting your guests their own pocket-sized hand sanitiser to use as well.
Virtual Weddings
• Instead of having a party, livestream and record your ceremony and ask your virtual guests to dress up and share photos of them helping celebrate your special day. Your virtual guests can tap into the party by playing your Spotify playlist at home.
• Create a digital guestbook where people can leave their congratulations and words of wisdom. There are a number of apps and websites you can use for this.
• Create an online gift registry and ask guests who want to give you a gift to have it delivered to your home.
Food and Drink
• Cupcake wedding cakes are perfect for sharing without the need for double handling. Have the cupcakes delivered to your guests at their table, and potentially to local virtual guests at their homes.
• Instead of buffets, serve plated meals. And instead of canapes, try individual gift boxes with a selection of treats.
• Depending on your state's drink restrictions, BYO drinks could also be an option.
Socially Distancing Themed Weddings
• Try something unique and different and have a drive-in theatre themed ceremony. Everyone can be safely socially distancing in their cars and still help you celebrate your perfect day. Depending on what you choose, your guests may be able to tune into the right radio frequency for your wedding or livestream the sound into their cars while watching the ceremony live.
• Go old-fashioned with a dress theme of big ballroom gowns—the bigger, the better—to help add some distance between your guests and discourage the scandalous physical contact.
Perhaps a wedding during COVID-19 times is exactly the kind of happiness and positivity we all need.
---
R.J. Groves
Australian author R.J. Groves has been passionate about writing since she could put pen to paper and can usually be found jotting plots and stories down on anything she can get her hands on. Describing herself as a mum, wife, author, and coffee lover, her other passions include music, cooking, books, adventures, and searching for plot bunnies in even the most mundane activities.
Find her on Facebook, Twitter and Instagram.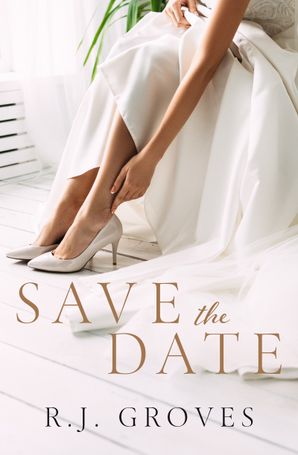 One dressmaker. One billionaire. Two broken hearts. How long could it last?
Darlington Vineyard is the perfect wedding venue, and Andie Gray has always made sure she had a date booked, with or without a fiance. Her dreams come true when she lands the perfect man to go with the perfect venue, but then she discovers he's not who she thought he was. All of a sudden love and fairy tales no longer make sense, leaving her questioning everything about her life…
Taylor Ballin knows what he wants, and love isn't it. He's been burned before, and it won't happen again. How was he to know that offering to pay for his sister's wedding would bring bridal seamstress Andie Gray, with her maddening allure, into his world and tear down the walls he'd built around his heart?
She's the kind of woman he's spent ten years avoiding, and he's everything her ex is. But the pull between them is unavoidable and neither of them can fight it. Perhaps a no-strings-attached kind of deal is exactly what they both need.
Or is it the one thing they should avoid?