Farmer Wants a Wife has been announced for 2022, and the cast have been released. With no official start date yet, we asked FWAW super-fan and author Stella Quinn to tell us what's she's most excited to see from the new season.
1) Farmer Paige
Australia's first lady! On Farmer Wants a Wife, that is. I cannot wait to see how this unravels on screen. Move over, all those montages of chicks zhoozhing themselves before their 'special dinner' … watching how the guys compete will be Very Interesting Indeed.
Paige is from Cassilis, NSW, which I have had to locate on a map (351 km northwest of Sydney, for those interested) and it is gorgeous. Sandstone buildings dating back to 1858, a pub built in 1869, a rich indigenous history with cave art from the Wiradjuri people, and surrounded by the Munmurra and Goulburn Rivers … does this sound like the perfect setting for a rural romance? I think so! Maybe it will turn out that way for Paige.
Fun fact: the population of Cassilis in the last census was 304. Factoring in kids and already-loved-up couples and old blokes holding up the bar talking about footrot and flystrike, that doesn't leave a lot of talent in the single bloke department. No wonder Paige has turned to reality TV to help her round up a partner.
2) The Victorian Blokes
We have a five-bloke line-up in 2022, and the Victorians are crowding out the other states and territories.
Farmer James's cover photo in Channel Seven's online spruiking shows a big fella in an ironed plaid number who describes himself as 'a gentle giant'. If camping and fishing and hanging with his dog (Chief) sounds like your idea of fun, then you'll be keen to see how his potential wives handle life in Tarnook, Victoria. James comes across as a total sweetheart in his farmer-seeks-wife resume: 'bonus points if they can drive a tractor'.
Farmer Harry is 23 and another Victorian, this time from Kyabram. Call me cynical (heck, call me 50+) but 23? I just googled male brains on the internet (so my research methodology is foolproof) and according to medicaldaily.com the male brain doesn't fully develop until age 25. I'm sure there are exceptions. I'm sure reality TV isn't the place to find one. What does Harry have to say for himself? His farmer-seeks-wife resume mentions the phrase 'catching up with mates on the weekend' twice – possibly a negative – but he says he loves watching McLeod's Daughters – a huge positive! Okay, Harry, maybe you have earned your spot here.
We'll round out the Victorian blokes with Farmer Will from Berriwillock. Farmer Will is a bit of a hottie if his Channel Seven promo shot is true to life. His resume is a little bland – his response to 'what is the most interesting thing about you' is 'what I have learnt from my study, work and personal experiences' – but let's not hold this against him. Will may be one of those farmers who you come to know as the episodes unfold. His resume may make it difficult for 'wife' candidates to get a feel for who he really is, IMO … which could end well, or not. Let's watch and find out!
3) The NSW Blokes
Seriously, are there no farms in Queensland? Tassie? The acronym states: NT, WA, ACT? Maybe this is a budget decision for Channel Seven, because all the contestants are from NSW or Victoria.
Let's meet Farmer Benjamin. Off the bat, I'm wondering at that three-syllabled name. Ben, Benny, Benjo, sure. Benjamin? I'm wondering if this farmer is not the stereotypical ocker, and then I read his farmer-needs-wife resume and I became sure: 'I would describe myself as an agricultural enthusiast with a penchant (uh-huh, yes, he said penchant) for the "creative"'. Okay!! I am so on board with Farmer Benjamin. Let's see what else he's bringing to Farmer Wants a Wife 2022 … and oh! … he's bringing a personality and a way with words (and the secret to where in the house he keeps his nuclear missile codes!). Reading his resume is like having a conversation. The wife contestants have been given some good clues here and I think I may have found my fave.
Which brings us to Farmer Ben. (Maybe this is the reason for the three syllables above! Two NSW contestants and they both have the same name.) Ben is from Wingham. He describes himself as a larrikin and a genuine guy who wears his heart on his sleeve (aww) and he has a man crush on Mark Wahlberg. Don't worry, Ben … we all do. Ben is also a dad to a three-year-old, and where he'd like to be in five years' time is married to the love of his life.
Wouldn't we all, Ben. Well said.
Farmer Wants a Wife 2022 is still accepting wife candidates, so the filming can't have started yet. Get your applications in, wives (and husbands) if you're interested, just pop on over to https://farmerwantsawife.com.au/. When the show goes to air, I'll be glued to my screen.
No one loves a farmer-meets-wife story more than Stella Quinn. Author of rural romance The Vet from Snowy River, Stella's upcoming release A Town Like Clarence is all about a macadamia farmer in northern New South Wales finding a trespasser in his old shed who has not filled in a 'wants to be a wife' resume. It takes both of them some time, and lots of drama and fun and complications, to work out that they are headed towards their own happy ever after.
---
ABOUT THE AUTHOR: Stella Quinn
Stella Quinn has had a love affair with books since she first discovered the alphabet. She lives in sunny Queensland now, but has lived in England, Hong Kong and Papua New Guinea. Boarding school in a Queensland country town left Stella with a love of small towns and heritage buildings (and a fear of chenille bedspreads and meatloaf!) and that is why she loves writing rural romance. Stella is a keen scrabble player, she's very partial to her four kids and anything with four furry feet, and she is a mediocre grower of orchids. An active member of Romance Writers of Australia, Stella has won their Emerald, Sapphire and Valerie Parv Awards, and finaled in their R*BY Romantic Book of the Year award.
Stella's next book is out in July!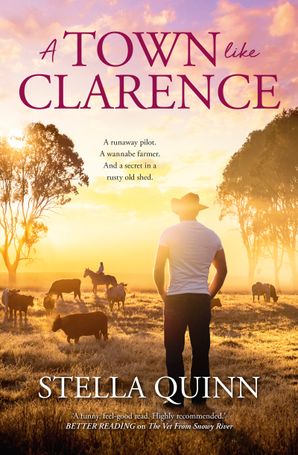 When Kirsty Fox goes on the run to escape a crash-and-burn at work, she finds a family she didn't know she needed… A witty and warm rural romance perfect for readers of Rachael Johns and Alissa Callen.
They say a change is as good as a holiday. Joey Miles is hoping so after leaving the city behind, his stockbroking career in flames, to embrace a brand-new challenge: farming. But while returning to his hometown somehow feels right, he's got a long way to go to get back on his feet financially and the last thing he needs is the townsfolk meddling in his love life (or lack thereof).
To the townsfolk of Clarence, Joey has always been the ultimate tragic romantic hero – and it's time this hero had a happy ever after…
But Kirsty Fox is only in Clarence to dig up information about a World War II figure from her family's past – she has no intention of sticking around and finding out if Joey is as adorable as he seems. Kirsty doesn't stick around. Ever.
But when the locals of Clarence spy the chemistry between these two, a secret item gets added to the agenda of the next town committee meeting: matchmaking. This warm-hearted community will pull every trick in the book to show Joey and Kirsty everything they've unwittingly been searching for is right under their noses… What could possibly go wrong?
Chicken wrangling, an adorable kid niece, a secret in a cow shed and a big-hearted town full of meddlesome wannabe poets… This new romance from Australian author Stella Quinn is a knockout.