Author Stella Quinn on her "must love dogs' review of vets on TV
Adorable heroes can be hard to find – in life and in fiction. Broody alpha heroes and arrogant lairds have earned their place in romance, of course, but what if you're in the mood for a hero who's nice?
I know, I know … I can hear the English teachers from my long-ago schooling years saying, 'Stella! There are better adjectives in this world than nice.'
But sometimes, nice is where the romance is at. Nice, kind, empathetic, sunny, fun … these are the attributes of an adorable hero and, in my opinion, vets are as nice as a hero can get. Why? Because they show us they understand what love is every time they treat an animal in their care.
Take Josh in The Vet from Snowy River as an example. Great with kids and animals, and funny and loving to his sister and the people of Hanrahan. Sure, he's got problems. His daughter's ghosting him and someone's trying to drive his vet practice out of business … and the woman he's set his heart on won't come out from her commercial kitchen long enough to give him the time of day … but he doesn't let disappointment and difficulty get in the way of being a kind-eyed, smokin' hot charmer who rescues goldfish and abandoned puppies.
He's not alone, either. Snap your pet on a lead and come on a journey with me into some of my favourite vet clinics (and vets) from television.
Ted from Schitt's Creek
Ted the vet from Schitt's Creek is goofy, funny, and unlucky in love. He's a favourite with the fans of this show despite (or because of?) possibly the cheesiest puns you'll hear. One fan left this homage under an online video which says it all: 'My type of man. Please universe I want a Ted.'
Dr Chris Brown the Bondi Vet
We can't talk about vets—especially hot ones—without mentioning Australia's favourite Bondi vet, Dr Chris Brown. Could a jaw be more chiselled? Eyes more twinkly? Hair more artfully tousled? Whether it's rescuing a python from the fake stone egg it has swallowed, to wrangling nine meerkats into a pet crate, Dr Chris is ready to win the animals (and their owners) over with patience and charm.
Dave from McLeod's Daughters
And if you like your vets in moleskins with dusty boots and an old felt hat worn low over their sun-bronzed brow, then you're going to enjoy this throwback to Dave the vet from McLeod's Daughters. Dave had a few romantic plotlines on the go, complicated by grief and a few absences from the long-running series, but he won plenty of hearts while he was there. For a hilarious example of a) Dave Brewer's adorableness and b) our obsession with fancy ways to stitch photos together into a slideshow back in 2008, check out this fan-made tribute. Sweeeeeet.
Scott from Heartland
I have to confess to being a Heartland bingewatcher. The horses, the snow on those Canadian mountain peaks, the porch swing are just what I like to watch—for hours—when time permits. (I could do without the moustache on Grandpa Jack, though; that thing could have its own Instagram account.) I particularly love Scott the vet on Heartland. He's the calm one in a crisis, a stoic and reliable sort who pushed through his own difficult upbringing to carve a career for himself. He has to cope with an unrequited love arc between him and Lou, which I'm okay with, because Lou is a little too high maintenance in my opinion.
Vicky from A Country Practice
One of my favourite vet heroes on the small screen was Vicky the vet on A Country Practice, played by the wonderful actress Penny Cook, who passed away in 2018 at the far-too-young age of 61. This series went for thirteen years, right through the eighties. The clip below is from the final show airing and you can see Penny at about the 34th second. Those of us of a certain age will, I am sure, be unable to listen to the music without clutching our hands to our hearts. Vicky the vet's wedding to Dr Simon Bowen (co-star Grant Dodwell) was one of the biggest episodes in the show's history.
James from All Creatures Great and Small
We can't finish our nostalgic walk through the vet clinics of television without remembering the original adorable vet: James from All Creatures Great and Small, played by Christopher Timothy from 1978 to 1990. Surely this series was what prompted hundreds of young people to aspire to careers with animals?
And in case remakes are your cup of tea, Season One of the 2020 remake of All Creatures Great and Small is available – and this one does look delicious: steam trains huffing through Yorkshire countryside and twin-sets worn with tweed skirts. Now, if only I knew which streaming service I could binge it on …
Vets make wonderful heroes – both on television and in romance fiction. Have you got a favourite vet?
---
About the author: Stella Quinn
Stella Quinn has had a love affair with books since she first discovered the alphabet. She lives in sunny Queensland now, but has lived in England, Hong Kong and Papua New Guinea. Boarding school in a Queensland country town left Stella with a love of small towns and heritage buildings (and a fear of chenille bedspreads and meatloaf!) and that is why she loves writing rural romance. Stella is a keen scrabble player, she's very partial to her four kids and anything with four furry feet, and she is a mediocre grower of orchids. An active member of Romance Writers of Australia, Stella has won their Emerald, Sapphire and Valerie Parv Awards, and finaled in their R*BY Romantic Book of the Year award.
You can find and follow Stella Quinn via her website.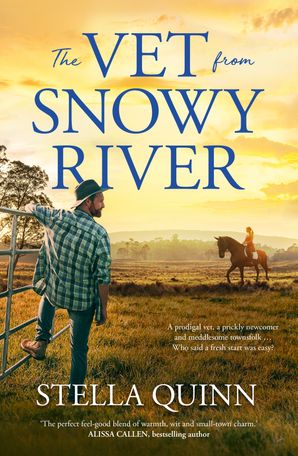 A hot vet. A rebellious teenager. And meddling but well-meaning townsfolk. Vera gets more than she bargains for when she runs off to a new life in the country … A fresh and funny rural romance, perfect for readers of Alissa Callen and Rachael Johns.
Vera De Rossi no longer believes in love …
And thanks to her ex-boyfriend­ she's also broke, jobless, and staring down the barrel of a court case that could land her in prison. Turning to her talent for baking, Vera opens a cafe in Hanrahan, a cosy tourist town in the foothills of the Snowy Mountains.
Josh Cody, once Hanrahan's golden boy, escaped sixteen years ago with gossip hard on his heels and a pregnant girlfriend in tow. Now he's back: a qualified veterinarian – and a single dad with a lot to prove. A new start and a grumpy teenage daughter … it's a lot to juggle, and there's no room in his life for further complications. But that's before he walks into The Billy Button Cafe and meets its prickly owner …
Reeling from the past, Vera has no intention of being sidetracked by the hot vet with a killer smile. But fate has a way of tripping up our best intentions and between a stray cat and a busybody with a heart of gold, this is a town – a family – unlike any other. And, whether Vera wants it or not, is there anything a family won't do to help one of its own?
PRAISE:
'The perfect feel-good blend of warmth, wit and small town charm. This debut will leave you smiling.' Alissa Callen bestselling author of Snowy Mountains Daughter