Ahead of Virgin River season 3 dropping on Netflix this Friday we asked author Stella Quinn to recap the four biggest cliffhangers Season 2 left us with.
---
Virgin River. Smell the clean forest air, listen to the icy river rushing along the rocky shores of the small town, gossip along with the regulars at Jack's Bar & Grill … this is comfort viewing at its best, isn't it?
Isn't it?
Well, it would be, if those devious screen writers hadn't built up the joy level then left us biting our nails over four – that's right four! – cliffhangers at the end of S2. Let's not muck around, VR fans … let's peek over the edge of the cliff.
Cliffhanger #1: Brady and the druglord
Bad Boy Brady has been crashing through the forest all the way down to rock bottom in S2, and in S2E10 we go from the low – a creepy scene where he is driving Mel to view Spencer's grave, and Mel wonders if she will be the next victim – to a hope-filled high. Brady isn't just a murderous muscleman for the druglord! He's risked his neck and saved Spencer's family! Yay!
But then the cop from out of town calls. Drug busts are coming. A huge racket has been exposed. Brady's got a warrant out for his arrest … and CUT! End scene.
Cliffhanger #2: Doc, interrupted
Doc and Hope have been squabbling like squirrels over the last nut of summer since S1E1. Doc can get away with this because he's a total silver fox and he helps the vulnerable people in the camp and because we all love him from his (weirdly similar) role in Hart of Dixie. It's harder to forgive Hope her squabbles, because she's a little arch. A little full of herself. But we're happy for them, aren't we? The avaricious Muriel has been dispatched on a cruise in her twinset and pearls, Hope's finally restored her relations with Jack, and even the craft ladies have been silenced by the twinkliness of her new engagement ring.
It's coming up roses for them, isn't it?
Um, no. After a kissy morning of burnt toast and wedding plans, they each return home that evening after a full day but Doc has news.
Bad news.
"You're scaring me," says Hope, but just as Doc is about to reveal what his health crisis is, the townsfolk interrupt him with a surprise engagement party. Hope's eyes meet Doc's for one charged moment … and CUT! End scene.
Cliffhanger #3: A preacher, a runaway and a dead cop's twin walk into a bar
Sounds like the start of a joke, doesn't it? Only nothing's funny about what's going on in Preacher's life. First, he finds the lady he's stuck on has a past – a bad past – and he ends up dumping a dead body in the woods for her. She skips town, he's wracked with guilt, but maybe some sunshine is headed his way … a food critic heads into town and raves about his cooking. She offers him a job! And then he finds out the dead guy was a crooked cop and the local sheriff isn't too fussed about investigating that abandoned car! Finally, some of the pressure is going to be off Preach, right?
Wrong. First, Preach offers to help Jack with his money problems, but he's brushed off. Maybe he will take that job offer and leave Virgin River for good. There's no reason to stay is there? Not now with Paige gone.
But then the dead cop's twin turns up. And this dude's also a cop. And also a crook. And now Paige's kid needs someone to protect him … and CUT! End scene.
Cliffhanger #4: Jack just got shot
Jack and Mel have been through the wringer: the ex-girlfriend, the twin babies, Jack's fear that Brady has become a druglord's murderous muscle and killed young dad Spencer, the spectre of Mel's dead husband … but finally, by the end of S2, they're under the quilt while the soundtrack gets all symphonic and all is wonderful.
Only it isn't.
Because when Jack rolls out from under the quilt to rustle up some food from his place and doesn't return, Mel goes looking for him.
The bar is dimly lit. Chairs are overturned. She rounds the corner of the bar and sees on the floor – oh god – it's Jack. The bullet wound is critical, he's barely conscious, we get one last glimmer from those blue, blue eyes … and CUT! End scene.
But Stella! How can we bear not knowing how these stories end?
Luckily, S3 drops on July 9, and to whet your appetite just a smidge more, and the trailer for it looks epic. Stella's hot tip to get totally in the zone before then? Listen to the Virgin River soundtrack: it'll be like it's you in that red BMW – your life a mess but your boots totally awesome – parking your car outside Jack's Bar and heading in for a whiskey but finding a friend instead.
---
ABOUT THE AUTHOR: Stella Quinn
Stella Quinn has had a love affair with books since she first discovered the alphabet. She lives in sunny Queensland now, but has lived in England, Hong Kong and Papua New Guinea. Boarding school in a Queensland country town left Stella with a love of small towns and heritage buildings (and a fear of chenille bedspreads and meatloaf!) and that is why she loves writing rural romance. Stella is a keen scrabble player, she's very partial to her four kids and anything with four furry feet, and she is a mediocre grower of orchids. An active member of Romance Writers of Australia, Stella has won their Emerald, Sapphire and Valerie Parv Awards, and finaled in their R*BY Romantic Book of the Year award.
You can find and follow Stella Quinn via her website.
Check out Stella's debut book, the perfect read for fans of Virgin River!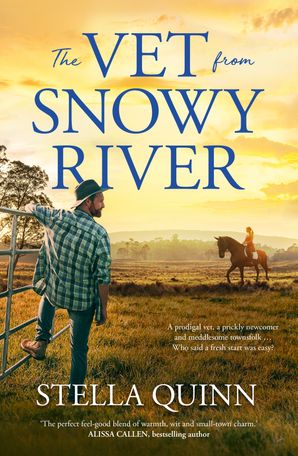 A hot vet. A rebellious teenager. And meddling but well-meaning townsfolk. Vera gets more than she bargains for when she runs off to a new life in the country … A fresh and funny rural romance, perfect for readers of Alissa Callen and Rachael Johns.
Vera De Rossi no longer believes in love …
And thanks to her ex-boyfriend­ she's also broke, jobless, and staring down the barrel of a court case that could land her in prison. Turning to her talent for baking, Vera opens a cafe in Hanrahan, a cosy tourist town in the foothills of the Snowy Mountains.
Josh Cody, once Hanrahan's golden boy, escaped sixteen years ago with gossip hard on his heels and a pregnant girlfriend in tow. Now he's back: a qualified veterinarian – and a single dad with a lot to prove. A new start and a grumpy teenage daughter … it's a lot to juggle, and there's no room in his life for further complications. But that's before he walks into The Billy Button Cafe and meets its prickly owner …
Reeling from the past, Vera has no intention of being sidetracked by the hot vet with a killer smile. But fate has a way of tripping up our best intentions and between a stray cat and a busybody with a heart of gold, this is a town – a family – unlike any other. And, whether Vera wants it or not, is there anything a family won't do to help one of its own?
PRAISE:
'The perfect feel-good blend of warmth, wit and small-town charm. This debut will leave you smiling.' Alissa Callen bestselling author of Snowy Mountains Daughter