Cinderella is perhaps one of the most famous romance stories of all time. Could ANYTHING be more classic than this rags-to-riches tale of a glass slippers, magic pumpkin coaches, fairy godmother's and (of course) a handsome Prince Charming? Since Mills & Boon is this month basing their Modern stories on iconic fairy tales our Romance.com.au writers Johanna and Eloise thought they'd take a look at ALL the adaptations of Cinderella on film and figure out which one is the best.
Eloise: Ok, caveat, we were going to watch them all… but there are SO MANY. So we watched the 10 most iconic versions and had a WILD time. We've assigned very "objective" scores to each movie to reflect our overall thoughts…
Disney's Cinderella (1950)
When Cinderella's cruel stepmother prevents her from attending the Royal Ball, she gets some unexpected help from the lovable mice Gus and Jaq, and from her Fairy Godmother.
Johanna: Given this is the original to compare all other Cinderella stories to, I feel like I should be giving it full points. But I'm just not really feeling it. It's quite slow and the mice are honestly just annoying. Full disclosure, I was more a Beauty girl (Sleeping or Beast, I don't mind), so I don't have as much of that nostalgic loyalty to this movie.
6/10
Eloise: DISAGREE this movie is BEAUTIFUL with classic Disney animation and a serious BOP with 'Bibbidi-bobbidi-boo'. Also I totally forgot the thematic focus on the importance of dreaming 'a dream is a wish your heart makes'…. But do have to agree the mice are V annoying (does anyone else side with the cat here?). Also points off for such a placid heroine. It's VERY fifties.
7.5/10
Cinderella (1957)
Although mistreated by her cruel Stepmother (Ilka Chase) and stepsisters Portia (Kaye Ballard) and Joy (Alice Ghostley), Cinderella (Dame Julie Andrews) is able to attend the royal ball through the help of a Fairy Godmother (Edie Adams).
Johanna: Julie Andrews is, and always has been, a queen. Whoever cast her as Cinderella was a genius. A black and white dream, this movie is all class, and honestly requires no more words.
8/10
Eloise: I love love love the Rodgers and Hammerstein musical so I DIED when I found out there was a movie version starring musical QUEEN Julie Andrews. This movie is a delight and needs to come back onto our screens.
8/10
P.S. If nothing else, listen to 'Impossible' – it's such a gorgeous synthesising of the main themes of Cinderella: that there is beauty in wonder and value in dreams.
Cinderfella (1960)
This was Jerry Lewis' answer to the classic Cinderella story. When his father dies, poor Cinderfella (Jerry Lewis) Fella is left at the mercy of his snobbish stepmother (Dame Judith Anderson) and her two no-good sons, Maximilian (Henry Silva) and Rupert (Robert Hutton). As he slaves away for his nasty stepfamily, Maximilian and Rupert attempt to find a treasure Cinderfella's father has supposedly hidden on the estate. Meanwhile, hoping to restore her dwindling fortunes, the stepmother plans a fancy ball in honor of the visiting Princess Charming (Anna Maria Alberghetti) who she hopes will marry Rupert. Eventually, Cinderfella's Fairy Godfather (Ed Wynn) shows up to convince him that he has a shot at winning the Princess.
Eloise: It's a fun twist. But is it good? No.
2/10
P.S. Maybe re-make a gender-swapped Cinderella with a modern cast (and script/attitudes to sexism). Starring Ben Platt as Fella and Henry Golding as Prince Charming.
Johanna: This gender-swapped Cinderella comedy is a huge throwback for all the Jerry Lewis fans. Fella is just an ordinary guy who is chosen to fall in love with Princess Charming to settle the score for all the unhappy husbands who feel second best to the Prince Charmings their wives have always dreamt of marrying. If you dig under some (many) layers of sexism, the idea that fairy tales set unrealistic expectations, and that men and women should both be happy with each other as they are, are actually quite sweet messages.
4/10
Cinderella (1997)
Although mistreated by her cruel stepmother and stepsisters, Cinderella is able to attend the royal ball through the help of a fairy godmother.
Eloise: As mentioned before I LOVE the Broadway musical version of Cinderella. And this is a delightful RnB update on the classic tunes. Yes it is VERY nineties. Brandy's eyebrows are sooo plucked. The costumes are very plastic. George from Seinfeld is there…playing George from Seinfeld. But I have a special place in my heart for this movie. It's just so damned fun!
7.5/10
Johanna: Okay, VERY nineties vibes, and a little odd, but it has a great cast, and is super diverse (deliberately so), with some important messaging about being yourself and chasing your dreams. If you're going on a Cinderella binge, I'd recommend watching the Julie Andrews one first, and follow up with this one as a fresh take on Rodgers and Hammerstein's original music.
7/10
Ever After (1998)
The Brothers Grimm arrive at the home of a wealthy Grande Dame who speaks of the many legends surrounding the fable of the cinder girl before telling the "true" story of her ancestor.
Eloise: Literally one of my favourite movies. A strong independent and fierce Danielle, a weak-willed petulant prince, ANGELICA HUSTON as the fiercest most evil of all evil stepmothers. LEONARDO DA VINCI *dies*
But seriously, director Andy Tennant made Ever After as a feminist version of Cinderella for his own daughters to watch, and he created a series of complex female characters, especially the strong-willed Danielle, as a heroine for his kids to look up to. And I love that.
10/10
Johanna: I used to have this movie taped on VHS, and I LOVED it, so I was a little worried that it wouldn't live up to my memory.
It did. Danielle is kind, opinionated, beautiful, political, generous, intelligent, and not afraid to rescue herself. The step family are whole, complex women with their own desires and motives. And Danielle and Henry actually spend enough time together to fall in love. I don't know if I believe in soulmates but Danielle is 100% Henry's match.
10/10
A Cinderella Story (2004)
Routinely exploited by her wicked stepmother, the downtrodden Samantha Montgomery is excited about the prospect of meeting her Internet beau at the school's Halloween dance.
Eloise: The movie of my teen dreams. Hilary Duff. Chad Michael Murray. An iconic kiss scene in the rain. It's Cinderella with a modern teen-twist – and inverts the story. Yes, Cinderella gets her prince, but she also gets into college AND rights the wrongs of her step mother's nefarious deeds. ALSO Regina King plays the fairy godmother. ICONIC. Extra points for the flip phone as an ankle accessory.
8.5/10
Johanna: Yes, this. Hilary Duff. Chad Michael Murray. I might be a little biased – the scene of Sam and Austin dancing under the gazebo was my 2005 desktop background – but this movie is everything. It has all the Cinderella elements with a healthy dash of teen angst, and Sam is so much more than a maiden in need of rescuing. She has goals and dreams beyond falling in love, Austin is just a nice added bonus to a happy for now ending.
9/10
** ICONIC **
Ella Enchanted (2004)
Ella is under a spell to be constantly obedient, a fact she must hide from her new stepfamily in order to protect the prince of the land, her friend for whom she's falling.
Johanna: What a weird mix of medieval and modern…but it works. I love that this is Cinderella with a twist, where Ella has a legitimate reason for being a doormat in that she literally has no choice, and that she doesn't let that stop her being a strong, independent woman. And again, our Prince Charming and Cinderella actually have substance to their relationship beyond meeting a mystery girl at the ball. Personally, the main downside to this movie is the unnecessary musical numbers.
8/10
Eloise: Ok rude. I love the dance numbers – especially the one where Anne Hathaway rips off the skirt of her wedding dress to reveal a teeny skort for a post-wedding musical rendition of 'Don't Go Breaking My Heart'.
Although I do agree, the inversion of the plot where Ella has no choice but to follow the orders of her Stepfamily, and still actively rebels against them, is a fantastically modern twist. The romance is super cute too (UM Hugh Dancy OMG *does small dance of appreciation for Hugh Dancy*).
9/10
Into the Woods (2014)
A witch tasks a childless baker and his wife with procuring magical items from classic fairy tales to reverse the curse put on their family tree.
Johanna: Points for commitment to the old fairy tale versions from Perrault and the Brothers Grimm (sorry stepsisters). But if we're rating them based on their Cinderella-ness, then this movie was never going to come out on top. Even forgetting the fact that Cinderella's story is only a small part of the plot, Prince Charming is an absolute schmuck who cheats on his new bride.
2/10 on the Cinderella scale but 8/10 for being a damn good movie.
Eloise: It's a wonderfully macabre take on Cinderella, which I STAN hard (I was definitely more of a Grimm Fairytale child). The costumes are lavish, the music is fun. Extra points for Chris Pine as the Prince singing 'Agony'. If you want to watch a Cinderella-y Cinderella then perhaps move along… if you want a deliciously wicked and darkly sardonic musical that riffs on the idea of 'be careful what you wish for' then this is for you!
9/10 movie points, 5/10 Cinderella points.
100/10 points for the Agony scene.
Cinderella (2015)
When her father unexpectedly dies, young Ella finds herself at the mercy of her cruel stepmother and her scheming stepsisters. Never one to give up hope, Ella's fortunes begin to change after meeting a dashing stranger.
Eloise: This version is very pretty. Cate Blanchett is GLORIOUS as an ice-cold 1940s glamour stepmother. Richard Madden has very pretty eyes. But I was unmoved.
6/10
Johanna: A beautiful adaption of the original Disney Cinderella, but it doesn't attempt to do much more than that. I like that the prince isn't afraid to cry over his dying father and I love Ella's ballgown, what a sparkly dream. It might be sickly sweet, but at least Ella and Kit's relationship goes beyond one night at the ball.
7/10
A Cinderella Story: Christmas Wish (2019)
Despite her vain stepmother and mean stepsisters, an aspiring singer works as an elf at a Christmas tree lot and finds her own holiday miracle.
Johanna: This move is A LOT. Cinderella retelling, Christmas story, musical. Honestly I have so many questions. Couldn't they find any actors who could actually sing? Do her pink hair and pointy ears change her appearance that much? Extra points for Mr Wintergarden being an actual sweetheart.
3/10
Eloise: What did I just watch? Is it Cinderella? Is it A Star Is Born? Is it A Christmas Prince? I was just confused. And bored.
1/10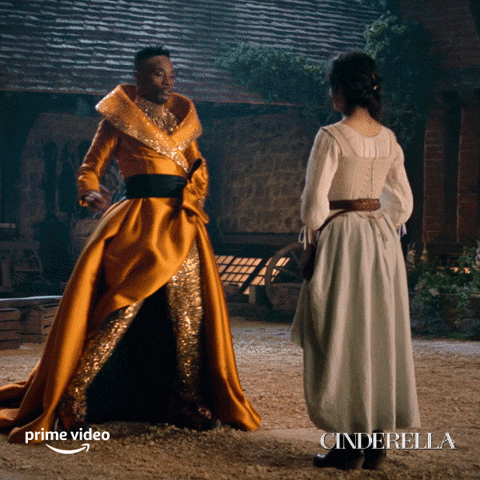 Eloise: #GirlBoss Cinderella was released on Amazon Prime last year and it was… fine. The story focused more on Cinderella as a career woman, which was a more empowering message than prior adaptations of the tale, and a solid plus! However the movie itself fell a bit flat. Also who let Pierce Brosnan sing? AGAIN?
10/10 Girlboss energy
5/10 movie
Do you have a favourite version of Cinderella? Do you agree with our list? Let us know in the comments… and while you're in the mood why not check out some Cinderella-inspired books?