Author Kaneana May, our official Bachelor recapper, returned to tell us all her thoughts about this tumultuous finale!
---
Have we recovered after the last few episodes? There are a few things we need to touch on:
Elly leaving was a shock, right? But if there's one rule about Bach Club, it's don't talk about other girls on Bach Club. Once you bitch it's only episodes until you're shown the ditch.
Helena's freak-out about Matt not remembering their red carpet 'meet-cute' on her hometown date provided some good drama. She decided she was leaving. Staying. Leaving. Staying… Yep. It was a rollercoaster. She did give my book The One a good plug though: 'I definitely don't think I'm The One'… and then '…and I just had this gut feeling that I'm just definitely not The One here'.
At least Helena was honest through this ridiculous process and keeps it real (for me it's like "after three years I'm not gonna be like, 'I love you.'") https://t.co/7HKrp1cq1h

— Tahlia Pritchard (@Tahls) September 19, 2019
Then there was Abbie and her 'humping'. She told Matt and all the crew and viewers across Australia, 'I want to have sex … I'm so horny …' PG timeslot, Abbie. PG timeslot.
We don't even deserve Abbie at this stage #TheBachelorAU pic.twitter.com/gg9XqQcgvV

— Tahlia Pritchard (@Tahls) September 18, 2019
Okay, so it's finale night. We get a hefty preview of what's coming within the episode … and then it kicks off with Matt catching a flight to Africa and drinking champagne. Is he really the kind of guy who drinks champagne when he's by himself? I mean, I don't want to be stereotypical, but give the guy a beer. He's been drinking champagne for three months.
We're shown recaps of what's happened over the series with Chelsie and Abbie as Matt runs through the African wild. It's all very I am man, hear me roar as he considers the weight of his upcoming decision.
Got to do some thinking. TO THE WATERFALL! #TheBachelorAU pic.twitter.com/THOABqu3mz

— Osher Günsberg (@oshergunsberg) September 19, 2019
Matt's best friends Kate and Jason have come instead of his family to interrogate meet the girls. Kate reminds us that she met some of them six weeks ago and reiterates she'll be surprised if Abbie will be in the final two. You just wait, Kate. You just wait.
Cut to Abbie who tells us families love her. But then Matt tells her that his family couldn't make it, so she'll be coming face to face with Kate again. Abbie's face falls.
But she rallies herself and announces to Matt's friends that she's already told him that she loves him. There's an unsettling vibe as Kate takes her away and is immediately upfront that she was surprised that Abbie made it to the final two…
There's an impressive sequence of editing as scenes of Kate and Abbie's conversation is cut with both Kate and Abbie's one-on-one interviews to camera.
Holy shit Kate's tapping out.

What the actual F indeed? #thebachelorau

— Osher Günsberg (@oshergunsberg) September 19, 2019
Kate has to stop her conversation with Abbie and then explains to a producer that she doesn't believe what Abbie is telling her so needs to re-think what she wants to ask. Once refreshed, Kate asks Abbie, 'What do you think you have in common with Matt?' Abbie almost chokes when she goes to answer and has to take a big gulp of champagne. I'm pretty sure most viewers are enjoying the grilling.
I LOVE KATE SO MUCH. PUT KATE ON EVERY SEASON. MAKE KATE A MASKED SINGER!!! A MASTERCHEF JUDGE. KATE!!! #TheBachelorAU

— mat whitehead (@matwhi) September 19, 2019
In Abbie's talk to camera, she says that Kate is horrible and doesn't know why Matt is friends with her. The producer suggests that Kate might just be protective, and Abbie instead murmurs possessive.
The bottom line from Kate and Jason to Matt is that they've seen Abbies before; she is similar to Matt's previous girlfriends and they gently hint that those girls haven't worked out for him in the past.
"Shes lovely. I've met lovely girlfriends of yours before, and shes lovely" ?? #TheBachelorAU pic.twitter.com/mGgB3YJmgy

— Ashlynn O'Malley (@ashrannomarrey) September 19, 2019
New day. Chelsie's turn. She looks like a golden ray of sunshine in her yellow outfit! Matt thinks it's endearing how nervous Chelsie is about meeting Matt's Melbourne 'family'.
Kate and Jason are TEAM CHELSIE before she's even arrived, but she cements their feelings within moments of arriving. Jason takes Chelsie aside. She admits she still has her guard up, in case she's about to get heartbroken. Jason encourages her to lay it all on the line…
Matt asks Kate and Jason their final opinions. They are pretty much all pom poms and banners as they chant TEAM CHELSIE.
Final date for Matt and Abbie. A picnic with an amazing backdrop. They discuss Abbie meeting Matt's friends. Abbie admits she found it hard to defend her age and her 'timeline'. To camera she tells us she's sure that Kate just doesn't like her. Abbie's thrilled when Matt tells her he's going to make his own decision … Code for: she hasn't lost yet!
Time for a helicopter ride. Abbie, the girl full of sexual innuendo, has previously told Matt that she enjoys it when he talks a bit of science. He's excited to tell her details about a crater. Space nerd is buzzing with excitement … Abbie shuts him up with some full time pashing.
GET TO THA CHOPPA!!! #TheBachelorAU pic.twitter.com/aEGVTG2a0V

— Osher Günsberg (@oshergunsberg) September 19, 2019
Abbie pulls out all the stops for her 'final' night with Matt. Bonfire, snuggles, champagne and then tears from Abbie. She sees a future with him and doesn't want it to be taken away. She tells him she loves him again. Matt says he's never met anyone like her (even though his friends have already told us that they've met lots of Abbies before). Weird.
Time for Chelsie's 'final' date. Our leather jacket wearing nerd, who greets Matt by wrapping her legs around him and an impressive kiss. Their date consists of an animal safari tour. There are plenty of laughs as the guide tells them about the dating antics of deer; liking it to the Bachelor herd.
You just read this in Francois' accent didn't you? #TheBachelorAU pic.twitter.com/WF0AXQCqcs

— Osher Günsberg (@oshergunsberg) September 19, 2019
FYI this is Francois, one of our game drivers.

I had him going for DAYS
About Drop Bears.

It was one of my proudest moments as an Australian. #TheBachelorAU

— Osher Günsberg (@oshergunsberg) September 19, 2019
Pool time: red bikini, wine and exotic backdrop. Chelsie finally manages to tell Matt that she loves him. Lots of pashing. Chelsie's glad she told him but is worried that she might have left it too late!
THE FINAL DAY…
Girls getting ready … beautiful dresses, jewellery, make-up, hair done. Cutting between the two girls and how they're feeling. Chelsie is nervous and worried. Abbie is confident and looking forward to her future with Matt.
Matt tells us he's always listened to his head, but he needs to follow his heart. He chats with Osher …
The cars are approaching … More cutting between the two girls … Abbie still confident and Chelsie unsure and now teary for holding her feelings back for so long.
There are two iconic uses of violins in modern Australian music: "Untouched" by The Veronicas, and the tune that's played when #TheBachelorAU runner-up steps out of the limo. In this essay, I will-

— Tahlia Pritchard (@Tahls) September 19, 2019
The car door opens and it's … Chelsie!
Say, what?
Hearts sting across Australia as we think Chelsie's about to be sent to the slaughter.
When Chelsie walks out of the car first… #TheBachelorAU pic.twitter.com/vAkjo4WvmN

— #GoggleboxAU (@GoggleboxAU) September 19, 2019
BUT THEN … We see the next car arrive and Abbie gets out. Nice trick, Bachy Team!
It's Abbie's turn to talk to Osher … she's in love with Matt and is excited for what's to come.
Truth time. Who will it be?
Abbie approaches and there's possibly a fair bit of relief from the majority of viewers. With a big smile Matt tells her how he remembers meeting her … blah, blah, blah … This is the hardest decision … blah, blah, blah. But his heart belongs to someone else. There's stunned silence from Abbie until she finally pulls her hands away from him. She lets him suffer as he struggles to get through his speech. She doesn't understand and murmurs how heartbreaking this is – he should have sent her home earlier. He assures her there was a real connection between the two of them. Abbie says, 'At least you're happy. That's all that matters.' She gives him a kiss on the cheek and walks out of his life.
Can we appreciate how STUNNING abbie manages to look while being dumped #TheBachelorAU pic.twitter.com/JLN1FsuVkF

— Jessica Lynch (@jesskalynch) September 19, 2019
There's a shot of Matt wiping his eyes. Cut to Abbie in the car, with an outpour of words: 'I feel fine/I'm honestly not upset/I couldn't cry if I tried right now/Maybe I don't love him?/I want to forget about him/I'll get over this before it even airs.' The producer queries that she seems angry. Abbie explains she's embarrassed and then starts crying.
Chelsie's turn (just as the sun is setting). He launches into his speech saying that she's his perfect woman. Her eyes widen. He talks more … until finally he says, 'Chelsie, I love you!'
She whispers, 'I thought you were dumping me!' He lists all the things he loves about her. They kiss and he gives her a ring as a present for the journey they have shared. More kissing as they murmur 'I love you' to one another.
Fade to black. Season over.
As the sun sets in South Africa, and on this season of #TheBachelorAU, things are only just beginning for Matt and Chelsie. Congrats to this amazing new couple! We'll see you all next time, xoxo. pic.twitter.com/eRsuqh4q4w

— The Bachelor Australia ? (@TheBachelorAU) September 19, 2019
But there's no time to feel sad. We all saw the ads for the upcoming Undercover Brother on The Bachelorette, right? (The Bachelorette's brother is sent in 'undercover' as one of the guys to suss out all the guys trying to win his sister's heart. All I can say is, nice work Bachy franchise! Tune in on 24 September for your viewing pleasure.
"Eh do I really want to watch #TheBacheloretteAU so soon after #TheBachelorAU"
SECRET UNDERCOVER BROTHER. oh yes pic.twitter.com/BaiEgBTR6j

— stephanie chinneck (@stephchinneck) September 19, 2019
But in the meantime, you can fulfil any voids by grabbing yourself a copy of my debut novel The One. 
---
Got Bachelor FOMO? While away the time before The Bachelorette premieres with The One by Kaneana May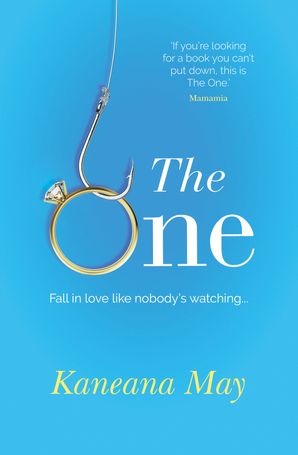 From an Australian TV scriptwriter comes a sparkling debut novel where the quest for love will surprise you.
Fall in love like nobody's watching…
On the wrong side of thirty, Bonnie Yates wants a happily ever after. Problem is, she keeps choosing the wrong guys. When an ex returns to town with a fiancee in tow, history and temptation collide. Unable to shake her inappropriate feelings, Bonnie flees, becoming an unlikely contestant on popular dating show The One. Will she find what she's looking for?
Working behind the scenes, Darcy Reed is a driven young producer dealing with a tyrant of a boss. Despite being surrounded by love at work, her own love-life with long-term boyfriend Drew is floundering. Producing a flawless season is her best chance at a promotion. But with the unrelenting demands of the show, how will she save their relationship while making that shot?
Penelope Baker has relocated to a small seaside town to hide away with her secrets and nurse a broken heart. But with The One beaming across the nation's televisions, she can't seem to quite escape the life she left behind…
Before cameras roll on the final ceremony, all three women will discover just what they're willing to do in pursuit of the one…