As Summer heats up we are excited to have long lazy afternoons spent relaxing beachside, poolside or in the park with some great new reads. However, sometimes it's just too hot here in Australia, and the only comfort can be found on the couch under the watchful eye of the air con.
To pass those long, hot, summer days we have compiled this list of TV shows, books, music and podcasts that are perfect for summer! Whether you're lounging by the pool, or on the couch, you'll enjoy sending time with this romantically inclined content…
Watching
Walker
A reimagining of the long-running series Walker, Texas Ranger, Walker follows the adventures of Cordell Walker, a widower and father of two with his own moral code, as he returns home to Austin after being under cover for two years, only to discover there's harder work to be done at home, including investigating the circumstances surrounding his wife's death.
It's a dark action adventure show.. with the very sexy Jared Padalecki (Gilmore Girls and Supernatural) as the eponymous Walker.
Watch it on: Stan
Zoey's Extraordinary Playlist season 2
Season 1 of Zoey's Extraordinary Playlist had us in stitches, jumping up from the couch to dance, and then loudly sobbing (that final episode OMG). Season 2 has started with a BANG (and a bop or two), and with only 6 episodes out, and the show on hiatus for the next few weeks, now is the perfect time to binge the first half of the season!
Watch it on: Stan
A Discovery of Witches season 2
Sexy vampires. Feisty witches. Forbidden love. This show is dramatic perfection. Season 2 sees lovers Diana and Matthew transported back to Elizabethan England on a quest to find a lost book, and it is romantic, lush and utterly binge-able.
Watch it on: Binge
Four Weddings and a Funeral
Four American friends reunite for a fabulous London wedding, but after a bombshell at the altar throws their lives into turmoil, they must weather a tumultuous year of romance and heartbreak. Based loosely on the iconic film, this is a 10 hour rom-com and the perfect afternoon companion to a cup of tea and box of biscuits.
Watch it on: Stan
Reading
Snowy Mountains Daughter by Alissa Callen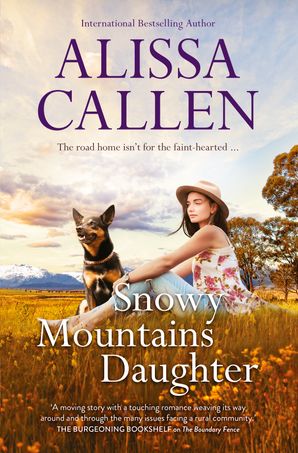 Welcome to Bundilla. A new close-knit community where romance can blossom. A compelling story of homecoming and family secrets from bestselling Australian author Alissa Callen.
The road home isn't for the faint-hearted…
Peony flower farmer Clancy Parker was born and bred in the Australian high country. Small-town Bundilla is the only place she will ever truly belong, even if staying means remaining alone. The man she'd loved is long gone and single men are as rare as a summer snowfall.
As soon as he could, street artist Heath MacBride escaped his complicated family and traded mountain peaks for city concrete. Now a commission to paint a mural on Bundilla's water tower brings him home. It doesn't matter how long he's been away, the animosity of his cattleman father hasn't waned. As soon as the water tower is painted, he will be gone.
But between steadfast Clancy, who'd once been his muse, a free-spirited kelpie who becomes his shadow and a corrosive family secret, his best laid plans disintegrate. When life again backs him into a corner, will he have no choice but to leave or will he and Clancy have the second chance they'd each thought would forever remain out of reach?
Close To Home by Janet Gover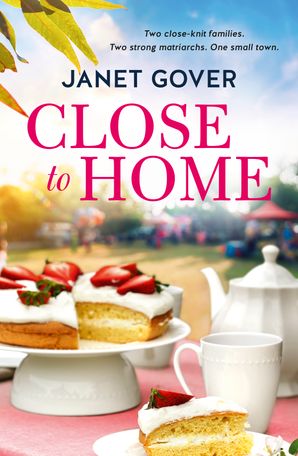 A delightful small town story of community and family with shades of Romeo and Juliet and The Dressmaker.
Two households, both alike in dignity…
Aunt Alice Dwyer loves her small Australian town. She's rarely left its comforting embrace. She knows everyone in it; in fact, she's related to most of them. All she wants is to keep her family safe and the town running exactly the way it always has. Her way. But when an exotic French artist comes to town, her hold begins to weaken…
Lucienne Chevalier, once the toast of Europe, has come to Nyringa after a tragic loss to hang up her sequins and create a place for her circus family to rest between tours. With her is Simon, her grandson, recovering from an injury so damaging he can no longer perform. Lucienne fears he'll never embrace a new future. That is, until she notices the chemistry between him and the new schoolteacher… All they need is a push.
Both grande dames think they know what's best, but with equal amounts of stubbornness on both sides, peace looks unlikely. Then a relationship between Alice's rebellious great-niece and a teenage acrobat sets the two communities on a collision course. But when the bakery starts making patisseries over lamingtons, the battle lines are truly drawn…
A story of community and family. Of the love that brings them together … and the fears that would tear them apart.
The Unworthy Duke by Charlotte Anne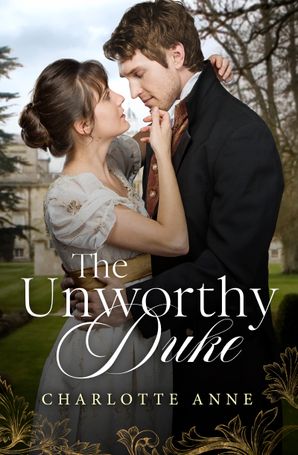 Witty, passionate and fast-paced, this sparkling debut Regency romance is a must-read for any fan of Georgette Heyer and Bridgerton
She's running from her past; he's hiding from his.
Miss Ellen Burney doesn't have a penny to her name. Determined to escape scandal, she flees to London and becomes Miss Smith: spinster and lady's companion. London offers security in anonymity. So long as Ellen can rein in her overactive imagination and become the perfect picture of propriety.
Calum Callaghan spent ten years in the Royal Navy fighting Napoleon and has the scars to prove it. Now he's a duke, but all of London thinks he murdered his brother. Heartbroken and battle weary, he's locked himself away for four long years, a prisoner in his own townhouse.
That is, until Cal's grandmother comes to stay with him for the London Season, her new lady's companion in tow. A lady's companion with a passion for life and love that can hardly be contained by even the most spinsterish of lace caps. She's fooling nobody, especially not this grumpy duke.
Be My Valentine by R.J. Groves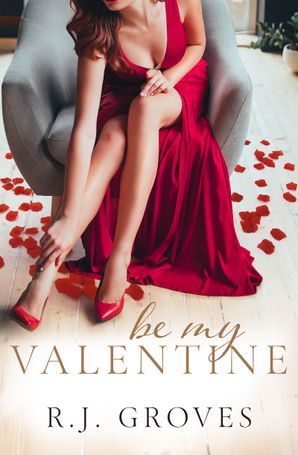 A seamstress. A naval officer. An impossible decision.
Harley Smith has always been unlucky in love, and this year is no different. Even if she can't get her best friend's brother out of her head. It's been almost a year, and with Valentine's Day approaching and no date in sight, perhaps it's time to stop holding out hope on her dreams. Maybe she should make her own happily ever after…
Joey Gray is a sailor through and through. He's been hurt before, and his job has become the only thing he can truly count on. But then he met his sister's best friend – the woman who has filled his dreams for months on end, regardless of how much he has tried to forget her. Now his career isn't as fulfilling as it once was, and he knows who's responsible. He needs to see her again. And what better day to tell her how he feels than on her birthday-Valentine's Day?
But is one week enough time to figure out what they have?
Listening To
Audiobooks on Spotify
Always wanted to read that literary classic but just couldn't get through it? Spotify is testing the waters of audio with their new classic novel audiobooks. With such books as Persuasion, Jane Eyre, The Awakening, Great Expectations and Frankenstein to listen to, this is the perfect easy-intro to the classics and/or enjoy your literary faves while you go for a walk, a drive, work out or clean the house!
Listen on: Spotify
Just The Gist podcast
Famous scandals, true crime, celeb dramas, conspiracy theories, politics, amazing people throughout history… if it's an incredible story, hilarious hosts Comedian Rosie Waterland and Jacob Stanley will tell you about it without bogging you down with any of the boring bits. You'll get just the gist of what you need to know – so you can look very informed at your next dinner party!
Listen on: Apple Podcasts, Spotify or wherever you get your podcasts
Cheesy Hits!
I found this playlist on Spotify, but it can be found on any music streaming platform. A playlist purely full of the cheesiest, sing-out-loud, road trip, one-hit wonder songs. It's all feel good music and the perfect set of bops to list your spirits!
Listen on: Spotify, YouTube or Apple Music
Still looking for something to do? Check out these eBooks on sale from just $1.99!
Featured Image Credit: NBC Sergei Bachlakov/NBC