Talk of this pirate comedy has been flooding the internet recently, and it's no wonder – this brand-new TV series has all the elements of a fantastic story. I'll admit that I only started watching this show because of all the hype online, but I'm a huge fan now and I can tell you that all the praise is well deserved.
Our Flag Means Death is the adorable story of Stede Bonnet, a pampered aristocrat who gives up his life of luxury to become a gentleman pirate. He gathers his own rag-tag crew and sets sail to follow his dreams. At sea he comes head-to-head with the notorious Captain Blackbeard, the most feared pirate of Stede's generation.
This blurb alone is probably enough to recommend the show, but it isn't just the plot that makes Our Flag Means Death such fun viewing. In my opinion, there are five main reasons why it possesses all the elements of a fantastic story:
It's a romance! 
The show's creators have actively confirmed this fact. Stede Bonnet and Blackbeard might sound like an unlikely couple, but the on-screen chemistry is genuinely very sweet.
They're pirates … and not particularly violent ones. 
My own obsession with pirates stems from a childhood watching Pirates of the Caribbean and swooning over Orlando Bloom, Keira Knightley and, of course, the magnificent Black Pearl. That said, I'm not a fan of on-screen violence; I can't stomach it. (Maybe that's one of the main reasons why I'm a romance author: love, not hate.) This aversion to extreme violence means my pirate obsession usually goes unfulfilled. But not any longer, thanks to Our Flag Means Death. These are cutlass carrying, swashbuckling pirates who are not all that keen on bloodshed.
Positive queer representation. 
Even these days it can be difficult to find positive queer representation in mainstream media. As an audience, we have frequently been teased with the possibility of a queer relationship between some of our favourite on-screen characters only for it to come to nothing. Thankfully, this does not happen in Our Flag Means Death. We're given precisely what we're promised.
It's historical … kind of. 
Stede Bonnet and Blackbeard were real-life pirates. They did sail the seas in the early 18th century, and we have the contemporary documentation to prove it. However, first and foremost Our Flag Means Death is fiction, and it isn't particularly a stickler for fact. In my opinion, this means we get the best of both worlds: a historical comedy that isn't bogged down in the details.
I take the same approach with my own writing. The Unworthy Duke is set in the Regency era, and while I love researching all things Regency (I am an archaeologist, after all) I don't stay so close to the facts that I stifle my story. At the end of the day, I'm writing romance and so that's what I focus on.
They're friends. 
Probably the thing I love most of all about Our Flag Means Death is how accepting the characters are of their fellow crewmates. Stede's motley crew genuinely care for each other, and that makes the series emotionally satisfying to watch.
You can watch Our Flag Means Death on Binge.
---
ABOUT THE AUTHOR: Charlotte Anne
With a degree in archaeology, Charlotte Anne now pens steamy historical romances. She's been writing for as long as she can remember, and in her spare time she's climbed to Mt Everest Base Camp and has earned her black belt in taekwondo. She's even a pretty good shot with a bow.
Charlotte Anne's next book Her Worthy Rake is out in August!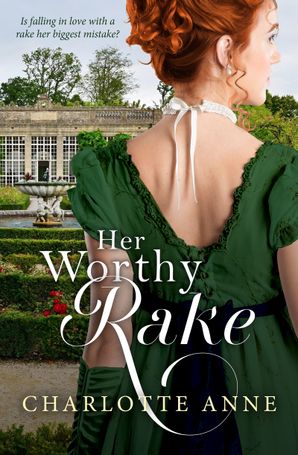 Sparkling Regency romance full of wit, warmth and mystery from a fabulous new voice. If you like Georgette Heyer or all things Bridgerton, you'll love this.
Is falling for this rake a mistake?
Owen Tattershall might not have a title or immeasurable wealth like other gentlemen of his ilk, but he does have rather excellent taste in the waistcoat department-and taste counts for a lot amongst the ton. It also doesn't hurt that his adopted mother is the dowager Marchioness of Faye and his kind-of-cousin is the Duke of Woodhal. Unfortunately, prestige didn't save his family from the ravages of war, and now what's left is held together by nothing more than heartbreak, hope and bravado. To keep his memories of the war at bay, Owen immerses himself in his work … until the day Sophy Calder comes colliding into his life.
Sophy has been fending for herself ever since her twin brother was press ganged to fight against Napoleon's forces. But the war ended almost two years ago, and still he hasn't returned. Knowing something dreadful has happened, Sophy is determined to find her missing brother, even if it means infiltrating the world that snatched him from her. But when she encounters Owen, she quickly finds her growing attraction for the only man who's taken her seriously threatening her long-mastered control.
An addictive romp from start to finish, this delightful Regency romance is set in the world of The Unworthy Duke, but is a standalone read.