I recently watched The Half of It, a new coming-of-age movie from Netflix about three teens caught in a love triangle. But it's not your usual love triangle and, as the tagline states, it's 'a different kind of love story'.
The quirky, unusual feel was what drew me to this movie. As a romance author, I've written a lot of different love stories: friends to lovers, second chance romances, office romances, to name just a few. But a love story where a guy and a girl both fall for the same girl? That's a new one!
Despite the quirky factor, the main characters are extremely relatable. Ellie Chu comes from an Asian background and is living in a small American town. Ellie knows that she's not like everyone else but has accepted it: 'The good thing about being different in a town like this, is that no one expects you to be like them.'
Ellie uses her differences to her advantage and runs a side business at school, charging money for writing other students' essays. When Paul Munsky approaches her to write a love letter to Aster Flores, one of the popular girls, Ellie initially refuses because she secretly has a crush on Aster too.
What follows is both touching and funny. Ellie reluctantly lets Paul in and they form an unexpected friendship. Meanwhile, we get to learn more about Aster, who is not your typical popular girl and also becomes likable in her own right.
I loved this film for its humour and its sensitive handling of important issues like racial and sexual diversity. In the end, it shows that despite our differences everyone needs meaningful connections.
Is there a happily ever after? Like everything else about this movie, the ending is unusual but it's no less emotionally satisfying than a traditional romance. I highly recommend you watch it for yourself!
Highs
There are so many small special moments in this film that make it really watchable, but these were my favourites:
– When Paul stands up for Ellie in front of the cool kids at school. Ellie's look of surprise and then the realisation that having someone on your side is actually a pretty amazing thing.
– The relationship Paul has with Ellie's father, Edwin. Paul is a clumsy communicator and Edwin shies away from people as he's not good at speaking English. Paul is so genuine that he doesn't care (or perhaps doesn't notice!) and I love the bond these two form.
– The kiss! At the end of the movie, Ellie is brave enough to kiss her crush, Aster, and it's a great moment. Mainly because it represents Ellie has grown in confidence and is ready to take more personal risks.
Lows
– This wasn't a problem with the movie as such, just a general well-doesn't-that-suck moment. When Paul discovers Ellie is gay, he tells Ellie that it's a sin. This is no doubt a true reflection on where some people stand on homosexuality, but like I said, it sucks.
– There's a scene later in the movie where Ellie performs a song at a school concert and suddenly all the cool kids see her in a different light. It's a nice concept, but I couldn't help but feel it was a little clichéd.
– Again, this wasn't an issue with the movie, just something that's a downer as it's a true reflection of the real world. Ellie's father is basically stuck in the small town because, despite being incredibly intelligent and educated, he was never able to navigate the language and cultural barriers in his adopted country to build a career in the field he was qualified in.
Lingering thoughts
– Aster's jock boyfriend proposes to her in the movie and while it's assumed Aster doesn't end up accepting, it might have been nice to have more of a confirmation of this (mainly because the jock boyfriend is a jerk!)
– I really enjoyed how The Half of It shows that in order to form meaningful relationships you have to take some personal risks to allow people to get close to you. It's a concept I'm sure many of us can relate to.
– Finally, the way that love is portrayed in this film will stay with me. The movie basically suggests that love comes in many different forms. Straight love, gay love, friendship love, father–daughter love. Basically, instead of one happily ever love, it's the sum of all our loves combined that help to make us whole. Love it!
---
Belinda Williams
Belinda Williams is a marketing copywriter who allowed an addiction to romance to get the better of her. She writes contemporary romance including romantic comedy and romantic suspense featuring good guys. She's occasionally tempted by bad boys, but prefers to write strong women characters and men with big hearts.
Her other addictions include music and cars. She's a music lover who sings lead vocals in a covers band and her eclectic taste forms the foundation for many of her writing ideas. She also has a healthy appreciation for fast cars and would not so secretly love a Lamborghini. For now she settles for her son's Hot Wheels collection.
When she's not obsessing over word count, she can be found counting laps at her local swimming pool or taking on yet another renovation project in her Sydney home, where she lives with her husband and son.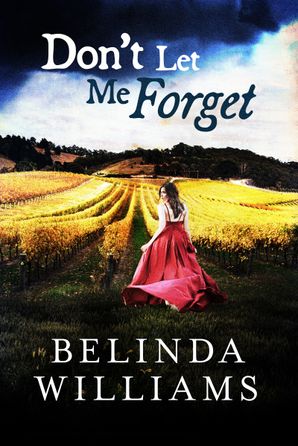 Would you remember the face of a killer?
After divorcing the heir to a media fortune, Juliet Temple chose to keep her high-profile surname to grow her elite event planning business. But when a young woman is found dead and Juliet is drugged at her latest celebrity party, not even the Temple name can protect her. Unable to remember what happened that night, Juliet finds herself in serious danger.
Juliet retreats to the Hunter Valley, where she becomes Jet Appleton, Rhodes Family Estate's wedding organiser. Martin Rhodes, winemaker and former detective, is tasked with watching over her, but his son, Dan, knows nothing of Jet's true identity–which is a problem because he's the sort of man who deserves her honesty.
As the dark ties holding her to Sydney close in, Jet begins to see her old life–including her controlling ex-husband–in a whole new light. Jet's longing to return to Sydney is proving to be a dangerous desire, and so are her growing feelings for Dan. But not as dangerous as the killer, who is still watching her every move . . .