To celebrate the release of her latest book, which features a charismatic private detective, author Darry Fraser stopped by the blog to tell us about her favourite fictional detectives!
---
Whodunnit? A fictional detective is sure to find out.
Goodness, I love fictional detectives, historical ones too, and there are lots of them. From the twelfth-century set Cadfael, about a soldier turned monk, to our more recent 'historical' decades such as the 1960s and the clever detective series Columbo (the lead character played by the marvellous Peter Falk, famous for his rumpled coat — he always knew the crook from the beginning), there are many detectives from many eras to choose from and enjoy.
I love a good hard-boiled detective whose softer side emerges; someone who has dents in the armour; someone with an Achilles heel; those whose calling to exact justice thrusts them into the light from a dark past. And now we are seeing the rise and rise of historical 'lady detectives' — wonderful!
Mystery and crime solving — such fun. No surprise then that my own Bendigo Barrett, private detective, makes his first appearance alongside heroine Stella in my next release The Last Truehart. Together they are drawn into a mystery involving Confederate raiding ships, lost jewels, hired thugs, suspected murder, and layers of family secrets.
Let's start off in the nineteenth-century setting with some notable fictional detectives.
Famous Sherlock Holmes, developed by his equally famous author, Sir Arthur Conan Doyle, has his stories mostly set in the Victorian and Edwardian eras, 1880 – 1914. Holmes now has a sister in Enola Holmes. She's made a memorable debut on the world stage in the Harry Bradbeer-directed 2020 adaptation of Nancy Springer's Enola Homes Mysteries series. Although not in the original stories, a sleuthing female younger sibling has been welcomed with open arms. Enola is played with panache by Millie Bobby Brown—not that Henry Cavill as Sherlock is hard to take.
A charming addition to the detective scene in historical fiction is 2020 TV series Miss Scarlett and the Duke, set in late nineteenth century England, about a female detective who befriends a gay man, enlists the help of a Jamaican ex-slave's son, and goes undercover among suspicious suffragettes (a pity the women were portrayed like that, but at least there was only one in the story who ended up a baddie). Many times she bravely launches herself into dangerous situations, alone. Stylish Miss Eliza Scarlett, played by Kate Phillips, sleuths solo, as well as alongside the delectable Duke, a friend from childhood. (Who doesn't want a friend who looks like Stuart Martin, who plays the Duke?)
In the early twentieth century, Hercule Poirot is 'the greatest detective of all' – just ask him! Agatha Christie brought him to life in many of her novels and short stories.
No list of detectives goes without a mention of the sophisticated, beautiful and naughty Miss Phryne Fisher — our own sassy detective, a character written by Australian author Kerry Greenwood, set in the 1930s and played to perfection by Essie Davis. Oh, the clothes! Oh, the confidence. Oh, the inheritance!
And Mr Bean — well, no, not really Mr Bean, but his creator Rowan Atkinson, who stars in the 2016 telly series Maigret. Atkinson did a wonderful job bringing out the detective's great compassion, and his measured deductions (but I was waiting for Mr Bean to pop up just around the corner). In the series of novels by Georges Simenon, commissaire Jules Maigret operated throughout and after World War II in France.
Haven't noticed a new Miss Marple lately, another Agatha Christie character. She was marvellous. Always very genteel, firm, fair. Very down-to-earth. I hope Miss Marple surfaces again — imagine how many wonderful female actors could take on her role.
Oh, Grantchester. Be still my heart — James Norton as Sidney Chambers. Poor fellow, he's a tortured soul. Chambers is a detective-vicar who does as much sleuthing as the village's Detective Inspector Keating. Mind you, I love Robson Greene, who plays the detective, Geordie Keating, almost as much. He's a bit tortured too, isn't he? Both of the blemished characters had adulterous affairs, and Sidney is an alcoholic, a returned war hero with shell shock (PTSD as we know it).
Endeavour, a British telly series produced by Dan McCulloch, depicts the early years of Chief Inspector Morse. It deals with how the young, brilliant, damaged (and not too bad on the eye) Endeavour Morse (played by Shaun Evans) manages in the hard first years of his career. It offers a realistic depiction of the treatment of women in the workforce and the home, at the time too. And all that smoking and drinking on the job — not that we'd accept those things now. It fascinates with stories from the fifties and sixties that shape the latter-day Inspector Morse. This famous series, with the Inspector played by John Thaw in the series starting in the 80s is based on the novels written by Colin Dexter. Come to think of that era, Inspector George Gently is in there too, created by Peter Flannery. Loved George Gently. Loosely based on the novels by Alan Hunter, it stars the inimitable Martin Shaw as Inspector Gently and the wonderful Lee Ingleby as his obnoxious, damaged sergeant, John Bacchus. In the later shows, WPC Cole is played by Lisa McGrillis. Her character brings empathy to John Bacchus.
And there's Precious Ramotswe, of her own No. 1 Ladies' Detective Agency – gosh, she was fun. The series of books is written by Alexander McCall Smith and set in Botswana, while in the telly series actor Jill Scott brings the delightful Mma Precious to life. Heart-warming, it touches on themes such as depression, emotional intelligence, and different belief systems in contemporary Africa. Forgiveness and restitution, as well as domestic violence are some issues in the episodes.
Who are some other fabulous detectives of more recent decades? Dana Scully — oh, who can forget the X-Files, which has cult status for sure. Bring back Scully! Or Clarice Starling in Silence of the Lambs. Shivers. And the ever-fabulous Helen Mirren as Jane Tennyson in Prime Suspect. There are loads of modern detective stories now, too many to mention.
Maybe those detectives I've written of are not all pop culture icons any longer, but they are just a few of many that have fired my imagination. Ever since I was a kid watching them, I've been inspired by the fact that any one of these fictional and flawed (but perfectly written) characters can do great things — despite all odds: catch the baddies. Somewhere along the way, 'good' will prevail over 'evil'.
---
Darry Fraser
Darry Fraser's first novel, Daughter of the Murray, is set on her beloved River Murray where she spent part of her childhood. Where The Murray River Runs, her second novel, is set in Bendigo in the 1890s, and her third novel, The Widow of Ballarat, takes place on the Ballarat goldfields in the 1850s. Darry currently lives, works and writes on Kangaroo Island, an awe-inspiring place off the coast of South Australia.
To find out more, visit Darry on her website.
You can also follow Darry on Facebook, Instagram and Twitter.
Don't miss The Last Truehart, Darry's latest book about a woman alone and a charismatic private detective caught up in a dangerous mystery…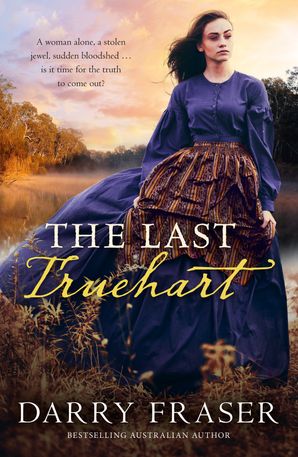 A woman alone and a charismatic private detective are caught up in a dangerous quest to discover her true identity in this thrilling historical adventure romance set in 19th century Victoria, from a bestselling Australian author.
1898, Geelong, Victoria. Stella Truehart is all alone in the world. Her good-for-nothing husband has died violently at the hands of an unknown assailant. Her mother is dead, her father deserted them before she was born, and now her kindly Truehart grandparents are also in their graves.
Private detective Bendigo Barrett has been tasked with finding Stella. He believes his client's intentions are good, but it is evident that someone with darker motives is also seeking her. For her own part Stella is fiercely independent, but as danger mounts she agrees to work with Bendigo and before long they travel together to Sydney to meet his mysterious client where they discover more questions than answers.
What role do a stolen precious jewel and a long-ago US Civil War ship play in Stella's story? Will sudden bloodshed prevent the resolution of the mystery and stand in the way of her feelings for Bendigo? It is time, at last, for the truth to be revealed …
Featured image credit: Acorn TV