We asked some of our favourite authors to recap a classic romantic or romantic-comedy film, and see whether it lives up to the hype. Here R.J. Groves recaps 1982's An Officer and a Gentleman.
There's just something about romantic films starring Richard Gere, and An Officer and a Gentleman is one of those movies that gives you all the feels.
From the opening scene, we learn about Zack Mayo's (Richard Gere) troubled childhood, from his mother's suicide when he was a young adolescent to being put in the full care of his alcoholic and womanising father who had previously abandoned them.
By the time Zack has finished college, he knows he wants to make something of himself. And so he signs up for the Navy's Aviation Officer Candidate School (AOCS) to be a Navy pilot. There we meet the candidates' strict drill instructor, Marine Gunnery Sergeant Emil Foley (Louis Gossett, Jr), who gives them a very—ahem—warm welcome. Once the thirteen-week initial training starts, it's clear that Zack only looks out for himself and is happy to cut corners and cheat a little to make things easier, which could just be his undoing—though he does find a friend in fellow candidate, Sid Worley (David Keith).
Cue love interest, Paula Pokrifki (Debra Winger), and her friend, Lynette Pomeroy (Lisa Blount)—two local factory workers who form relationships with Zack and Sid after meeting them at a Navy-hosted dance.
As time passes, everyone seems to be getting into the swing of things, although some candidates have DORed (dropped on request), and others are barely pushing through. Meanwhile, Zack has found a way to make a bit of money on the side by selling pre-shined boots and belt buckles to fellow candidates for inspections. This is short-lived, however, and when his scheme is discovered, Foley runs Zack through the hard yards, determined to get him to DOR.
This turns out to be a pivotal moment for Zack, because it's through this rigorous disciplining that Zack breaks down, begging Foley not to kick him out, yelling, 'I got nowhere else to go. I got nothing else'. It seems to be exactly what Foley was waiting for, and it's at this point he stops being so hard on Zack.
We also see a change in Zack in the scenes following. He starts to be less selfish with his peers, becoming more of a team player, and opens up to Paula, which he'd refused to do until now. At dinner with her and her family, we learn about her real father and discover that Paula is falling for Zack. This, however, leads to Zack pushing her away, which leaves her upset and heartbroken.
It's shortly after this that we learn about Sid's 'girl back home'—his late brother's fiancée who Sid plans to marry when he's commissioned—and a little later Zack sees Paula at the bar with another man, seemingly having moved on. He finds himself feeling a bit jealous, though manages to thank her for her help through his training.
Switch scenes to Sid and Lynette dressing. Lynette implies that she may or may not be pregnant—employing a tactic that Foley had warned about from the start of the training, one that clearly plays on Sid's mind.
Towards the end of the training, it's refreshing to see how much Zack has progressed in the time. He has a chance to break the record time for the obstacle course, but when he realises fellow candidate Casey Seeger (Lisa Eilbacher) still can't make it over the wall—which she needs to do to pass the course—he sacrifices his record time to go back and help motivate her over the wall, encouraging her until she's over, and they finish the course together. He's gone from being selfish to being a team player and it's a proud but bittersweet moment as Sid stands off from the crowd. It's then Sid begins to break down, later confirmed by a panic attack in one of the exercises that leads to him DORing.
Sid leaving seems to hit Zack hard, especially since he's concerned about Sid's panic attack, but Sid assures him that he's leaving because he wants to, having realised that he wasn't doing it for himself. Feeling a surge of confidence, Sid goes to Lynette's house and proposes (even though Lynette reveals she's not pregnant), to which she initially agrees, but on finding out that he'd DORed, she breaks things off, claiming she wanted to marry an aviation officer. We see Sid struggling with the fact he's lost everything, and doesn't want to go home and be seen as a failure. It's not until Zack realises something's wrong and enlists Paula's help (despite them not being together any more) that we discover Sid has hung himself.
When Zack finally finds Sid, he's wrecked, and can't believe it's happened to him again. Crying, he says 'You didn't even talk to me. You didn't even try', and in that moment it's as though he's not talking just to Sid, but to his mother as well. It's a truly heartbreaking scene, and to top it off, Paula chooses later to tell Zack she loves him. He replies that he doesn't want anyone to love him. Angry and hurting, he tells Foley he wants to DOR, but Foley doesn't let him. They end up fighting each other, and after the fight, Foley tells him he can leave if he wants to.
The next scene is graduation day, and while we're missing Sid, it's a proud moment to see Zack there at the end of it, obviously having decided to stay after blowing off some steam. And as he watches all of his fellow candidates rushing off to their families, he realises that no one is there for him. It seems to be at this moment that he realises who he wants to be there with him, too. So after the graduation ceremony, he goes to the factory mill to find Paula, kisses her, and in a ridiculously romantic ending, sweeps her off her feet (literally) and carries her out of the factory to start their new lives together, leaving us and Paula's coworkers (including Lynette and Paula's mother) in tears and cheers.
---
ABOUT THE AUTHOR: R.J. Groves
Australian author R.J. Groves has been passionate about writing since she could put pen to paper and can usually be found jotting plots and stories down on anything she can get her hands on. Describing herself as a mum, wife, author, and coffee lover, her other passions include music, cooking, books, adventures, and searching for plot bunnies in even the most mundane activities.
R.J. Groves's latest book Be My Valentine is perfect reading if you loved An Officer and a Gentleman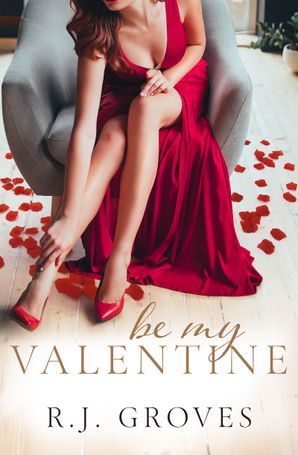 A seamstress. A naval officer. An impossible decision.
Harley Smith has always been unlucky in love, and this year is no different. Even if she can't get her best friend's brother out of her head. It's been almost a year, and with Valentine's Day approaching and no date in sight, perhaps it's time to stop holding out hope on her dreams. Maybe she should make her own happily ever after…
Joey Gray is a sailor through and through. He's been hurt before, and his job has become the only thing he can truly count on. But then he met his sister's best friend – the woman who has filled his dreams for months on end, regardless of how much he has tried to forget her. Now his career isn't as fulfilling as it once was, and he knows who's responsible. He needs to see her again. And what better day to tell her how he feels than on her birthday-Valentine's Day?
But is one week enough time to figure out what they have?