Pamela Hart has just re-published her holiday Regency romance Eleven Pipers Piping. To celebrate we asked her to review her latest favourite easy Christmas watch!
---
What I look for in a Christmas movie is niceness without saccharine, something you can wrap your presents to.
Snow is good. Too much heavy breathing and nudity is not (don't distract me from the present wrapping!). Family is essential (of course). And, most importantly, the carol/strings background music has to be background. Soft. Soothing.
So, why Christmas with a View (2018)? Well, it's about a chef and a restaurant manager. Christmas = food, right? So it seemed a perfect match. I wasn't expecting originality, but isn't that the point of these movies? Christmas is about tradition, and the Christmas movie tradition is solidly established. Nice people rediscover their roots/their values/their proper place in the world, and fall in love in the process.
I'm here for that.
The plot (in a nutshell)
Clara (Kaitlyn Leeb) is the manager of a ski resort restaurant, after having had a failed restaurant in Chicago. Celebrity chef Shane Rourke (Scott Cavalheiro) becomes chef at the restaurant. Romance ensues but is interrupted by:
Misunderstandings
Secrets
An Unscrupulous Rival (male)
Celebrity stalkers (comic relief)
Sub-plot about opening a new restaurant in an old ski lodge owned by friends of Clara
Gorgeous subplot about chef boy trying to find where his (dead) parents had their honeymoon (guess where?)
The Unscrupulous Rival is revealed, all is confessed, and our Hero and Heroine buy the old ski lodge and live…well, you know.
The Highs
There's a diverse cast (the main character is mixed race). All so pretty, too.
Cooking! Food! Nice cutlery!
Slow burn romance, with a believable development of interest from both sides.
Hot boy shyness – I thought it would be an alpha chef story, but he was lovely, if awkward.
SNOW!!!!
The background carols were excellent.
No-one shouts or bangs doors. It's very soothing.
The Themes
Christmas with a View suggests you should keep working for what you want, but keep your integrity along the way. Female competence is on full display – not only from the main character but from her mother and friends as well.
A kind of sub-theme is that awkward is okay; if the hot chef can be awkward, surely it's all right.
And, of course, the idea of Christmas traditions being important and worth sustaining gets a guernsey.
Most Quotable Lines
Your mother waits for no-one!
The country's most eligible bachelor, breaking eggs and breaking hearts!
'Here I am, just trying to figure out what's next.'
'Well, chocolate cake sounds good.'
'I've been on exactly five dates. Three terrible, one crazy, and one that lasted for a few years.'
After being given the Christmas present of an entire snow lodge: 'You should know – I just got you a scarf.'
The verdict
Don't expect your friend-the-film-buff to enjoy it, unless you pour a few eggnogs down them first. But if you're looking for a nice, soothing (that word again!), happy-making story that you can wrap your presents to, this will fit the bill. Just don't watch it hungry – there is SO MUCH delicious food on display you'll be drooling!
---
ABOUT THE AUTHOR: Pamela Hart
Pamela Hart is an award-winning, bestselling author of more than 35 books. She writes the Poppy McGowan mystery series and also historical novels; The Charleston Scandal is her most recent historical story, set in 1920s London.
As Pamela Freeman, she is well-known as a beloved children's author and fantasy writer. Her most recent children's book is a non-fiction picture book, Dry to Dry: The Seasons of Kakadu. Her adult fantasy series, The Castings Trilogy, ended with the award-winning Ember and Ash.
To be kept up to date about the next Poppy McGowan story, you can subscribe to her newsletter at pamela-hart.com/newsletter; you even get a free story!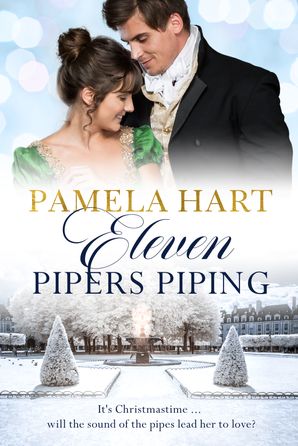 She'll never love another soldier … will she?
Elizabeth MacDonald, made a widow at Waterloo, is determined to keep herself and her son away from anything military. Gavan Sunderland, her husband's captain, is determined to teach her son the bagpipes, so he can be a piper like his father. When two strong-willed people clash at Christmas time, will the result be disaster or lasting happiness?