This month we're celebrating all-things Friends! We got author Leisl Leighton to reflect on all the reasons Friends continues to be one of the most loved sitcoms of all-time.
P.S. You can stream every episode of Friends right now on Binge.
---
Friends is one of the most enduring sitcoms to grace our screens, but why? It is not the only sitcom centred around a group of twenty-something friends trying to make it in the world, so why is it so special to so many people?
Maybe it was because though the friends were extremely different from one another, it was those differences that were celebrated (and paved the way for shows like The Big Bang Theory). It could be the fact that each friend was a flawed person us average Joes could relate to and learn with. It could be that it was incredibly funny and yet so very endearing, or that it featured guest appearances by some of Hollywood's biggest actors (Brad Pitt, George Clooney, Reese Witherspoon, Susan Sarandon, Billy Crystal, Julia Roberts, Hugh Laurie, Ben Stiller, Kathleen Turner, Bruce Willis, Alec Baldwin—the list goes on and on) in roles that were unexpected and doubly funny because of it. Or perhaps it was because it broached social issues that are still hot topics today—same-sex relationships and marriage, age-gap relationships and issues around being transgender.
Or maybe it was just Phoebe's songs—'Smelly Cat' will always be a classic.
I love Friends for all the above reasons and more, but one reason that makes me love it even more is that it showed that romance is real, relatable and despite life's ups and downs, is something that everyone can aspire to. Week after week we sat down with our six favourite friends to follow their loves and friendship, to laugh, cry and ooh and ah as they stumbled through their lives, and with them we learned that a happy ever after is possible for us all.
Here are some of my favourite romantic moments of the ten seasons, in no particular order:
1) The one when Rachel and Ross first kiss
That argument, the way he appears at the door, the gasp when she sees him, the funny schtick with the door, then that kiss—oh my! We'd been waiting for it for almost two seasons and boy did it deliver.
2) The one when we find out Chandler's in Monica's bed in London
They were the two you would think most likely not to get together given how opposite they were (and their history with the accidental amputation of Chandler's toe) but when they got together, it was funny, shocking and the best hell yeah!
3) The one with the turkey head
Chandler telling Monica he loves her after she makes him laugh by putting that turkey on her head and doing the silly dance was funny and beautiful and oh so romantic rolled into one.
4) The one when Monica kisses Tom Selleck
I know, I know, his character's name was Dr Richard Burke, but come on, he's always either Tom Selleck or Magnum! Older man, younger woman and yet so not icky at all. In fact, hot, very hot. I'm surprised the good doctor was able to break the tension between them during that eye exam—it was so tight—then followed by that awkward dialogue. It was such a relief when they finally kissed. And beautiful and sexy and heartbreaking in the end because despite loving each other, they both wanted different things from a relationship. But still, that kiss! I also loved their romance because of the bromance that happened with Chandler, Joey and Richard—so funny when they tried to emulate his manly moustache!
5) The one when Rachel and Ross were 'on a break'
I know they were angry and fighting, but that passion, that intensity—you really knew they were supposed to be together and the rest was just nonsense. It showed that relationships have their ups and downs and despite this, true love will find a way.
6) The one when Monica gives in
It seemed impossible that Monica would relent on anything, but after Chandler agrees to use all his savings to give her the wedding she wants, she compromises right back (so not a Monica thing to do). In that moment, you knew just how far these two had come and how strong their marriage would be and for me, it was one of the best romantic moments in the show.
7) The one with Chandler and The Velveteen Rabbit
It's the epitome of unrequited romance when Chandler organises The Velveteen Rabbit book for Joey's girlfriend to help Joey look good even though Chandler secretly loves her. It might not have been a relationship that ended well for either Joey or Chandler, but it did show just how important being 'seen' is in a relationship.
8) The one with the confession
When Joey admits his feelings to Rachel, it is sad and funny and so very touching it always makes me go 'awww' even though I know they ultimately aren't meant to be together. Joey was the group's Peter Pan, but in that moment, he shrugged off his eternal boyhood and took a step into adulthood.
9) The one when Rachel gives birth
Such a full episode with so much happening—Chandler and Monica in the storeroom trying to make a baby among other things, the accidental proposal, the emotion, the connection between Rachel and Ross even though they weren't together—it catches me in the funnies and the heart every time in equal measure.
10) The one with the love triangle
The Phoebe-Mike-David love triangle—well, you know, you had me at Paul Rudd and Hank Azaria (but especially Paul Rudd! Sigh). Phoebe was my favourite character and it was always hard to see her miss out on finding true love. I didn't think either of us would get over David's departure early in the series, but when she found Mike, I knew he was the one, even when David came back. I'm so glad she ended up with Mike, but also feel a little sad for David—I hope he found his HEA out there too.
---
Leisl Leighton
Leisl Leighton is a tall redhead with an overly large imagination. As a child, she identified strongly with Anne of Green Gables, and like Anne, is a voracious reader and born performer. It came as no surprise when she went on to a career as a performer, script writer, script doctor, stage manager and musical director for cabaret and theatre restaurants.
After starting a family, Leisl stopped performing and began writing the stories plaguing her dreams. She is addicted to sci-fi, romance books and DVDs, she sometimes sings in a choir, loves to ski and horse ride, and was president of Romance Writers of Australia from 2014–2017. When she's not writing, she helps other writers make their manuscripts shine.
Leisl is the author of the award-nominated paranormal Pack Bound series and romantic suspense novels Dangerous Echoes (Book 1 in the Echo Springs series), award-nominated Climbing Fear and Blazing Fear (Books 1 & 2 in the CoalCliff Stud series).
Leisl's upcoming book Climbing Fear will be published in October 2020.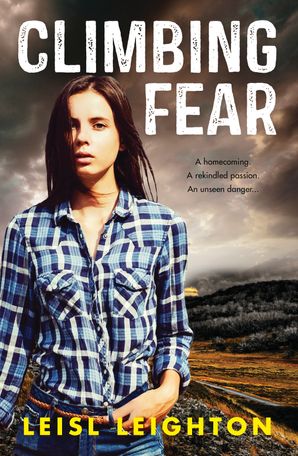 You can stream every episode of Friends now on Binge