Are you after a new easy-watch romantic comedy? Well, Love Guaranteed has just dropped on Netflix.
https://www.instagram.com/p/CELjx4wpR3R/
This one isn't going to win any awards, but it will keep you company while you iron a pile of washing (for those of you who do that) or perhaps have an absentminded scroll on the phone.
Our leading lady is Rachael Leigh Cook, who we remember for her role in She's All That, when she played the ugly duckling who won Freddie Prinze Jr's heart. As a massive Baby-Sitters Club fan, I also remember her from the 1995 BSC movie, when she played Mary Anne Spier. (If you were a BSC fan too, be sure to check out the new 10-part Netflix series, which my daughters are now watching on repeat). Back to Love Guaranteed, where Cook plays a hard-working lawyer who has a tendency to take on pro-bono cases. With a high pile of bills, her business is sinking, and her personal life doesn't look much better.
Enter Nick Evans (played by Damon Wayans Jr), a handsome stranger who immediately rubs her the wrong way. Nick has been using the dating app Love Guaranteed, who claim all subscribers will find love by their 1000th date. Nick is up to date number 986 and wants Susan to help him get ready to sue. Susan finds Nick very off-putting; the fact that he's taken that many women on a date for starters, but he's also named every single one of them like a title of a friends episode: 'The one who talked about cats all night'. But with Nick offering up a whole wad of a cash for her to be his lawyer, Susan can't turn him down.
I'm pretty sure you'll be able to guess where this is going …
We see Heather Graham in a cameo as the head honcho of Love Guaranteed. The comedy in her scenes won't have you laughing out loud, but perhaps smiling instead.
Love Guaranteed pokes fun at the culture of dating apps, and those of us who haven't experienced it will be grimacing from our lounges.
There's natural chemistry between Cook and Wayans Jr, which definitely helps the story move along. And you'll definitely be rooting for the couple to get together.
Now that spring has arrived, it's the perfect timing for a rom-com. We definitely need some feel-good movies after what 2020 has thrown us this year. So, get out the popcorn and kick back for a bit of you time.
Me @ watching rom-coms
Looking for a great feel-good read to escape with? Check out these e-books on sale from just $1.99
---
Kaneana May
Kaneana May studied television production at university, graduating with first-class honours in screenwriting. She went on to work in television, including roles as a script assistant on All Saints, a storyliner on Headland and a scriptwriter on Home and Away. Since becoming a mother, Kaneana has turned her attention to fiction writing. Kaneana loves to read—mostly YA, romance and women's fiction—and also loves watching TV and films. Writing, boot camp, coffee, chocolate and champagne are just some of her favourite things. Kaneana lives on the Mid North Coast of New South Wales with her husband and three children.
For more about Kaneana, check out www.kaneanamay.com or join her over on Facebook or Instagram where you'll see her sharing loads of her life, loves, and writing.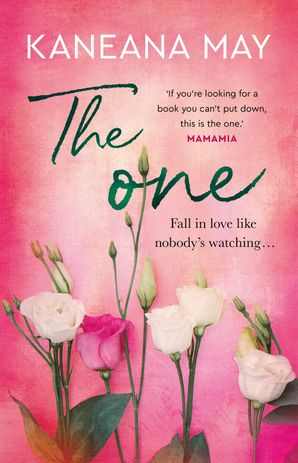 'Set against the backdrop of a Bachelor-style TV set, The One is fast-paced, with polished writing and zippy dialogue. Kaneana May is an author to watch. A highly entertaining read.' – Better Reading
Fall in love like nobody's watching…
On the wrong side of thirty, Bonnie Yates wants a happily ever after. Problem is, she keeps choosing the wrong guys. When an ex returns to town with a fiancee in tow, history and temptation collide. Unable to shake her inappropriate feelings, Bonnie flees, becoming an unlikely contestant on popular dating show The One. Will she find what she's looking for?
Working behind the scenes, Darcy Reed is a driven young producer dealing with a tyrant of a boss. Despite being surrounded by love at work, her own love-life with long-term boyfriend Drew is floundering. Producing a flawless season is her best chance at a promotion. But with the unrelenting demands of the show, how will she save their relationship while making that shot?
Penelope Baker has relocated to a small seaside town to hide away with her secrets and nurse a broken heart. But with The One beaming across the nation's televisions, she can't seem to quite escape the life she left behind.
Before cameras roll on the final ceremony, all three women will discover just what they're willing to do in pursuit of the one…
From an Australian TV scriptwriter comes a sparkling debut novel where the quest for love will surprise you.