Pretty Woman, starring Julia Roberts as the irrepressible and beautiful Vivian, and Richard Gere as the charming and handsome Edward, was first released in 1990. This romantic comedy, thirty years on, with a dynamic reminiscent of Pygmalion and My Fair Lady, is a romantic comedy that is not only still popular, but in many ways has stood the test of time. Though maybe not the shoulder pads…
First and foremost, Pretty Woman is remarkable because of Julia Roberts, who dominates every scene she appears in as Vivian not only because of the character's beauty, but her humour, intelligence and spirit. She might be a call girl but she is fundamentally a working girl, striving to support herself on her own terms, and to eventually go to college. As in many romantic comedies, her professional life becomes entangled with her personal life as she falls in love with her client Edward. Richard Gere plays his role to great effect—keeping the spotlight very firmly on Vivian where it belongs.
In her rejection of Edward because she wants 'the fairy tale', her ultimate goal is something that money won't buy— she will only achieve true happiness with a man who values her as she is.
While the movie has elements that are problematic today (and were also controversial when the movie was released), Robert's characterisation allows me to enjoy the good bits—while hoping that some elements would be treated differently if the movie were to be remade.
There are quite a few memorable moments, including these:
When Vivian is refused service at a Rodeo Drive boutique, she ends up shopping elsewhere. She returns to the shop at the end of the day, holds out her shopping bags and delivers the memorable line: 'Big mistake. Big. Huge.'
Beneath Vivian's wig is her wild untamed hair. It does get tamed in the makeover but… fundamentally it is very much a product of her true self.
Vivian not only walks out on Edward and his money, she teaches him that money alone can't make him happy, so by the end of the movie it is Edward who will be seen as the loser if he doesn't get his act together. Vivian is effervescent. And Edward's understated transition from unsettled to absolutely smitten has many heartwarming moments.
---
Penelope Janu
Penelope Janu lives on the coast in northern Sydney with six wonderful children and a distracting husband. She enjoys exploring the Australian countryside and dreaming up travelling and hiking breaks. A lawyer for many years, she has a passion for social justice, and the natural environment.
Whether coastal or rural, Penelope's novels celebrate Australian characters and communities. Her first novel, In at the Deep End, was published by Harlequin in 2017, and her second, On the Right Track, in 2018. Nothing makes Penelope happier as a writer than readers falling in love with her smart and adventurous heroines and heroes. She loves to hear from readers, and can be contacted at www.penelopejanu.com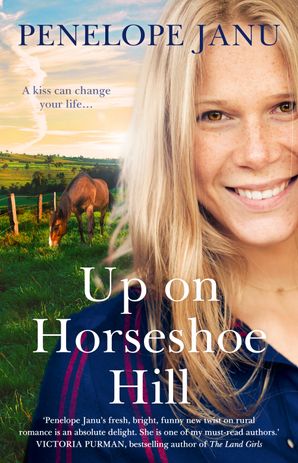 'Penelope Janu's fresh, bright, funny new twist on rural romance is an absolute delight. Her wit is as sharp as a knife. She is one of my absolute must-read authors.' Victoria Purman, bestselling Australian author
A kiss can change your life …
Jemima Kincaid loves her home, her horses and her job as a farrier. Life has not been kind to her, but Jemima is happy in the close-knit rural community of Horseshoe Hill, which rallied around in her hour of need. Even so, she is fiercely independent and will never rely on anyone again.
Particularly a man like Finn Blackwood.
An infuriatingly attractive geneticist and wild animal vet, Finn threatens not only the serenity of Jemima's present, but that of the future she has so carefully mapped out. But as their paths continue to cross, she finds her attraction to Finn impossible to counter, even as the trauma of her past threatens to undo her. Finn is fascinated by Jemima's solitary nature and unique vulnerabilities but Jemima knows all about loss and how to avoid it. Don't let anyone get close in the first place …
As the past begins to cast long shadows, Jemima and Finn discover that a kiss can bring worlds together-or tear them apart. Will they finally face their fears and find love on Horseshoe Hill?
Check out some of Penelope Janu's other books!