Miss Scarlet and the Duke is a British Historical series available on Channel 7.  Australian historical author Darry Fraser thinks it should be the next show you binge-watch.
---
Oh my goodness gracious. I need to watch more television – especially more of the delightful UK historical series Miss Scarlet and The Duke.
Apart from having trouble logging on to 7Plus, which caused so much angst that in the end I just hammered the key for the last episode and watched it first. So hooked by the end of it, I went to the first episode and binged the whole lot, including the last episode again.
What joy! What delight to just drift back in time and watch detective's daughter Miss Eliza Scarlet and Detective William (The Duke) Wellington tackle issues intertwined with their personal and professional lives.
Eliza's dad has just died. It seems to have been a heart attack, poor man – but he was known for his hard drinking as well, which is thought to have ruined his reputation. Now destitute, with a house to upkeep and staff to support, Eliza believes she can take up the mantle of her dad Henry Scarlet's detective business and continue. She's strong, she's smart, and she knows just how far she can go … then goes a bit further.
William, whose career in the police force was mentored by Henry Scarlet, reluctantly joins forces with Eliza – mainly to keep her out of trouble. The dear man (and gorgeous) is a product of his nineteenth century upbringing and certainly adheres to the adage that a woman's place is in the home – or in the kitchen, as one fabulous scene shows us. Oh my goodness, the chemistry.
The dialogue throughout is witty, funny, and laugh-out-loud in places. The lovely appearances of Mr Scarlet as a constant presence in his daughter's life is heart-warming, and he doesn't only appear for Eliza. Grief is a deep down and forever changing emotion, and although this series is quite light-hearted (except for murders and grisly crimes and all things a bit awful about nineteenth century London) it is helps sharpen Eliza's determination to discover the truth about her father.
William also deals with grief as he struggles to contain his feelings for a woman with whom he's practically grown up.
Without spoilers, Eliza proves over the six episodes that her grit is useful, despite William trying to keep her out of harm's way. Poor man's only tactic is to keep her where he knows she's safe: in the cells – not conducive to where he'd like to keep her.
A potentially dangerous gang (of ladies) – the dreaded and disruptive suffragette movement – has William sending Eliza undercover into a meeting. William might be of the misguided opinion that the issue is harmless – hence why he sends Eliza. Frustrated at his apparent sidelining of her, Eliza comes to realise that in fact there is a militant issue at hand. The episode was interesting one; Eliza resists the call to arms for the suffragette movement, and although in Britain at the time it was, and remained, a very dangerous issue for the women involved, I found her resistance a little at odds with what she was doing. Then again, she was already doing a man's job and trying to make her own way without the added pressure and distraction of joining the suffragettes. (The movement proved an exceptionally long battle in the UK.)
Eliza's friend Moses, a Jamaican and son of a slave, caught up in the underbelly of London of the day, appears to be the exact opposite of William Wellington but – no spoilers! Mr Parker, another character, is ensnared by the homophobic attitude of the time and fully understands what might befall him if his truth is discovered. Marriages of convenience. Mr Parker's mother is a wonderfully awful person. Eliza's interaction with her housekeeper Ivy portrays a loving relationship between classes.
A stand-out portrayal was the obvious and derisive attitude in the 'main' population towards the status of women. Eliza's attitude towards the bad behaviour directed at her and others plays out in her obvious (polite) refusal to let it daunt her or stop her. Watch for the interaction between her and the hapless young cop, PC Honeychurch – priceless.
Other issues of the day are dealt with sensitively, even though the social and political concerns, and the ramifications of being on the wrong side of the law, would have been truly nasty and ugly in real life. I'm not an expert on these things, but from a twenty-first century viewpoint, Miss Scarlet and The Duke highlights the problems without hiding the fact that there was a very ugly side to the times. The whole series took me away on a journey back in time. I loved it.
It wasn't half bad either to watch Stuart Martin's William Wellington do his best to persuade Kate Phillips's Eliza Scarlet to toe the line. I found myself gleefully cheering on Eliza, while feeling and falling for the not-half-bad William.
I think for that alone, I'll just head back over to the tele and binge watch it all over again. Did I mention Stuart Martin?
Love all-things Historical? Check out Darry Fraser's historical fiction books
---
Darry Fraser
Darry Fraser's first novel, Daughter of the Murray, is set on her beloved River Murray where she spent part of her childhood. Where The Murray River Runs, her second novel, is set in Bendigo in the 1890s, and her third novel, The Widow of Ballarat, takes place on the Ballarat goldfields in the 1850s. Darry currently lives, works and writes on Kangaroo Island, an awe-inspiring place off the coast of South Australia.
To find out more, visit Darry on her website.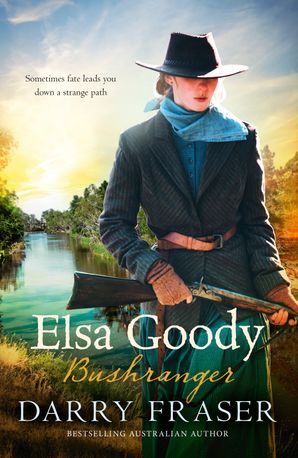 Elsa Goody is a woman on a quest for buried treasure – and her own freedom. A thrilling historical romance adventure from a bestselling Australian author.
1896 Robe, South Australia
When Elsa Goody's father and brother George die in quick succession she and her sister Rosie are in trouble. Pursued by an unpleasant suitor with dubious motivation, Elsa leaves for Victoria on the hunt for a fortune in gold coins that her brother has hidden. If Elsa can find it she will be able to save Rosie and herself from married slavery.
Their quest leads them on a cross-country journey to find the last man who saw her brother alive, Ezekiel Jones. But Elsa is not the only one looking for buried treasure. She and Rosie are beset by bushrangers and in the confusion Elsa is accused of being an accomplice. Luckily not everyone believes that Elsa is a criminal. When she finally catches up with Ezekiel, it's clear that for him she can do no wrong.
But with everyone chasing her and bloody violence on the horizon, life is becoming increasingly complicated. Will she and Rosie ever manage to solve the mystery, find the gold and free themselves from a dark future?
'Outstanding prose that flows and ripples through every page.' Starts at 60