Alli Sinclair's latest book is inspired by the real-life codebreaking women working at the Central Bureau in Queensland during WWII. So we asked her to watch an iconic TV show all about codebreaking women!
---
If you love watching shows about strong women banding together for the greater good, then The Bletchley Circle is well worth a watch (and a revisit if you've seen it before). Set after World War II, the series follows a group of women who worked for Bletchley Park during the war. They use their elite codebreaking skills to solve murders (and prevent them) and although the war is well and truly over, they are still fighting battles of their own.
Here's 5 reasons why you should watch The Bletchley Circle:
1) Woman reclaiming their independence and power
Although the women worked in highly classified jobs during the war and deciphered enemy code, saving thousands of lives, after the war they were relegated back to the kitchen and expected to fit in with the traditional roles that had been thrust upon them. But oh no, our heroines are not ready to accept that!
2) The fantastic array of characters
Susan sees patterns in everything and this ability helps her spot clues no one else notices.
Millie has street smarts and is awesomely fearless
Lucy's incredible photographic memory helps the women find the facts they need (she can remember train timetables from years ago!)
Jean is super resourceful in getting contacts and finding the files and documents needed to solve the crimes.
3) Female friendship
The friendship between these women is what we all need: when one falls down, the others are there to pick her up.
4) Shhhhhhh … secrets.
The women had to sign the Official Secrets Act when they worked during the war. Husbands, children, family and non-Bletchley Park friends could never know what these women did.
5) Triumph
Men doubt the Bletchley Park women's crime-solving abilities so what better way to prove them wrong than solve a crime the police can't?
There are two series set in England with a third in San Francisco when some of the courageous Bletchley Park women head to the USA to help solve a series of crimes. Codebreaking women who stop murderers? Definitely worth a re-watch!
---
About the author: Alli Sinclair
Alli Sinclair, an adventurer at heart, has won multiple awards for her writing. She is Australian and has lived in Argentina, Peru and Canada, and has climbed some of the world's highest mountains, worked as a tour guide in South and Central America and has travelled the globe. She enjoys immersing herself in exotic destinations, cultures and languages but Australia has always been close to Alli's heart. Alli hosts retreats for writers and presents writing workshops around Australia, as well as working in film on international projects. She's a volunteer role model with Books in Homes and is an ambassador for the Fiji Book Drive. Alli's books explore history, culture, love and grief, and relationships between family, friends and lovers. She captures the romance and thrill of discovering old and new worlds, and loves taking readers on a journey of discovery.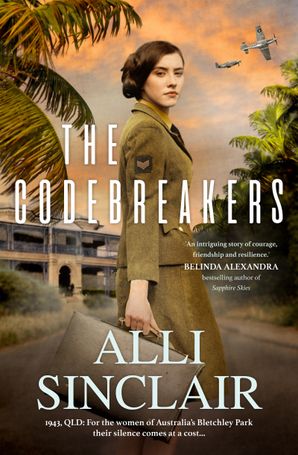 They will dedicate their lives to their country, but no one will ever know…
A compelling story about tenacity and friendship, inspired by the real codebreaking women of Australia's top-secret Central Bureau in WWII. For readers who love Judy Nunn and Kate Quinn.
1943, Brisbane: The war continues to devastate and the battle for the Pacific threatens Australian shores. For Ellie O'Sullivan, helping the war effort means utilising her engineering skills for Qantas as they evacuate civilians and deliver supplies to armed forces overseas. Her exceptional logic and integrity attract the attention of Central Bureau – an intelligence organisation working with England's Bletchley Park codebreakers. But joining Central Bureau means signing a lifetime secrecy contract. Breaking it is treason.
With her country's freedom at risk, Ellie works with a group of elite women who enter a world of volatile secrets; deciphering enemy communications to change the course of the war. Working under immense pressure, they form a close bond – yet there could be a traitor in their midst. Can the women uncover the culprit before it's too late?
As Ellie struggles with the magnitude of the promise she's made to her country, a wedge grows between her and those she holds dear. When the man she loves asks questions she's forbidden to answer, how will she prevent the double life she's leading from unravelling?
'An intriguing story of courage, friendship and resilience.' – Belinda Alexandra