Would you remember the face of a killer?
After divorcing the heir to a media fortune, Juliet Temple chose to keep her high-profile surname to grow her elite event planning business. But when a young woman is found dead and Juliet is drugged at her latest celebrity party, not even the Temple name can protect her. Unable to remember what happened that night, Juliet finds herself in serious danger.
Juliet retreats to the Hunter Valley, where she becomes Jet Appleton, Rhodes Family Estate's wedding organiser. Martin Rhodes, winemaker and former detective, is tasked with watching over her, but his son, Dan, knows nothing of Jet's true identity–which is a problem because he's the sort of man who deserves her honesty.
As the dark ties holding her to Sydney close in, Jet begins to see her old life–including her controlling ex-husband–in a whole new light. Jet's longing to return to Sydney is proving to be a dangerous desire, and so are her growing feelings for Dan. But not as dangerous as the killer, who is still watching her every move . . .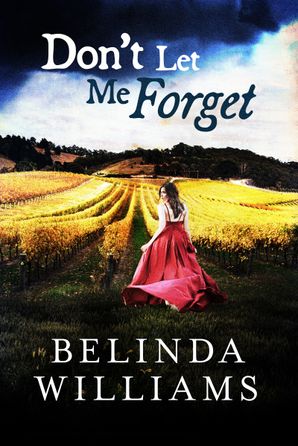 ---
Chapter One
The birthday celebration was a sight to behold.
Hundreds of people milled around perfectly manicured gardens bathed in twilight and the glow of strategically placed fairy lights. The attendees were made up of the guest of honour's family, friends and a generous sprinkling of Sydney's celebrity who's who. The party was reminiscent of the 1940s and had a distinctly stylish retro feel. Guests had indulged and embraced the spirit of the event, with women showing off elaborate up-dos and glittering ball gowns while they stood chatting and drinking French Champagne on the lawn.
A jazz band was positioned at the edge of the extensive grassed area on a stage that had been brought in especially for the event. Dressed in black suits and matching black hats, the band pumped out popular favourites with smooth sophistication.
It was respectability mixed with style, and it was one of Juliet Temple's best events to date.
'Great party.'
Discreetly, Juliet surveyed the party's host, Alex Benedetti. 'I'm pleased you're enjoying it.' 'I'd enjoy it more if you'd stop working so hard. Come and have a drink with us.' Juliet attempted a bright smile. 'That's not what you're paying me for.'
Alex regarded her openly and Juliet did her best to maintain the smile. What the papers said was true. He was exceptionally good-looking. Blessed with dark Mediterranean features, Alex Benedetti was more attractive in person than he was in the paparazzi photos. His olive skin and mischievous brown eyes framed by impossibly long lashes meant women had been throwing themselves at him all night. Except for Juliet. From behind her smile, she watched those dark eyes warily, an unconscious awareness urging her to be careful.
'You mean I have to pay you to come and have a drink with me?' he asked.
Juliet flushed at the innuendo. Or at the insult. She wasn't sure which. 'Of course not. I was just pointing out that I'm here to do a job.'
'You British. Far too restrained.'
'Perhaps.' Juliet supposed she was more restrained than the females she had noticed lavishing him with attention throughout the night.
'Or Andrew was right. You work too hard.'
At the mention of her ex-husband's name, Juliet's smile dimmed. 'He knows me well.'
'Yeah, well, he didn't know how to hold on to you, so I'm guessing he didn't know you well enough.'
He was more accurate than she cared to admit, but Juliet didn't allow it to show and held Alex's gaze firmly. 'He knew me well enough to know I was the only one who could pull off this party for you.'
Alex's eyebrows lifted, surprised by her confidence. 'That's true. And it's one hell of a party.'
Juliet quickly scanned the carefully constructed party like a watchful conductor.
The son of the veteran actor Mario Benedetti, Alex's thirtieth birthday celebration was befitting of television royalty. His father had spent his career starring in some of Australia's best-known television series. Now Alex was following in his footsteps, but going a step further, with his sights set on Hollywood.
'I should let you get back to your celebrations,' Juliet replied smoothly after a moment.
Alex looked as though he was about to disagree, but flashed her a confident smile instead. 'You're not off the hook, Juliet Temple. Before the night is out, I'll get my drink,' he promised.
Juliet watched Alex rejoin the crowd of black tuxedos and evening dresses. Accepting a glass of wine from a nearby waiter, he effortlessly immersed himself in the conversation of his chosen group.
Juliet shook her head and turned to make her way back to the kitchen, the looming grey of the stark minimalist house towering over her. The building appeared to swallow her whole as she stepped through the cavernous floor-to-ceiling doors that had been opened fully for the event.
When Juliet had recommended the party be held at the family's exclusive Vaucluse property, Alex had been hesitant. A party boy, he'd envisaged a big event in the city. If he'd had his way, they would have hired a seedy club, but Juliet was under strict instructions from Alex's father to keep the event respectable. Respectable and Alex didn't necessarily mix. Fortunately, Juliet wasn't easily defeated.
'Andrew can't keep his eyes off you.'
Juliet paused in the doorway to the kitchen. Her close friend, Edie, sat perched on the edge of the counter, champagne glass poised in one delicate hand and a canapé in the other.
Juliet shrugged and joined her in the kitchen. 'He always had wandering eyes.'
Edie set down the glass and gave Juliet a pointed look. 'Lately they've been wandering in your direction an awful lot.'
Juliet didn't have time to worry about the unwanted attention of her ex-husband. She rolled her eyes at Edie and decided to change the subject. 'Why aren't you outside mingling?'
'I got bored. Besides, everyone knows the help are privy to the latest gossip.'
This time it was Juliet's turn to give her friend the pointed look. 'Honestly, Edie. Have you been harassing the staff?'
Edie had the graciousness to look guilty.
Juliet turned to the team of waiters, waitresses and catering staff busily going about their work. She met the head caterer, Vanessa's, eyes. 'She hasn't been annoying you, has she?'
Vanessa grinned. 'Not at all. But I think she's got it the wrong way around. We're the ones benefiting from Edie's impressive knowledge of the guests.'
Juliet gave Vanessa an apologetic smile and turned back to her friend. 'You're in the way in here. Go outside.'
Edie pouted, and Juliet shook her head once more at her friend. At just over five foot, Edith Thomas was a force to be reckoned with. Her blood red, fitted dress clung to her petite frame and her sleek black bob appeared even glossier and more perfect than usual.
'I saw you talking to Alex out there,' she said, ignoring Juliet's instruction. 'What was that about?' 'He wanted me to have a drink.'
Edie's blue eyes sparked with interest. 'With him?' 'I reminded him I was here to work.'
'He didn't look convinced,' Edie observed.
'Rich, attractive men never are,' Juliet replied darkly.
'You're such a workaholic.'
'My work is one of the few things I can rely on,' Juliet told her friend.
Edie frowned. 'And me.'
'And you,' Juliet agreed. She moved to Edie's side and gently took her by the arm, easing her off the counter. 'Come on. Don't waste the night being in here with me. There's more interesting people outside.'
'Are you sure?' The sympathetic tone in Edie's voice was enough to remind Juliet
that her friend was less interested in gossip and more worried about looking out for her.
'I'm fine. Really. Now go.'
'I'll be back to check on you later,' Edie promised, and gave Juliet one last concerned look before leaving the kitchen.
Juliet sighed and turned back to the staff, determined to focus on the task at hand. It would be all too easy to be distracted by the host's worrying level of attention, or the fact that her ex-husband was among the guests. Not that it was any surprise. Andrew Temple was the son of a media mogul and destined to inherit his father's empire.
An empire she would have been part of if they hadn't divorced. Instead, she'd spent the last two years attempting to put the past behind her and working hard to build a name for her exclusive event management business. For the most part she'd been extremely successful. Her company now catered to an enviable selection of Sydney's rich and famous, and even a politician or two.
Juliet grabbed an empty glass and filled it with water. She finished it in one long gulp. She felt unreasonably hot in the dress she was wearing, and cast a glance down at the ankle-length gown. It was absolutely beautiful and she had Edie to thank.
A well-known soap opera star, Edie had connections in the industry that extended to fashion designers. As well as the considerable perks, Juliet often wondered if Edie's full-time job should be a professional social butterfly rather than an actress.
The luminescent gold silk fabric clung to Juliet's tall, athletic frame, and the strapless neckline accentuated her toned shoulders and tanned skin. It was absolutely ridiculous the dress was considered working attire, but when catering to some of Sydney's elite, she was expected to look the part.
She set the glass down and wished, belatedly, that she'd taken the time to have her hair done in an up-do. Instead, she'd been too busy organising last-minute details and barely had time to throw the gown on. Now her light brown hair fell in loose waves past her shoulders and she was feeling overheated.
Resigned, Juliet did her best to ignore the sweat she could feel forming between her shoulder blades and breasts. She spent the next ten minutes checking in with the catering crew and making sure everything was keeping to the agreed schedule. Satisfied the night was going exactly as planned, she headed back outside to keep an eye on how the waitstaff were doing.
With a small glass of French Champagne in hand, she positioned herself on the balcony overlooking the grounds, behind a row of hedges. To the guests, she'd appear to be just another partygoer.
'You didn't take Alex up on his offer of a drink, I see.'
Juliet turned slowly at the familiar deep bass of her ex-husband. 'Hello Andrew.'
'Juliet.' He closed the distance between them, his hand finding the small of her back far too readily while he brushed her cheek with a kiss.
'I reminded him I was here to work,' she repeated for the second time that night, instinctively stepping away after the kiss.
Andrew's green eyes watched her retreat. 'I'd already warned him of your single-mindedness when it comes to your work.'
'That was very generous of you.'
'Just like it was generous of me to recommend you manage this event?'
Juliet resisted frowning at her ex-husband. He'd always had a way of turning the conversation around on her. 'Of which I'm very grateful.'
'You've done an amazing job.'
And just like that, things between them were amicable again.
Andrew turned to stare across the Benedetti grounds, watching the people below.
Juliet glanced sideways in his direction. She'd always found him an imposing man—that had been part of the attraction. Well over six foot, his dark hair was cropped short and his strong, somewhat harsh features, regarded the crowd. His dinner jacket served only to highlight his strength, rather than to diminish it. It would be easy to confuse him for a well-dressed security guard instead of an heir to a media fortune.
Andrew turned to Juliet again. 'I would suggest you avoid Alex as the night wears on. The word is he doesn't tolerate his alcohol well.'
'You don't need to watch out for me.'
'I'm watching out for me too, remember. We may be divorced but you're still associated with the Temple name.'
And there it was, Juliet thought. His true colours. 'Don't worry, darling,' she replied, her British accent suddenly more pronounced. 'I won't do anything to taint the Temple name.'
Andrew grinned and his eyes narrowed. 'Nothing I wouldn't do, you mean?' 'Exactly.'
Juliet shoved past him and headed back towards the kitchen, in a silent, but restrained, rage. He'd always been able to do that to her. And openly highlighting his infidelity during their brief marriage didn't help.
It would always be like this, she knew. Until she stepped away from his world, and dropped the Temple name, she would be bound to him. No amount of time, or hard work on her part, was going to change that.
The decision to name her event management company, Temple Events, was something she regretted almost as much as marrying Andrew. Almost. She wasn't naive and understood the name had opened numerous doors for her. By the time they divorced, the company was established and the name had stuck.
As Juliet Temple, she was among Sydney's elite; a successful businesswoman and well-known name.
The only problem was, she wasn't sure she wanted to be Juliet Temple anymore.
Chapter Two
Juliet set her drink down and listened to the sound of the pounding bass. It matched the beat in her head. It was nearing three in the morning and she'd been working since the previous morning. Nine hours of that time had been in stilettos. God, she loved this job.
Sarcasm aside, she did enjoy it. The party had been a success. There would be images from the night in tomorrow's newspapers and in the latest tabloids, further skyrocketing Alex's playboy reputation in the media—and hopefully her prowess as an elite event organiser.
Juliet surveyed the expansive foyer area. She'd just watched the last of the evening's guests depart. She glanced at the empty glass. She shouldn't have drunk it. She'd already had one earlier and she'd barely eaten all night. It had seemed poor manners, though, when one of the waiters had brought her the drink and gestured to Alex at the far side of the garden.
'Compliments of the host,' the waiter had explained.
Under the watchful eyes of Alex, she'd raised the glass in his direction. He'd smiled and nodded. If it meant she could skip sharing a drink with him and avoid his playboy antics, she'd drink the whole thing.
In the entrance foyer, Juliet picked up the glass. She turned towards the stairwell and the direction of the music. Her toes pinched painfully in her shoes as she made her way down the stairs. She would leave the glass in the kitchen and farewell the last of the catering and waitstaff, then head straight home to bed.
Five minutes later when she was done, Juliet paused at the bottom of the elaborate marble stairwell. She caught her reflection in a giant gilded mirror positioned above an intricate wooden hall table. Juliet frowned. Her eyes looked tired, which was to be expected. She stepped closer, her frown deepening. Her eyes were bloodshot. Definitely time to call it a night.
Juliet hesitated and glanced towards the source of the pumping bass line. With a sigh, she walked in the direction of the noise, which was muffled by a door on her far left. She wasn't sure why she was bothering. While it was her standard practice to personally farewell the party's host before leaving at the end of an event, something told her that Alex probably wouldn't notice if she slipped away. Still, she hadn't built one of the country's best event businesses by being lazy.
The deep bass muted the sharp sound of her heels on the marble foyer as she approached the door. Pausing, she debated whether to knock or just walk in.
She knocked loudly a few times. When there was no answer, she pushed the door open. Juliet blinked and covered her mouth instinctively when a cloud of cigarette smoke wafted her way.
The room was dark as well as smoky. Squinting, she made out the rectangular shadow of a spa and half submerged bodies at the far side of the room. Naked bodies, she realised. As her eyes adjusted to the dim light, she was able to see exactly what those dark bodies were doing. In her surprise, Juliet inhaled a mouthful of smoke and started coughing. She backed out of the room. She was no prude, but she had no intention of breaking that sort of party up.
God, so much for her perfectly respectable event. It was no surprise to Juliet that Alex was continuing the celebrations with a few of his close friends. She had underestimated Alex's playboy eccentricities, though. The sooner she got out of here, the better. Juliet didn't want her company's name—or God forbid, the Temple name—connected to this sort of behaviour. She had no idea if the people in the spa room were all guests or had been hired for recreational purposes, but she didn't pause to think about it.
Juliet took the stairs two at a time, ignoring her protesting feet.
'Leaving so soon?'
Juliet stopped abruptly at the top of the stairs, the polished marble making a light squealing sound beneath her heels. Alex leaned against the wall languidly, with what Juliet considered an indecent smile on his face. Away from the party celebrations, his black tuxedo seemed out of place and it looked more like a costume for a part he was playing.
'Yes, I'm all done, so I'll say goodbye,' she replied lightly. 'Enjoy the rest of your night.' Juliet gave him a bright smile—she couldn't care less if it appeared fake, she was just eager to get out of there. She started to walk past him, but stiffened when he grabbed her by the arm.
'You had a drink, after all.' His smile was friendly, but there was something dangerous in his dark eyes.
'It was lovely, thank you.' She went to pull her arm away, then winced when his fingers dug into her skin. Her heart pounding, Juliet forced herself not to resist his grip. She glanced over at him and felt sick. He was drunk. Very drunk. And now he was leering at her. 'Alex,' she said quietly. 'You're drunk.'
'So are you.' His fingernails were leaving an impression in her arm.
Juliet swallowed. He was so drunk he had no idea what he was talking about. 'I'm fine, but I need to go home.'
He released her arm with an odd smile. 'Are you sure? You don't look very well.' 'Goodnight, Alex.'
Juliet turned and made her way down an endless hallway, which she knew led back to the front door. Talk about pot calling the kettle, Juliet thought. Alex was in no condition to make judgements about her appearance, although it secretly upset her that she looked bad enough for him to comment on it.
Halfway up the hall, Juliet stumbled and caught herself by placing a hand on the wall. Her vision clouded momentarily while she fought back a wave of dizziness. She really hadn't eaten enough and she was very tired. Juliet continued walking, more slowly this time. At the end of the hall she reached out to steady herself again. She felt sick, and a wave of nausea pushed a mouthful of bile up her windpipe. Juliet scowled in distaste. She needed to get home.
'Not feeling very well?'
Juliet started at the sound of Alex's voice. He was standing casually in the foyer and for a moment she wondered if she was hallucinating. She'd only left him moments ago at the top of stairs.
Juliet squinted at him, the bright overhead lights hurting her eyes. 'I really need to go home.'
Alex came up beside her and slipped an arm through hers. 'I'll have someone take you home. You're in no condition to drive.'
'No,' Juliet breathed, because the room had started to spin. Without meaning to, she leaned into Alex's side to keep herself upright.
Alex turned her away from the front door gently. 'On second thoughts, you'll be safer here. I'll find you somewhere to lie down until you feel better.'
Juliet wanted to protest. She opened her mouth to do so but all that come out was an unintelligible moan. What was happening?
'You really have overdone it,' Alex commented, as if they were having a normal discussion and she wasn't about to pass out. He continued to lead her back down the hallway. 'Not good practice for the party organiser, but I'm hardly one to judge.' He bent down and whispered in her ear. 'I promise I won't say anything.'
Juliet couldn't even nod. She was finding it hard to focus as a bone deep exhaustion settled over her. She desperately wanted to close her eyes but somehow managed to fight it.
'Here you go.'
Alex opened a door at the far end of the hallway, or at least she thought that's where they were—she couldn't remember getting there.
He led her into a dimly lit room and eased her onto a leather lounge. Juliet slid onto her side without consciously deciding to and closed her eyes.
'You'll be safe here,' Alex said softly.
She thought she heard his footsteps leave the room and the door click closed, but it was hard to tell because even with her eyes closed the room seemed to be spinning. She wasn't sure how long she lay like that.
When she heard the door open again, she didn't move because she was unable to. 'Watch her.'
It took Juliet several moments to realise Alex wasn't talking to her. Juliet sensed movement behind her closed eyelids and thought she heard the door click closed again.
Distantly, Juliet understood the exhaustion was about to claim her. With one last burst of willpower, Juliet opened her eyes again for a second.
One second was enough.
She saw the girl—because that's what she was, barely thirteen or fourteen—sitting in a chair, watching her from across the room. She was Asian and very beautiful. The girl's eyes met hers. A rounded, haunting brown that somehow appeared older than her appearance.
Even through the fog clouding her brain, Juliet recognised something wasn't right. What was a girl this age doing here in the middle of the night? She didn't have the strength to contemplate it further.
Juliet closed her eyes again and gave in to the darkness.
Chapter Three
One month later
Juliet sucked in a sharp breath as she watched the black BMW approaching in the rear-view mirror. It was moving at an impressive speed. Heart pounding, she flicked on her left-hand indicator and directed her car into an available gap in the other lane.
Just like before …
The dignified roar of the BMW's engine bid her goodbye as it sped past.
Juliet blew out a long breath. She needed to get a grip.
Unfortunately, that was something she'd been unable to do for the past month. Ever since the night of Alex Benedetti's party.
Juliet resisted the urge to close her eyes because she needed to keep them on the road. She refused to relive the memories of that night again. Lord knows, she'd done that enough these past few weeks. She could just make out the green and white sign looming up ahead. That must be her exit. Only about forty kilometres to go.
She flicked on her indicator again and took the exit from the freeway.
In about half an hour she would arrive at her new job as an events manager for a prestigious boutique winery in Australia's Hunter Valley wine region. Never mind that less than a month ago she had no intention of looking for a new job or leaving her business. Or that less than a month ago she'd still believed the Temple name could protect her from anything.
She'd been wrong.
Juliet glanced at the contents on her back seat. She'd piled her bags haphazardly, and there was more of the same in the boot. When she'd left at four this morning, she'd been in a hurry. As if she didn't quite trust her decision to go, she'd thrown a scant selection of her belongings into the hire car. She hadn't looked back. She could envisage her harbourside apartment the way she'd left it. Lived-in and with very little sign that the apartment's owner had fled the city. But then that had been the idea. If it looked like she still lived there, it would be a while before people figured out she'd gone.
Juliet sighed and ran a hand through her mess of light brown hair. She hadn't even showered before leaving. It was hardly the first impression she was aiming for. Fortunately, the owner of the winery was aware of the situation and she hoped he'd be forgiving of her less-than-perfect appearance.
Juliet made the rest of the journey in silence. Earlier, she'd attempted to lift her mood by filling the cabin with loud music, but she'd switched it off almost straight away. Whenever she heard a steady beat, it reminded her of that night and the music playing in the background when Alex had led her down the hallway …
'Enough,' she said out loud. By the time she arrived she would be one hundred and fifty kilometres from Sydney. No one knew where she was going, not Andrew, not even Edie. She couldn't care less about offending Andrew, but the distance from Edie was going to hurt.
It's not forever.
That's what the Police Commissioner had said. Just until they could make further progress on the investigation and Juliet could walk around the city without a horde of photographers chasing her.
Or random cars trying to run her down.
'Oh God,' she whispered, the sting of tears in the corner of her eyes.
What happened the night of the party had felt like a bad dream until the hit-and-run car accident. Jet had been driving to work like any other morning, but on this particular day she was up earlier than usual, planning to arrive well before anyone else to prep for a client meeting. She'd been glad of the extra work to keep her mind off recent events. Ever since the night of the party, she hadn't felt like herself and work was something that was certain and familiar.
The sun had been in her eyes. The penetrating rays were so much brighter than any sunrise she could remember from her childhood growing up in the UK.
She'd been squinting as she approached the intersection, making sure she hadn't missed seeing any pedestrians and double-checking the light was green before proceeding further.
She'd felt safe entering the intersection. Assured of her driving and where she was going.
In a split second, that illusion was shattered when in a flash of silver, a vehicle hurtled towards the driver's side of her car.
Juliet didn't have time to hit the brake. She didn't have time to do anything except think, Oh no.
There was an anguished screech of metal on metal, which Jet discovered was a sickening, twisting sound—the sort of noise you hear in nightmares and not in real life.
The silver car made impact with the front side of her car and Jet's head jolted painfully like a jack-in-the-box popping up. The airbag went off and surrounded her in a cloud of white so she couldn't see. Juliet was powerless to do anything as her car was pushed across the intersection.
And then, once she'd finally stopped and blinked several times only to realise the passenger side of her car was dangerously close to a power pole, the roar of an engine had reverberated through her. Still unable to see properly, Juliet sensed, rather than saw, the car that had hit her drive off.
In that instant, teetering between gut-wrenching fear and relief that she was still alive, Juliet accepted that what had happened the night of the party hadn't been a bad dream at all. Maybe this accident was nothing more than a coincidence, but the alternative … It was far more sinister than Juliet wanted to contemplate.
It was this very possibility the police were considering right now on her behalf.
Juliet drew in a shaky breath. The car accident had only happened yesterday and she was still shaken from its after-effects. The conversation with the Police Commissioner remained fresh in her mind.
It will be safer if you're out of sight until we can progress further with the investigation and determine the extent of the danger you're in, the Police Commissioner had told her. But he'd left it up to her. It was her choice, he'd said, but his personal recommendation was that she disappear from public life for a period of time.
Nothing about this felt like her choice, though. Not packing her bags hurriedly in the pre-dawn light. Not leaving her life and business behind no matter how temporary. It felt like she was suddenly adrift in an unchartered ocean and she didn't even have an oar to direct her journey.
When she'd arrived in Sydney five years earlier, a young British backpacker enchanted by the expanse of azure harbour and endless blue sky, she'd never anticipated this was where her life would end up.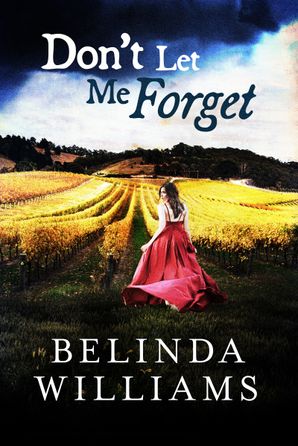 Don't Let Me Forget will be available from the 18th of June 2020