When we last left the apocalyptic world of The Walking Dead, winter had come and gone, we said goodbye to The Kingdom with its residents moving over to Hilltop, and Negan saved Judith, thus earning himself brownie points with Michonne who is now considering letting him live freely in Alexandria. Sorry, perhaps I should have started this with Spoiler Alert!?
Season 10 is just around the corner and, while we eagerly await its return, we decided to have a little fun around the office and posed the following question.
Which romance book would you take with you into a zombie apocalypse and why?
Because romance and zombies go hand-in-hand, right? If you don't agree, go watch Warm Bodies. You'll definitely fall to pieces!
Okay, back to the ultimate question because we know your dying to find out!
Eloise says…
If I was in a zombie apocalypse, I would take a stack of Mills & Boon Dare novels. They're quick and fun to read (always good when you're constantly on the run from zombies), and the steamy material would certainly help me forget about the devastation of a zombie infested world… for a while.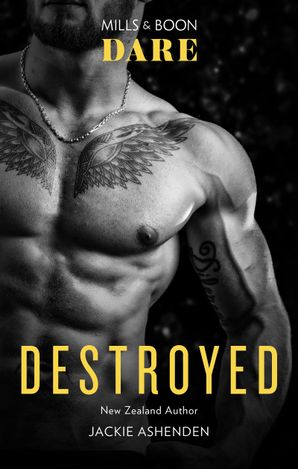 'You'll let me do whatever I want?' How can he resist…?
Why would a hot–as–hell biker put everything on the line to help the police chief's nerdy, innocent and very off–limits daughter? Simple – Summer Grant is offering Jake 'Tiger' Clarke something he can't refuse: her! It means playing with deliciously wicked fire, but Tiger is prepared to risk everything for what he really wants – even if it destroys them both…
Christine says…
I would take In At The Deep End by Penelope Janu. It's funny, warm, all the feels with a sexy man and totally real and believable, strong Australian woman all combined with a dopey Labrador that you can't help but love.
For extra credit, I would also choose Daughter Of The Forrest, Son Of The Shadows and Child Of Prophecy by Juliet Marillier.  Historical fantasy set Erin (Ireland) when druids, bards and fey were part of everyday life. A totally engrossing, amazingly written and completely unforgettable series featuring amazing women of the Sevenwaters family and their quests to keep their families safe in a time of Viking turmoil and conquering Brittans. These novels are historical epics with beautiful romance woven through every chapter.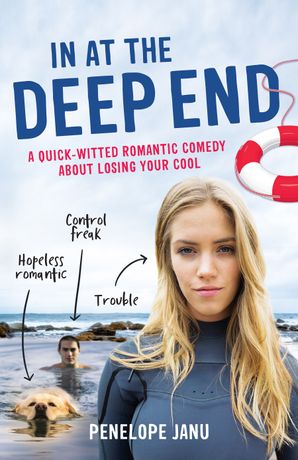 A quick–witted, contemporary romance about losing your cool.
What woman doesn't love a real–life hero? Harriet Scott, for one. The fiercely independent daughter of famous adventurers, she grew up travelling the world on the environmental flagship The Watch. So when Harriet's ship sinks in Antarctica and she has to be rescued by Commander Per Amundsen, an infuriatingly capable Norwegian naval officer and living breathing action hero, her world is turned upside down.
Like their namesakes, the original Scott and Amundsen who competed to reach the South Pole first, Per and Harriet have different ways of doing things. Per thinks Harriet is an accident waiting to happen; Harriet thinks Per is a control freak. But when Harriet realises that Per is the only one who can help her fund the new ship she desperately wants, she is forced to cooperate with him.
Johanna says…
If I was in a zombie apocalypse, I would take The Bushranger's Wife by Cheryl Adnams, a romping Australian historical to remind me what history has taught us – that we don't always control out future, and that true love is possible, no matter what circumstances you find yourself in.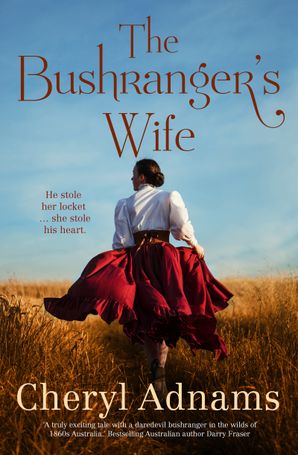 How do you tame a wild colonial boy? With an even wilder colonial girl.
Central Highlands of Victoria 1861
Jack the Devil's reputation precedes him. The most notorious bushranger on the Central Highlands, nothing throws him off his game-until he holds up Prudence Stanforth and her grandmother. Jack can't help but be captivated by the feisty Pru and her lack of fear in the face of danger.
Weeks later, Pru crosses paths with the respectable businessman Jack Fairweather, and it's not long before she recognises him as the bushranger who stole her favourite necklace. His price for the locket's return is a kiss-a kiss that ignites sparks in them both. When Pru discovers her grandmother has been keeping a devastating secret, running away with Jack the Devil is the perfect escape for her broken heart. The dangerous nature of his less than salubrious occupation is a poetic contradiction to her sheltered upbringing, and only fuels their passion.
But as life becomes more complicated, will the return of dark elements from Jack's past ruin their chance at happiness?
Saskia says…
If I was trapped in the zombie apocalypse, I'd be bringing The Promise of Summer by Rachael Johns, Elise K. Ackers and Shirley Wine. Why? Because A) It's HEFTY and thus great for bashing your way out of zombie swarms. And B) it's three stories in one, so I'll have plenty of romance to keep me tided over until all the zombies are gone/cured/massacred by a Pride and Prejudice wielding Courtney.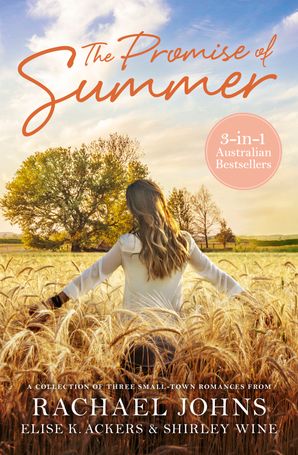 A collection of small-town stories from three bestselling local authors.
Jilted by Rachael Johns
When Ellie Hughes returns to the small country town of Hope Junction to care for her injured godmother, it's not long before the gossips start questioning why she broke Flynn Quartermaine's heart ten years ago. But Ellie is not the only one with secrets. When all is uncovered, can they overcome the past, or is Flynn destined to be jilted again?
Summer Return by Elise K. Ackers
Ethan Foster, home to mourn his sister-in-law, finds himself as unwelcome as ever in his small town. But the secrets that would clear his name would destroy his family and the woman he left behind. Samantha O'Hara once loved freely, but she can't – won't – have anything to do with this new Ethan … even if this time, their love might be enough to make him stay.
Tell Me No Lies by Shirley Wine
For single mum Victoria Scanlan, working the luxurious Darkhaven wedding will guarantee the success of her floral boutique and the stability she needs for her son. But the country house comes with a shocking guest – the groom, Keir Donovan, is the man she once knew as Seth Donahue. Suddenly, Keir's calm but loveless future suddenly doesn't seem quite so certain.
Jo-Ann says…
"If I was in a zombie apocalypse, I would take every Kristan Higgins novel I own! As a sucker for rom-com, Kristan in my go to author for laugh out loud funny and giving me 'the feels'.  A particular favourite is Now That You Mention It, which is a funny, emotionally charged story about the complications of life, love and family.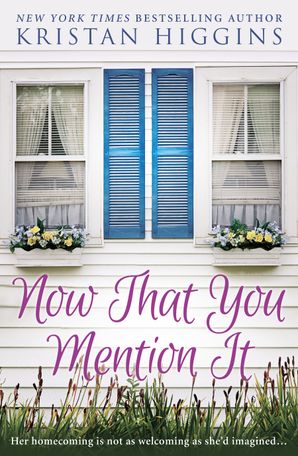 New York Times bestselling author Kristan Higgins welcomes you home in a funny, emotionally charged must–read novel about the complications of life, love and family.
One step forward. Two steps back. The Tufts scholarship that put Nora Stuart on the path to becoming a Boston medical specialist was a step forward. Being hit by a car and then overhearing her boyfriend hit on another doctor when she thought she was dying? Two major steps back.
Injured in more ways than one, Nora feels her carefully built life cracking at the edges. There's only one place to land: home. But the tiny Maine community she left fifteen years ago doesn't necessarily want her. At every turn, someone holds the prodigal daughter of Scupper Island responsible for small–town drama and big–time disappointments.
With a tough islander mother who's always been distant and a wild–child sister in jail, unable to raise her daughter – a withdrawn teen as eager to ditch the island as Nora once was – Nora has her work cut out for her if she's going to take what might be her last chance to mend the family.
Theresa says…
I would take Nora Roberts's entire collection, enough books there to make fire and weapons to smash zombies! I would also try to squeeze in the backpack a copy of SAS survival guide…
From No.1 New York Times bestselling author Nora Roberts comes two unforgettable romances of danger and mystery.
Risky Business
Dive shop owner Liz Palmer has made an idyllic life for herself in Cozumel. But everything changes when her employee is murdered and his grieving twin brother storms into Liz's life with revenge in his heart. Suddenly Liz is plunged into the dangerous world of drug smugglers, and she discovers how impossible it is to resist both the mystery and the passionate man trying to solve it.
The Welcoming
Charity Ford knew Roman DeWinter was different. His gaze smouldered with angry passion, arousing a dangerous fascination. His mere presence made her most forbidden desires come alive. Still, Charity knew so little about him, and it put her on edge. Was this stranger a threat to her happiness…or the man she'd been waiting a lifetime for?
Courtney says…
If I was in a zombie apocalypse, I would take Pride and Prejudice by Jane Austen. I would memorise every line of the book, so I could recite it to the zombies while I killed them.
"It is a truth universally acknowledged…" *smash* "…that a single man in possession of a good fortune…" *gunshot* "…must be in want of a wife…" *slash*
Jane Austen's Pride and Prejudice is the original romantic comedy, brimful of wit and wisdom. When the haughty and aristocratic Darcy refuses to dance with Elizabeth Bennett, she instantly dislikes him, despite his reputation as a wealthy and eligible bachelor. Are her first impressions correct, or is there more to Darcy than meets the eye? Sharply observed and sparklingly funny, this is one of the most delightful love stories ever written.
By Jo-Ann Milne