Author Daniel De Lorne talks us through his favourite queer characters from the small screen.
---
It's the most wonderful time of the year. It's Sydney Mardi Gras! Although this year, thanks to Miss Rona, things are looking quite a bit different. There's no dancing allowed in NSW unless you're getting married (Footloose, anyone?) and the parade is instead being held at the SCG to a seated crowd.
I'm one of the many Australian gays not going to Mardi Gras in 2021, but I was lucky enough to head to a regional Pride event last weekend in Broome in far north-west WA. It's the biggest event on the small town's calendar and it was so heart-warming to see locals fully embrace the Pride spirit.
To celebrate the joys of Pride for this month, here are seven of my favourite queer characters from film and TV, a mix of old and new, to keep you entertained.
The cast of RuPaul's Drag Race UK Season 2
RPDR has been on US television for 13 years now and the iconic tv series has made a huge impact on today's culture. But after so long, the US series is starting to feel a little tired. Enter RPDR UK! Now onto its second season, it is a much welcomed refreshing take on the classic.
Twelve drag queens races battle it out to be the UK's top drag queen, undertaking myriad challenges to demonstrate their charisma, uniqueness, nerve and talent. The season had to be stopped midway through filming due to the virus with some queens not returning to finish the show (including one of my favourites…no spoilers). Anyway, there's a lot of heart in this series and a lot of fun.
Check it out on Stan.
Schitt's Creek
As far as I'm concerned David and Patrick were the power couple in 2020, when the sixth and final season of Schitt's Creek aired. They were funny, touching, loving, and oh so adorable, right from their first meeting in season three to their wedding in the finale. Losing these two from our screens was a major blow as we all wanted more, more, more.
Watch it on Netflix
Sex Education
Eric Effiong, the gay best friend of lead character Otis in the boundary-pushing Sex Education, provides a lot of feel-good moments on the show—but he's not just the sidekick. Eric's got his own storyline, his own growth arc, and his own romantic woes. I've got a bit of an issue with the whole falling-in-love-with-your-bully trope but I'm willing to forgive him. (Plus Gillian Anderson is in this and she is LIFE!)
Watch it on Netflix
The Old Guard
This Charlize Theron slightly paranormal–themed movie follows a group of immortal mercenaries who are being hunted by a Big Pharma baddie who wants their secret to eternal life. Cue a lot of explosions and adventure.
What was refreshing for me about this blockbuster was the gay couple, a Muslim and a Christian who met and fell in love during the Crusades. Joe (aka Yusuf al-Kaysani) and Nicky (aka Nicolò di Genova) were tough yet sensitive and deeply in love. And best of all THEY DIDN'T DIE. So many movies see one or both of the gay characters get killed off and it starts to give you a complex.
Catch it on Netflix
The Marvelous Mrs Maisel
This tv series about Miriam Maisel, a standup comedian trying to make it big in the 1950s and 1960s, is a lot of fun. It also features Miriam's manager Susie Myerson. While Susie's storyline hasn't been fully expanded out yet, her character is well rounded, tough yet insecure, and funny. Her sexuality is still an open question but I hope it's explored in later series. Her tirades, along with Miriam's mother's persistent and droll questioning, are real highlights in the series.
Watch it on Amazon Prime.
Skins
An oldie but a goodie, Maxxie Oliver from seasons 1 and 2 of the no-holds-barred British series is the gorgeous and talented out gay teenage dancer. The series appeared in 2007 and for that time it was on the cutting edge of tv, showing teenagers in a light that didn't always get portrayed with a mix of sex, drugs, and vulnerability. Maxxie was a revelation.
Catch it on Netflix
Queer as Folk
It's hard to pick a favourite from the US version of this iconic tv series, which is now 21 years old, but I'd have to say it's Michael Novotney. While Brian got all the guys, it was his best friend Michael who had all the heart and showed that, in the end, nice guys really do win.
---
Ruin. Romance. Redemption. That's the magic trifecta Daniel de Lorne promises readers of his books. Whether it's irresistible vampires, paranormal paramours, or hot everyday men, Daniel's books go for the heart. And the stomach. And the spleen (just for good measure).
In his other life, Daniel is a professional writer and researcher in Perth, Australia, with a love of history and nature. All of which makes for great story fodder. And when he's not working, he and his husband explore as much of this amazing world as they can, from the ruins of Welsh abbeys to trekking famous routes and swimming with whales.
Read Daniel's latest book: Set The Stage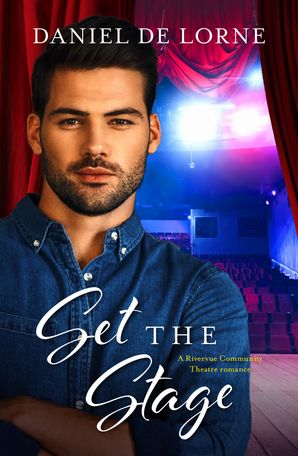 While the redevelopment brief for Rivervue Community Theatre moulders on his desk, a phone call from an unrequited past love sends architect Gabriel Mora running back to his artsy hometown. Afraid of worsening his mother's health, Gabriel is forced to hide his involvement in the redevelopment. It's just one more secret to keep, along with his feelings for a certain red-headed stage manager.
Bruce Clifton can build anything. But the jobs mean nothing if he's not getting paid. On the cusp of losing his home, Bruce needs to find a way to call in those debts without showing his community how much trouble he's got himself into. With Gabriel's return to town stirring up past hurts, soon it's not just his home Bruce has to worry about losing, but his heart.
Can Bruce and Gabriel work together for the good of Rivervue, or will their hope for a second chance exit stage right?