It's almost May and do you know what that means?
NEW BOOKS.
Not only that, as Winter fast approaches we're getting closer and closer to official *cosy* weather. It's time to pop on your fluffiest bedsocks, grab a warm blanket, make a hot chocolate and get reading!
Here are just some of the books the team here at Romance.com.au has added to their May TBR!
If you love country music… Back To The Country by Mandy Magro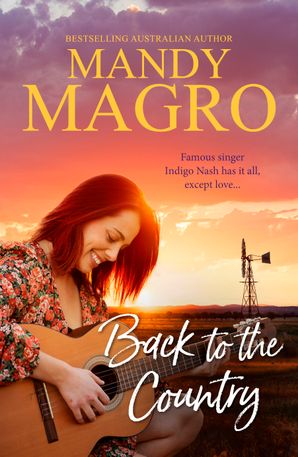 Set in the heart of the Australian countryside comes a compelling romance with a touch of mystery from bestselling author Mandy Magro.
Country singer Indigo Nash has it all, except love …
At the height of her musical career, Indigo should be nothing but happy. But Indi is disillusioned with show business, finding herself depressed and lonely. When she reaches breaking point, a simple life back in the country begins to beckon her. But the demons left lingering in the shadows from a childhood trauma follow her, and nightmares of that fateful night plague her … Can she unearth the truth of her family's deep dark secrets?
For two years Harley Knight has travelled the world with Indi as her bodyguard. She's a stubborn woman who drives him nuts, but also, in her vulnerable moments, shows him a side of herself he secretly loves and always has since they were teenagers. When she hits rock bottom, he convinces her to return with him back to their hometown of Kuranda and stay at his property, where Harley hopes the peaceful landscape will give her the time and space she needs to heal.
With these precious few weeks, can he show her what she's missing by constantly running away, or is time to let her go?
If fake dating is your favourite trope… Love, Hate & Clickbait by Liz Bowrey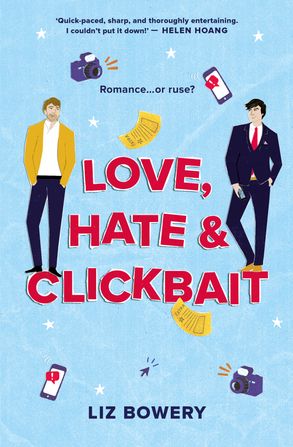 Shake some hands. Kiss some coworkers.
Cutthroat political consultant Thom Morgan is thriving, working on the governor of California's presidential campaign. If only he didn't have to deal with Clay Parker, the infuriatingly smug data analyst who gets under Thom's skin like it's his job. In the midst of one of their heated and very public arguments, a journalist snaps a photo, but the image makes it look like they're kissing. As if that weren't already worst-nightmare territory, the photo goes viral — and in a bid to secure the liberal vote, the governor asks them to lean into it. Hard.
Thom knows all about damage control — he practically invented it. Ever the professional, he'll grin and bear this challenge as he does all others. But as the loyal staffers push the boundaries of 'giving the people what they want,' the animosity between them blooms into something deeper and far more dangerous: desire. Soon their fake relationship is hurtling toward something very real, which could derail the campaign and cost them both their jobs…and their hearts.
If you can't wait for the new season of Farmer Wants a Wife… The Lonely Paddock by Laurelle Cousins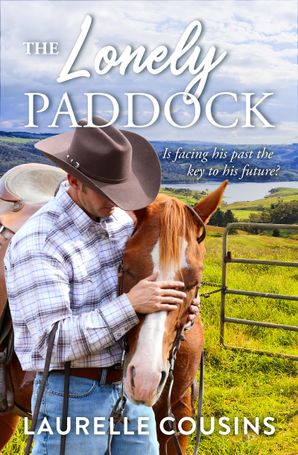 For readers of Karly Lane and Rachael Johns comes a compelling romance that proves forgiveness is possible and fighting for love is worth the heartache.
Country vet Ross Harrington would rather throw himself into his work than face the memories of a tragic childhood accident. But the protective animal-lover cannot forgive himself, tied by the belief he is unworthy of love. So, when the adorable Flick Parker bounds into his clinic with her unruly dog and a smile that threatens to dissolve his protective walls, he's torn between his fascination with her zest for life and the overwhelming desire to turn-tail for the hills.
Meanwhile, Flick is falling for the handsome vet but doesn't know if her heartfelt desire to care for terminally ill children can be in her future or if it's the very thing that will keep her and Ross apart. Finding the balance between offering too much heart or guarding it like an open wound feels like an impossible task, but can Flick show Ross it's worth taking the risk of opening up to find love?
If you're a bit (a lot) obsessed with astrology… Count Your Lucky Stars by Alexandria Bellefleur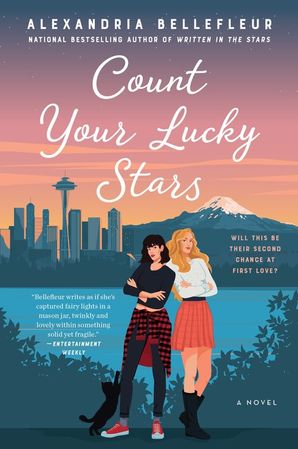 Margot Cooper doesn't do relationships. She tried and it blew up in her face, so she'll stick with casual hookups, thank you very much. But now her entire crew has found "the one" and she's beginning tofeel like a fifth wheel. And then fate (the heartless bitch) intervenes. While touring a wedding venue with her engaged friends, Margot comes face-to-face with Olivia Grant—her childhood friend, her first love, her first… well, everything. It's been ten years, but the moment they lock eyes, Margot's cold, dead heart thumps in her chest.
Olivia must be hallucinating. In the decade since she last saw Margot, her life hasn't gone exactly as planned. At almost thirty, she's been married… and divorced. However, a wedding planner job in Seattle means a fresh start and a chance to follow her dreams. Never in a million years did she expect her important new client's Best Woman would be the one that got away.
When a series of unfortunate events leaves Olivia without a place to stay, Margot offers up her spare room because she's a Very Good Person. Obviously. It has nothing to do with the fact that Olivia is as beautiful as ever and the sparks between them still make Margot tingle. As they spend time in close quarters, Margot starts to question her no-strings stance. Olivia is everything she's ever wanted, but Margot let her in once and it ended in disaster. Will history repeat itself or should she count her lucky stars that she gets a second chance with her first love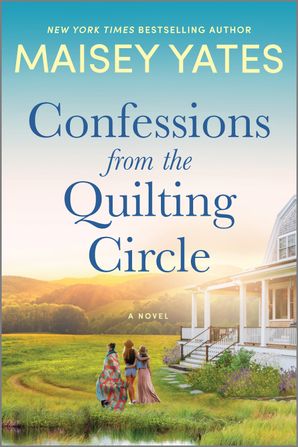 The Ashwood women don't have much in common…except their ability to keep secrets.
When Lark Ashwood's beloved grandmother dies, she and her sisters discover an unfinished quilt. Finishing it could be the reason Lark's been looking for – to stop running from the past. But is she ever going to be brave enough to share her biggest secret with the people she ought to be closest to?
Hannah can't believe she's back in Bear Creek, the tiny town she sacrificed everything to escape from. The plan? Help her sisters renovate her grandmother's house and leave as fast as humanly possible. Until she comes face-to-face with a man from her past. But getting close to him again might mean confessing what really drove her away…
Stay-at-home mum Avery has built a perfect life, but at a cost. She'll need all her family around her, and all her strength, to decide if the price of perfection is one she can afford to keep paying.
This summer, the Ashwood women must lean on each other like never before, if they are to stitch their family back together, one truth at a time…
If you relish a glass of wine… Home Among The Vines by Tricia Stringer, Lily Malone & Jacquie Underdown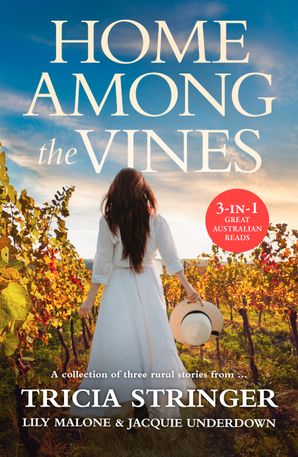 A collection of three rural stories about finding home in unexpected places.
Something in the Wine by Tricia Stringer
High school teacher Keely's beach holiday plans are turned upside down when a medical emergency and an intervention by a kind stranger finds her recovering in a Margaret River vineyard instead. At first left downcast, slowly the lovely food, spectacular wine and beautiful landscape of the area begin to work their spell. Keely didn't mean to fall for anyone, but she can't help her feelings for clever, passionate wine-maker Flynn. Can what Keely feels be real? Or is it just something in the wine?
The Goodbye Ride by Lily Malone
Olivia is a woman on a mission. The motorbike that once belonged to her late brother has come up for re-sale, and she is determined to buy it back. Only one person stands in her way and she's just tripped and fallen at his feet. How far will Liv go to make the motorbike hers? Can a viticulturalist fall for a man who prefers beer? And will a weekend among the vines be long enough for Liv to believe she can trust him with her heart?
Sweet From the Vine by Jacquie Underdown
Back in her hometown for a fresh start, newly divorced Matilda has landed the perfect job on the breathtaking local vineyard. The only catch is Mitch – widower, single dad, her old high school flame and her new boss. When the sparks between them grow so bright they can't be ignored, Matilda is forced to question what she truly wants in life. But first Mitch must learn that moving on is not a betrayal, and find the courage to fight for his second chance at love.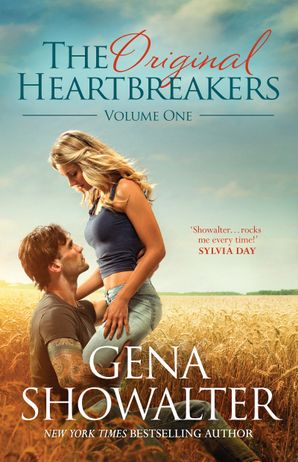 New York Times bestselling author Gena Showalter shines in this Original Heartbreakers tale, featuring a man haunted by memories and the vulnerable girl he'll do anything to protect.
The One You Want
Rich, powerful and utterly untamable, Dane Michaelson is every woman's darkest fantasy. When he returns to his hometown to witness his father's upcoming nuptials, he is unprepared for the redheaded beauty soon to become his stepsister. He's never wanted anyone more.
Kenna Starr has no desire to join the long list of women on rotation in Dane's bedroom. The single mum learned the hard way — bad boys do bad things, and someone always gets hurt. But Dane isn't fighting fair. With every heated look, stolen kiss and illicit caress, he melts her defences. Soon, the girl with the rep and the man who claims to be heartless are locked in a passionate affair. But when trouble arises, will they stand together or fall apart?
The Closer You Come
Tortured by a violent past, ex-con Jase Hollister is looking to start over in a small town. The rugged bachelor suffering from PTSD longs for peace and quiet, always keeping his women at a distance — and his heart encased in stone.
Brook Lynn Dillon is a down on her luck waitress determined to avoid the man every woman in town wants — including her sister. The last thing she needs is his kind of trouble. But his every glance makes her burn…and her resistance is melting fast.
Now, no matter how hard they try, they can't keep their hands off each other. But when a secret from Jase's past comes to light, they'll have to face a cold, hard truth: it's more than Jase's freedom on the line, it's their hearts.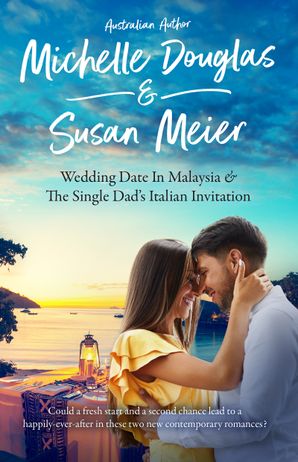 Could a fresh start and a second chance lead to a happily-ever-after in these two contemporary romances?
Wedding Date In Malaysia – Michelle Douglas
Bridesmaid Ella wants to prove she's moved on from the grief of the last eighteen months and is ready for a fresh start. So, meeting playboy and best man Harry at the wedding party in Malaysia is excitingly refreshing! With an image to redeem, Harry's solely focussed on making the wedding perfect and he needs Ella's help. But when their best laid plans are de-railed by their unstoppable chemistry, keeping focussed becomes almost impossible!
The Single Dad's Italian Invitation – Susan Meier
Sophie has learnt to rely only on herself. Except now her world is collapsing and she needs an escape route so, an invitation to Lake Como, to be a nanny, is perfectly timed. The catch? Her boss is Sophie's billionaire ex-boyfriend, Wyatt! Sophie's always fiercely guarded her heart. But now she's found herself in the middle of a family — just like she's always craved!
Happy reading!