It's Bachelor-time again! So we asked our favourite Bachelor-expert author Kaneana May to give us ALL her thoughts from the premiere of Bachelor in Paradise which aired last night.
Bula means welcome!
(Also hello, bless you, and "I'm feeling good")#bachelorinparadiseau is back 7:30pm pic.twitter.com/s0aicN3Qaq

— Osher Günsberg (@oshergunsberg) July 16, 2020
---
• Osher Gunsberg welcomes us to Paradise, which this time is located in Fiji! We're quickly shown images of palm trees, lanterns and the sun setting over the glittering water to make sure that we know we're in the familiar setting of Paradise. There is something reassuring in this, as it's been one hell of a year and some Bachie escapism is just what we need.
• Osher tells us to that 'some will find everlasting love and some will find heartbreak'. And sitting smugly on our lounges in winter pyjamas eating chocolate, we say 'bring it!' We want tanned bods, romantic dates, roses ceremonies, rejections and everlasting love!
• Upbeat music brings in a very merry Timm (the runner-up in Angie's season) who has a cocktail in hand, and we suspect has had several cocktails before now. He pretends to kiss an imaginary girlfriend while he waits … Okay?
• Another 'runner-up' is the next in. She's well known so Abbie gets a re-cap about her outrage at being turned down by Matt. But Abbie's keen for Paradise and has all her hopes on Ciarran being there too. She admits she's really horny and wants to have sex, which isn't the first time she's said this on television.
So good to have this powerful human back #bachelorinparadiseau pic.twitter.com/ewudZvRuFS

— Osher Günsberg (@oshergunsberg) July 15, 2020
• Timm is quite pleased by the arrival of Helena and her loooong legs and soon after by the arrival of hot Britt. He's full of compliments; gorgeous, stunner, unreal. We wonder just how many of those cocktails he was handed while waiting for others to arrive.
• Brittney, most known for her failed conga-line attempt in The Bachelor and then her actual conga-line in the last season of Bachelor in Paradise arrives. She still has more energy than a hyperactive puppy. With her on the screen it's chaotic and noisy and plain loud. We don't know whether to cheer her on for being herself or ask her to just turn it down a notch.
• Abbie grows increasingly desperate for more dudes to arrive but even when they do she's disappointed because she's just waiting for Ciarran …
How many times has Jake been in paradise #BachelorInParadiseAU pic.twitter.com/R4ppidRNfG

— Weslee #TeamJujubee (@WSpark98NZ) July 15, 2020
• Who finally arrives wearing nothing but his tattoos! Holy smokes. Abbie's flustered, panicked and suddenly running in her wedge shoes. When Ciarran admits that Abbie was one of the girls on the list of who he'd hoped would be in the house she goes into a bit of overheated shock!
• With the arrival of Jamie, he reminds us that he was known as a Stage Five Clinger in Angie's season. He admits he was needy but he's in Paradise for his chance at redemption. He knows that girls find him intense and possessive and wants to prove otherwise. At this stage, none of us are convinced.
• Watching Brittney flirt (if that's what she's doing) with Timm, is exhausting/intense/draining. But she seems to be having fun regardless, so I think we just need to cheer her on.
• Ciarran quickly proves to be a popular guy and Abbie doesn't want to share. Mary is worried that it's going to be the Abbie Show, again. But it seems that Ciarran is a little interested in the pina-colada–loving pocket rocket, Cassandra. Let's face it Ciarran and Cass sounds pretty cute together. Mary warns us that Abbie will be pulling her boobs out in defence. And with impressive editing from the BIP team, the next shot is of Abbie in a tiny bikini, telling us that Cass needs to stay away from her man.
• Osher arrives and everyone is very excited because Osher being there = something happening! And the BIP guys have shaken things up by making the first date a two-on-one. Ekkk!
• The date card goes to a very excited Timm, who chooses sophisticated Britt and conga-dancing Brittney. The date has all the right elements for romance, except for the fact that there's one person too many present. With a live band playing, Timm and Brittney dance, which looks to be more interpretive than anything else.
It really do be like that #BachelorInParadiseAU pic.twitter.com/05qysGRptn

— PUNKEE (@itspunkee) July 15, 2020
• A Bulla Banquet dinner is set up for everyone who has been left behind. The BIP team have cleverly set up an 'anonymous question' game where everyone can write down anonymous questions for the other contestants to have to answer. They're all excited about being able to ask questions that they wouldn't have the guts to ask outright.
• They all get stuck into playing honestly and seriously. But things look dire for forty-year-old Jamie when all of the girls claim they wouldn't date someone as old as him. To the couch-watcher it seems that it has more to do with the fact that Jamie is the only old contestant and the girls might just change their mind if someone else over forty just happened to walk in.
Who is the oldest guy you would date?
Every girl in paradise: 39
Jaime: but I'm 40
Table: #BachelorInParadiseAU pic.twitter.com/KXrqV94Fuq

— Milhouse Thrilhouse (@Minquist01) July 15, 2020
• Ciarran is asked how he would react if his ex, Renee, turned up in Paradise (and now we're all expecting that it's only a matter of time before she does turn up). He admits he stuffed up by cheating on her. Cass, who put in the question, tells them all that she's friends with Renee and would have to see where 'Renee was at' before moving forward with anything with Ciarran. We remember this, but it seems that Cass is quick to forget it.
• Back on the two-on-one date, it's now Britt's turn for a dance with Timm. She's nervous and Tim tries to ease her but with Brittney watching on from the sideline it's ahh…awkward, right? Timm manages to focus on Britt and compliments her beautiful eyes and smile – he admits it's the first things he looks for in a girl. Aww – we can tell he's got a bit of a thing for her. And Britt later tells us that she thinks they had a bit of a 'moment'. We want to feel gushy for them, but it's still a two-on-one date, so hold that thought!
• At the Bulla Banquet they play friend/kiss/marry, whereby each of them has to say who they would be friends with, who they'd kiss and who they'd marry out of everyone sitting around the table. Well, we almost want to rub our hands together at this. This game could almost be renamed fail/insult/compliment. Because, who wants to be named a friend, ever? We all know that means the person finds you unattractive. But who wants to only be labelled kiss when it's a game about looking for love? Of course, they all want the marry title.
• And after Abbie announces that she would be kiss and marry Ciarran – not how you're actually supposed to play the game – it has to sting when he retorts that he'd kiss her but marry Cass. Ouch. (And Cass is smugly satisfied with her title of marry).
• The two-on-one date crew arrive back on their date and it's clear to everyone, including conga-dancing Brittney, that Timm and Britt have something going on. Watch this space. Hopeful romance for Timm and Britt, and sadly a rejection for our loud gal, Brittney.
RT if Brittney deserves her first ever Date Card this season! #BachelorInParadiseAU pic.twitter.com/RReuAkd77c

— Bachelor In Paradise Australia (@BachParadiseAU) July 15, 2020
• Mary is very open about her attraction to Glenn. She wants, wants, wants him! (Remember that awful delicious game of friend/kiss/marry? Well, even though Glenn want to kiss her, Mary is very aware that he chose to marry Helena…Still, Mary whisks him away and interrogates asks him lots of questions, kind of like a lawyer asking questions to someone in court. Not overly romantic, but maybe he'll forgive that. Maybe?
• Yeah, so in that game (the game that keeps on giving, right?) Helena also chose to marry Glenn and is confident in making her own play for him. Their time together seems more relaxed and natural. A seething Mary watches on and we get the vibe that it's game on for Glenn's rose!
I have a question…#BachelorInParadiseAU pic.twitter.com/qEVEn5Xs9i

— PUNKEE (@itspunkee) July 15, 2020
• Ciarran takes Cass away for some alone time. He thinks she's a sexy firecracker and she (painfully) won't stop laughing at everything he says. Watching Ciarran and Cass flirt is excruciating for Abbie, who feels like her chances for love, with Ciarran – the ONLY man she's interested in in Paradise – are slipping away. But Jamie, who Abbie has told us she thinks is creepy, promises he'll save her by giving her a rose. How desperate is Abbie for a rose?
• Things between Cass and Ciarran intensify. She guesses that he thinks she's cute…hot…sexy…And he clearly agrees with her assumptions. Cass later tells Mary that he had wanted to kiss her and is now confident that she's going to be getting Ciarran's rose.
• But has she spoken too soon? Because Abbie tells us that she's going to up her game and is going to get Ciarran…the next thing we see is Ciarran in Abbie's bed with definitive fondling movements going on under the sheets. My, oh my! Who is going to get Ciarran's rose after all? To find out, you'll have to tune in tonight at 7.30pm.
• With a teaser for the next instalment of Bachelor In Paradise, we are already squealing with excitement for the drama, tensions and near-naked bodies promised! It seems we have a very big season ahead of us!
We're ready. We need this. #BachelorInParadiseAU pic.twitter.com/BiFtgDe4a7

— PUNKEE (@itspunkee) July 15, 2020
In the meantime, do you need a bit more of a reality television fix? Be sure to check out my novel The One. You can find it here.
---
Kaneana May
Kaneana May studied television production at university, graduating with first-class honours in screenwriting. She went on to work in television, including roles as a script assistant on All Saints, a storyliner on Headland and a scriptwriter on Home and Away. Since becoming a mother, Kaneana has turned her attention to fiction writing. Kaneana loves to read—mostly YA, romance and women's fiction—and also loves watching TV and films. Writing, boot camp, coffee, chocolate and champagne are just some of her favourite things. Kaneana lives on the Mid North Coast of New South Wales with her husband and three children.
For more about Kaneana, check out www.kaneanamay.com or join her over on Facebook or Instagram where you'll see her sharing loads of her life, loves, and writing.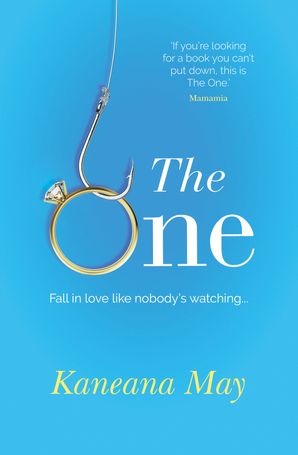 From an Australian TV scriptwriter comes a sparkling debut novel where the quest for love will surprise you.
Fall in love like nobody's watching…
On the wrong side of thirty, Bonnie Yates wants a happily ever after. Problem is, she keeps choosing the wrong guys. When an ex returns to town with a fiancee in tow, history and temptation collide. Unable to shake her inappropriate feelings, Bonnie flees, becoming an unlikely contestant on popular dating show The One. Will she find what she's looking for?
Working behind the scenes, Darcy Reed is a driven young producer dealing with a tyrant of a boss. Despite being surrounded by love at work, her own love-life with long-term boyfriend Drew is floundering. Producing a flawless season is her best chance at a promotion. But with the unrelenting demands of the show, how will she save their relationship while making that shot?
Penelope Baker has relocated to a small seaside town to hide away with her secrets and nurse a broken heart. But with The One beaming across the nation's televisions, she can't seem to quite escape the life she left behind…
Before cameras roll on the final ceremony, all three women will discover just what they're willing to do in pursuit of the one…