I'm a sucker for a fairy tale retelling and always will be. There's a reason stories like Beauty and the Beast, Cinderella and Snow White are told in various mediums in perpetuity. They're timeless stories, the power of the tale enough to stay with you all your life.
As a girl, I adored Cinderella. I had a beautiful illustrated book of fairy tales, leather bound with gold-lined pages, and I would read it over and over. Then, as I got older, I watched holes in my VHS Disney copy of the animated movie. At some point, I discovered Ever After, and I became convinced that this is, without a doubt, the most perfect version there ever could be.
I watched it with children recently, and hoped, desperately, that it would hold up.
Guess what? It did. Not only is this a fairy tale, it's a feminist call to arms, a movie that casts Cinderella not as a damsel in distress in need of rescuing, but rather as a smart, well-read, idealistic woman who saves a spoiled, somewhat petulant (in a hot way) prince from a life of ingratitude and self-righteousness.
Ever After is set against a backdrop of semi-historical realism, sometime in the late fourteen hundreds – we can date it because Leonardo Da Vinci loosely plays the role of the 'fairy godmother'. Angelica Houston is an incredible stepmother. I hate her, but there's such a vulnerability to her as well that up until her last terrible deed I do find myself hoping she'll change her colours.
As for the sexual chemistry between Danielle (Drew Barrymore) and Henry (Dougray Scott), it is off the charts! Their love story is completely plausible. This remains one of my all-time favourites!
---
Clare Connelly
Clare Connelly was raised in small-town Australia among a family of avid readers. She spent much of her childhood up a tree, Mills & Boon book in hand. Clare is married to her own real-life hero and they live in a bungalow near the sea with their two children. She is frequently found staring into space – a surefire sign she is in the world of her characters. She has a penchant for French food and ice-cold champagne, and Mills & Boon novels continue to be her favourite ever books. Writing for MIlls & Boon is a long-held dream.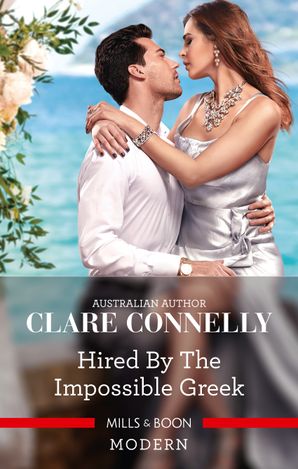 Hired by the Impossible Greek by Clare Connelly
One summer on a private island…with her ultimate temptation!
Scientist-turned-schoolteacher Amelia Ashford warily agrees to a summer job in Greece caring for Santos Anastakos's young son. But her priority is the welfare of the little boy, not the outrageous and irresistible billionaire who hired her. Even if their chemistry is, scientifically speaking, off the charts!
Santos doesn't believe in romantic love — his father has eight ex-wives. He does believe in tantalising pleasure, and with surprisingly innocent Amelia in his luxurious Greek villa, it's just a bedroom door away! But their incendiary passion will test Santos's ruthless control more than he ever anticipated…
Love fairy tales? Check out the Mills & Boon fairy tale inspired series Once Upon A Temptation