Kali Anthony's latest book Off-Limits to the Crown Prince is a Cinderella story! To celebrate its release she wrote this piece all about her favourite unlikely Cinderella retellings…
---
Hands up who enjoys a Cinderella story? I certainly do! Team that up with a grumpy/sunshine hero/heroine and you have just written my catnip.
My love of the theme forms the basis for my August release, Off-Limits to the Crown Prince. What I adore about these types of stories is that they're transformative. The characters need to find their best selves, but also their 'perfect fit', even though they might actively fight against what's right for them. Some of my favourite movies are Cinderella retellings.
In Sabrina (the 1954 version with Audrey Hepburn), the heroine is the chauffeur's daughter. She's hopelessly crushing on David, handsome playboy son of the wealthy family for whom her father works. When Sabrina returns from Paris a beautiful, poised young woman, David is smitten. Yet their attraction threatens to scuttle a business deal. David's older brother, Linus, tries to thwart the relationship. He's your quintessential grumpy hero – an overachieving, workaholic perfectionist who doesn't believe in love and the antithesis to his irresponsible, pleasure-seeking sibling. In keeping Sabrina away from David, Linus begins to see himself through her eyes: a man deserving of less work and more play. Of course they fall in love, and after some serious bumps they seal their happy ending.
In The Princess Diaries, Mia has grown up to believe that she is a regular teenager. She pines for Josh, the school's golden boy, while her best friend's brother Michael, pines for her. Mia discovers she is the sole heir to the throne of Genovia. But being the perfect princess is a role she doesn't feel capable of. Mia makes mistakes. She chooses the people who are wrong for her. But the in the end, through inner strength she finds the courage to accept the role as Genovia's princess and to cement her relationship with Michael. When Michael asks, Why me? Mia gives the best answer, Because you saw me when I was invisible.
The Disney movie Enchanted is a mix of a few fairy tales, but at its heart it's a Cinderella story. The heroine, Giselle, is unceremoniously thrust from her idyllic life into the gritty streets of New York. There she meets the hero, Robert, a cynical divorce lawyer who doesn't believe in love. Robert has difficulty coming to grips with Giselle's unfailing positivity and belief in a happily ever after. Giselle brings joy and laughter into Robert's life. Robert grounds Giselle. A true love's kiss from Robert at the stroke of midnight saves Giselle from an evil sorceress, but in the end, it's Giselle who ends up catching and saving Robert.
In Off-Limits to the Crown Prince my hero, Prince Alessio, seeks a dynastic marriage to a perfect princess. What he doesn't bank on is his portrait artist, Hannah Barrington. Hannah doesn't believe in love. She's been living a quiet and threadbare life until Alessio bursts into it. Hannah wants Alessio to loosen up. Alessio doesn't understand why Hannah refuses to bow down to his whims and dictates. In the end, that conflict and the tension between what they think they want and what they really need makes their romantic journey all the more satisfying. I hope you love them as much as I do.
ABOUT THE AUTHOR: Kali Anthony
When Kali Anthony read her first romance she realised a few truths; that there can never be too many happy endings, and that one day she'd write them herself. After marrying her own tall, dark and handsome hero in a perfect friends-to-lovers romance, Kali penned her first story. If she isn't battling her cat for access to the keyboard, you can find her wearing vintage clothes, gardening or bushwalking with her husband and children in the rainforests of South-East Queensland.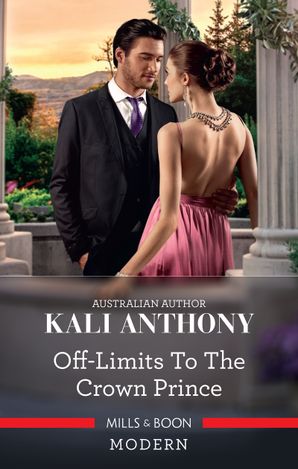 The greater the risk: the more thrilling the touch!
Haunted by his father's scandalous reign, Crown Prince Alessio commissions artist Hannah to depict him as a new kind of ruler. Alessio is instantly enchanted by the innocent, independent beauty who is unlike anyone in his world.
Hannah is far from the perfect princess Alessio's position demands. After the losses she's experienced, she guards her heart fiercely. But as the Mediterranean sun melts Hannah's inhibitions, their dangerous desire grows. How long can they live so passionately in the present, when a future together is impossible?