Bestselling Australian author Alissa Callen writes about the delightful phenomenon of street libraries
The benefits of reading have been well documented. On an individual level reading can dissipate stress, foster learning and literacy as well as increase empathy.
Reading can also have a positive impact on a community. But while reading digitally has never been easier, the experience of opening a print book is diminishing. Nowadays book exchanges are rare, bookshops have a shrinking footprint and access to libraries may be limited.
Which is why when I first saw a tiny glass-fronted bookcase attached to a pole in a rural hamlet I had to pull over to look inside. Not only do these diminutive libraries provide a valuable community resource and social hub, they also are popping up worldwide.
In Australia the miniature libraries are called street libraries while overseas they are known as little free libraries. The concept is simple. Anyone can establish a library and anyone can leave books or select a new title. The libraries can be made out of anything from a custom-made box to a birdcage to a refrigerator. In my country town of Dubbo children hand-painted the exterior of this street library created by the local church.
In The Round Yard Neve Fitzpatrick treasures the copy of a childhood silver brumby book she finds on a community bookshelf at a small corrugated-iron hall. When she needs to find a new sense of purpose she establishes a street library at the adventure playground of small town Woodlea. The action is symbolic as it represents her reengagement with life and her openness to new possibilities – especially when it comes to the drover Tanner Callahan.
So wherever you live – city, coast, suburbia or the outback – to discover if there is a tiny library just around the corner please visit https://streetlibrary.org.au/
Until next time, happy reading.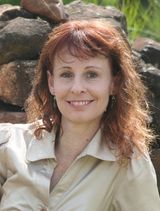 USA Today bestselling author Alissa Callen is a country girl happiest living far from the city fringe. She draws inspiration from the
countryside around her and from the resilience of local bush communities. Once a teacher and a counsellor, she remains interested
in the life journeys that people take. Her books are characteristically heart-warming, authentic and character driven. Alissa lives with
her teenage family on a small slice of rural Australia near Dubbo in central western NSW.