Eva Scott's latest book Meet Me In Bendigo is a rural romantic comedy for fans of You've Got Mail. To celebrate its release we got her to recap this iconic romantic comedy.
My latest release, Meet Me in Bendigo, is loosely based on the 90s romcom classic You've Got Mail. A tale of secret identities and star-crossed romance, this movie was another great collaboration between Tom Hanks and Meg Ryan. So, what's it all about?
If you lived through the 90s you'll remember the distinct sound of the dial-up modem as it connected to the internet. Chat rooms and email were the big ticket items back then, and this story is all about what happens when two natural rivals connect anonymously online.
Kathleen Kelly (Meg Ryan) has inherited her mother's bookstore, a charming little place in a New York neighbourhood. Joe Fox (Tom Hanks) is the third generation of Fox Books, a company that devours stores like Kathleen's. He's all about sales and volume. She's all about quality and connection. The two of them don't seem like they have a thing in common. But they do.
They are both unhappy in their relationships. Kathleen is hooked up with a stuffed shirt intellectual, Frank Navasky (Greg Kinnear), and their relationship has slid into a cosy kind of friendship. Joe is living with a neurotic and superficial editor, Patricia Eden (Parker Posey), who operates at a million miles an hour.
Somehow they stumble into the same over-30s chat room and find a connection there that they cannot find elsewhere. Kathleen is Shopgirl (for obvious reasons) and Joe is NY152 (the number of his building in New York). Their daily chats quickly become the highlight of both their days, the anonymity of online conversations allowing them to delve deeper than they ever would in real life.
Neither party has any idea how physically close they are on a daily basis. Joe is building a multi-layered book department store, Fox Books (Borders, we miss you!), down on the corner from Kathleen's cute-as-a-button bespoke bookshop. Kathleen is sweetly and naively positive about the incursion of Fox Books into their neighbourhood. Joe figures any protestors will be satiated '…with comfy chairs, cheap books and cappuccinos'.
He takes his uncle (who is actually the very young son of his grandfather) and his aunt (the very young daughter of his father) to a street fair with a side visit to Kathleen's shop. He's smitten with her and she seems attracted to him. They still have no clue as to the other's identity.
Kathleen has a delightfully quirky staff who love her. Joe is a third-generation shark, intent on gobbling up smaller bookstores like a kid eats candy. You'd think they'd have nothing in common if they met at a party, and you'd be right. They do meet at a literary party and the gig is up when someone mentions to Kathleen that she's just been speaking with Joe Fox. Sparks fly immediately as they rub each other up the wrong way. Kathleen calls him on his flirtatious banter at her shop and he throws a few good insults her way too.
Kathleen says things she regrets and, when she gets home, emails NY152 to tell him how badly she's behaved towards her business rival. Joe emails back, not realising Shopgirl is talking about him. The conflict of their inner and outer lives is now well established, but what will happen when the truth comes to light?
It soon becomes apparent that Kathleen cannot keep her shop afloat. There are neighbourhood protests and Kathleen is interviewed on the news. The program edits Joe in a bad light. Gloves are off! But Kathleen can never prevail against Fox Books.
I like that Nora and Delia Ephron (the sisters who wrote the script) did not waver on this point. They could have walked a different, sweeter path, but the truth is small bookshops dropped in droves, swallowed whole by the big book retailers like Borders. Who, in turn, were swallowed by online retail. Funny how life goes. I have to say that I miss both kinds of bookstores. Someone, please bring them back.
Anyway…NY152 and Shopgirl decide to meet. Kathleen arrives first. When Joe arrives and makes the connection between Shopgirl and Kathleen Kelly, he is rattled. Once he recovers, he goes in and talks to her. I think Kathleen might say he torments her instead. She asks him to leave, and he does.
Kathleen is heartbroken that NY152 has seemingly stood her up. She emails him and waits. Her bookshop family begin to wonder if NY152 might be the Rooftop Killer who'd been arrested the same night.
After much contemplation and pacing, Joe responds to Kathleen. He truly likes her but they're clearly in a tangle now, one he doesn't know how to unknot.
Kathleen falls deeper for NY152. Her relationship with Frank fizzes out in a very mild conversation over dinner where they both agree they're really just friends. To me, this is the most disappointing scene of the movie, like the writers forgot about Frank there for a minute. Meanwhile, Joe and Patricia get stuck in a lift where he has an epiphany that she really isn't the right person for him. He moves out that night, taking his dog Brinkley with him.
A conversation with his wayward father puts Joe on track. He realises that whatever complications lie between him and Kathleen, she's the only person he's ever met that makes him feel the way he does. By now Kathleen has shut up her shop and is holed up in her apartment with a head cold, contemplating her future and feeling a wee bit sorry for herself.
Enter Joe Fox. He arrives with flowers and an olive branch. He asks to be her friend. Kathleen is taken aback but agrees as there's no denying the connection between them. They meet, as friends do, for coffee or lunch or a stroll through the markets. Joe brings Brinkley and teases her about NY152. Kathleen develops an emotional double life, her heart walking the line between Joe and NY152.
Joe, in his guise as NY152, invites Kathleen to meet at a park. She agrees.
She meets Joe for coffee before her date. Joe asks her if, in another time and place, they might have been together. Kathleen is torn. She's developed feelings for Joe yet she's been emotionally involved with NY152 for such a long time that she owes it to him to meet. She needs to see for herself if there is something real between them.
Arriving at the park in a mixed state of mind, Kathleen is surprised to see Brinkley racing towards her with Joe hot on his heels. It takes her a moment before realization hits. She's mad, relieved and happy all at the same time. Cue happy ever after.
This movie has its flaws which have been analysed for decades in other blogs to the point that I don't think we need to comb over them here. (Hey, Quentin Tarantino loves it so it's got to have cred, right?) But the sweet emotional satisfaction of these two characters finally coming together, being able to show their vulnerabilities and trust their hearts, has weathered the decades since it was made. It's this feeling that I've tried to capture in Meet Me In Bendigo. Let me know if you think I've hit my mark. Maybe I should send a copy to Quentin…
---
ABOUT THE AUTHOR: Eva Scott
Eva comes from a family of storytellers and has been writing her own stories since she could hold a pencil. Growing up in a multicultural neighbourhood in Melbourne, Eva developed her wanderlust and a passion for culture and language. She travelled the world, living in Britain before coming home to Australia to study Anthropology. Wanderlust got the better of her again, so Eva packed up and headed to Papua New Guinea to live and work where she was completely in her element. Eva's passion for the Australian country is born of her large extended family, which is spread out across the land. She volunteers at the local primary schools, teaching writing and working with children to incite a love of books and reading. Eva's books explore relationships, culture, our roles in changing society, love and loss. She loves finding connections with readers over shared experiences.
If you'd like to know more about Eva, her books, or to connect with her online, you can visit her website: evascottwriter.com
Eva's latest book is a rural re-telling of You've Got Mail!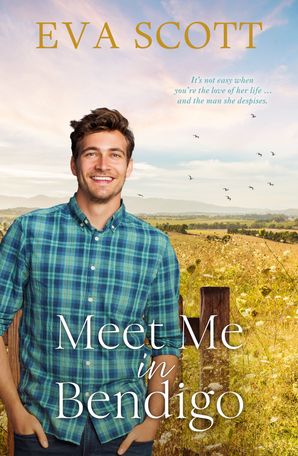 Rural Australia meets You've Got Mail in this romantic comedy about online dating, second chances, and following your heart.
Small-town sweetheart Annalisa Cappelli has returned to Wongilly to take over her family's hardware shop while she heals from a tragic loss. The business was hit hard by the pandemic, and now a Carpenter's Warehouse hardware superstore is opening in the district. There's no way Annalisa is going to let two hundred years of history go down the drain, but she's going to need to fight to keep her family's legacy alive.
The one simple thing in her life is her no names, no complications, easy-breezy online relationship with GardenerGuy94. For now, their online flirtation is the only kind of romance Annalisa needs. Until she meets Ed Carpenter. Sexy as hell, he'd be the perfect man … if he wasn't trying to destroy her business.
Ed Carpenter is in Wongilly to offer the owner of a small hardware shop a payout to pave the way for his family's next superstore. What he doesn't expect is for the owner to be the woman he's been talking to online. Annalisa is beautiful and passionate, and he's sure she's the one for him. But how can he reveal the truth without losing her?