With the luxuriously long Queen's Birthday long weekend on the horizon we're basically spending all our time planning how we will celebrate this mini-winter break. The Romance.com.au authors have given a LOT of suggestions in the past few months so this time we thought we'd ask some of our favourite local authors.
Read on to find out what Rachael Johns, author of Something to Talk About, Leisl Leighton, author of Climbing Fear, Belinda Williams, author of Don't Let Me Forget, Mills & Boon Forever author Michelle Douglas, Mills & Boon Modern author Melanie Milburne, and Mills & Boon Cherish author Helen Lacey are watching, reading and listening to this weekend.
What They're Watching
Kim's Convenience
Rachael Johns: OMG, this show was recommended to me by quite a few people when I was looking for something we could watch as a family (me, hubby and three teenaged sons) and it has proved perfect for this. It's about a Korean-Canadian family who run a convenience store and the antics between the father (in particular), his wife, their grown daughter and estranged son are hilarious. The episodes are short so we can only watch one if there's a lot of homework or other stuff on or we can binge a few, and they are guaranteed to make ALL of us laugh.
Watch on Netflix
Little Women
Michelle Douglas: I finally saw the latest version of Little Women. I'd been meaning to see this at the movies on the big screen as I'd heard it was a visual feast. But time ran out and it was gone before I knew it. So when Mr Douglas came home with the DVD tucked under his arm, I sat down with great expectations (and a big bowl of popcorn). The performances are stellar – I loved the four girls and Marmee! – and the sets are glorious, and I love the story so much. But I found the structure distracting. I thought playing the story out of sequence, flashing back in time and then forward, kept the viewer at an emotional distance. That said, it was still wonderful, and definitely worth seeing. The 1933 Katherine Hepburn version, however, remains my favourite.
Buy or rent to watch on Apple TV, Google Play or Youtube
Community
Eva Scott: I don't know about you, but I need some cheering up after the year we've had. If you like Parks and Recreation or Modern Family, you'll like this. Fast paced, with funny dialogue and a solid cast, this is a light-hearted romp based on the writer's own experiences at community college.
When a disgraced lawyer, Jeff, is disbarred for lying about having a degree he decides to attend community college to earn a legitimate qualification. He starts a fake study group to spend time with Britta, a hot fellow student and activist. Britta invites other students along and before you know it, you've got a bunch of misfits getting themselves in and out of trouble on campus. This show will not change your life, but it will certainly make you laugh.
Watch on Netflix
Making the Cut
Eva Scott: I'm not a huge fashionista but I do enjoy a good reality TV game show – and this one is it! Amazon put up a million dollars in prize money to discover the next big thing in fashion. They invited twelve established designers to compete for a chance to take their designs global, sending them to Paris, Tokyo and New York. The show is hosted by Heidi Klum and Tim Gunn, the standard of design is mind-blowing and I really loved the camaraderie of the contestants. No bitching here, although things do get tense from time to time. Guest judges include Naomi Campbell, Nicole Richie and Chiara Ferragni
Watch on Amazon Prime
The Great
Leisl Leighton: A historic period piece with mad royals, a feisty heroine, a cast led by Nicholas Hoult (loved him since About a Boy) and Elle Fanning (just gets better with every role) – all that alone would be enough to make this a must-watch for me, but really, it had me at the tagline 'the wildly comedic rise of Catherine the Nothing to Catherine the Great'. That is not only pure genius – it's Great!
Watch on Stan
Always Be My Maybe
It wouldn't be a long weekend without a romantic comedy movie, and Always Be My Maybe delivers on romance and laughter. It stands out within the world of rom coms because of comedian Ali Wong and her co-star Randall Park. As well as starring in the movie, they both wrote the screenplay. It's full of clever one-liners and unusual characters. Not to mention the funniest cameo EVER of Keanu Reeves playing himself. It's a lot of fun!
Where to watch: Netflix
6 reasons we're obsessed with Always Be My Maybe
Read our recap 
Retro Movies
Melanie Milburne: I've watched quite a few retro movies too – Nine to Five, On Golden Pond – and some laugh-out-loud classics such as Pillow Talk, Lover Come Back and His Girl Friday. It was interesting to watch the closing scenes in Nine to Five where the three women push – along with other things – for equal pay but the head honcho boss says, 'No, that's taking things too far'' And here we are thirty-odd years later still struggling with the same issue!
What They're Reading
The Mirror and the Light by Hilary Mantel
Eva Scott: This book is the size of a house brick! I can't believe it's been seven years since I last hung out with Thomas Cromwell (Bringing Up The Bodies) and I've missed him. He has to be one of my all time favourite characters. This book is pure literature, and in the fashion of literature, Hilary breaks all the rules. This can make it a little tricky to read until you get into her rhythm but it's well worth the effort. I can't help making a comparison between Henry VIII and a certain world leader. I'll leave you to draw your own conclusions.
Find it here
Marry in Scarlet by Annie Grace
Leisl Leighton: I'm on a bit of a historical bent atm, maybe a reflection of my need to step out of our mad world and into one that seems far more simplistic, so I have kept Anne Gracie's latest, Marry in Scarlet, to read this weekend. Another long-awaited instalment in her 'Marry in' series, it follows the story of unconventional tomboy Lady George Rutherford, and the man who seeks to claim her – and tame her. Boy, is he in for a surprise – as are readers of this wonderful series by regency romance favourite Gracie. Can't wait
Find it here

Love all things Historical? Here are the historical movies, TV shows and books we're most looking forward to in 2020
Good Luck With That by Kristan Higgins
Rachael Johns: Kristan is my go-to for feel-good women's fiction that is fun, light-hearted and easy to read but also has great emotional depth. I was recently in a bit of a reading slump, so I plucked this one, which had been in my TBR pile for a while, off the shelf and started reading. I was not disappointed – every time I open the book, I feel like I'm wrapping myself in a lovely warm blanket. This story is about two friends grieving the loss of another friend and dealing with the kinds of relationship and image issues that so many of us can relate to.
Find it here
Novels by Louisa May Alcott
Michelle Douglas: Having seen the movie Little Women made me go back and reread Good Wives and Jo's Boys, and to skim sections of Little Women and Little Men. It's such a glorious world to dive into. It's more moralistic than I remember (though it's be years since I read it), but full of good-natured fun. And the academic in me couldn't help noticing an interesting mix of progressive and conservative attitudes in the books too, which has been pleasant to ponder.
Find them here
Romancing the Duke by Tessa Dare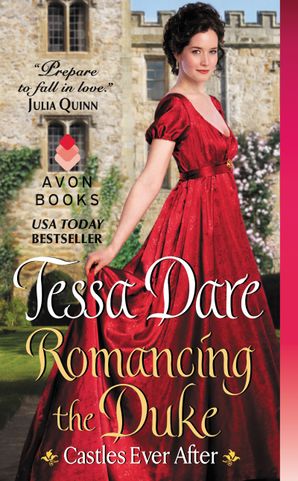 What's better than a handsome duke? An injured handsome duke with no sense of humour. Now that might not sound all that appealing, but Tessa Dare has a knack of writing the brooding historical hero and infusing her stories with humour so that you want to keep turning the pages. Add in a plucky heroine and I'm in love. It's definitely a great read to keep you warm over the long weekend.
Find it here
Classic & Modern Fiction
Melanie Milburne: I have been reading a lot of classics during lockdown – Emma, Jane Eyre and North and South – and watching the movies or BBC adaptations. I watched the new Emma movie twice and will definitely watch it again. Bill Nighy was delightful as Mr Woodhouse and while it took me a while to warm to a blond Mr Knightley, I fell in love with him along with Emma.
There's something about immersing myself in another era of literature that really takes me away from all the worry of the COVID crisis. Not that there weren't things to worry about during that era – the plague and influenza outbreaks and the high mortality rate in childbirth, not to mention the scandal of a woman losing her good reputation. But the romance is what draws me in each time. Love is timeless and it's endlessly entertaining to watch its progress between a couple. Plus, I love classics because they take a while to read. I've been worried I was going to run out of books during this lockdown, as I much prefer to hold one in my hands than read on a tablet. A tablet can cause too many facial injuries if I fall asleep reading!
The book I'm about to read this weekend is Hilde Hinton's The Loudness of Unsaid Things. I've heard nothing but good things about it and am looking forward to reading it. The title was what drew me to it first and then the cover.
What They're Listening To
India Hicks & Lady P: Movie Stars, Matadors & Maharajahs
Eva Scott: A wonderfully intimate look into the life and work of India Hicks and her extraordinary family. Her mother Lady Pamela Hicks is Prince Phillip's first cousin and was the queen's bridesmaid. Her grandfather was Lord Mountbatten. It's fair to say Lady Pamela has been the handmaiden to modern history and certainly has some colourful tales to tell about a world long since disappeared. What do you do with a dead Maharajah? Or when the king sits on your pet mongoose? How do you sort out a sun bear eating your birthday cake straight from the table? All these questions and more are answered by Lady P. She's posh, but not as you know it.
Listen on: Apple Podcasts, Spotify or wherever you get your podcasts
The Zoey's Extraordinary Playlist Soundtrack
Leisl Leighton: I watched Zoe's Extraordinary Playlist at the start of this lockdown and so enjoyed it that I've downloaded the soundtrack from each episode. I'm looking forward to listening to Skylar Astin (Pitch Perfect), John Clarence Stewart (Luke Cage) and the astonishing Alex Newell (Glee) and co, wailing, crooning and diva-ing their 'heart songs' in one hell of a playlist. Extraordinary!
Listen on: Spotify or Apple Music
Writes4Women: The Book Launch podcast
Rachael Johns: I probably shouldn't be listening to this as I do NOT need any more book recommendations – I'm already drowning in my TBR pile. This podcast is an off-shoot of the fabulous Writes4Women, which interviews women writers and explores issues relating to women. The Book Launch is a special series they started when author events had to be cancelled due to COVID-19 restrictions, making it harder for authors to get the words out there about their new releases.
Listen on: Apple Podcasts, Spotify or wherever you get your podcasts
The Very Best of Linda Ronstadt
Michelle Douglas: For some reason, at the moment I can't get enough of the album The Very Best of Linda Ronstadt. I have an entire book emerging in my mind as I listen to the album – snippets of dialogue, entire scenes…and a heroine and hero who are making me rub my hands together in glee. Music is a wonderful source of inspiration, and me and Linda are BFFs at the moment.
Listen on Youtube, Spotify or Apple Music
Chromatica by Lady Gaga
Belinda Williams: The release of Lady Gaga's sixth studio album was delayed due to the pandemic, but fans will be happy to know they can enjoy the entire album this long weekend. After she wowed us with the Star Is Born soundtrack, this album sees a return to Lady Gaga's dance-pop roots, and it seems it's not just the fans that are on board. With guest singers like Ariana Grande and Elton John, the album is already gaining positive reviews. Personally, I'm really loving the strong dance influences combined with Gaga's usual pop prowess.
Listen on Spotify
The Power of Vulnerability
Melanie Milburne: I've been listening to Brené Brown's TED Talk on The Power of Vulnerability. It has been such an eye-opener to me, not just in terms of myself but also for the characters I create. The other things I've been listening to are the sounds of nature. I am on the East Coast of Tasmania and have a beach practically to myself. The sounds of the dawn chorus wake me, the rolling waves soothe me, the raucous sound of yellow-tailed cockatoos entertain me and the wallabies and echidnas and possums delight me.
Listen to TED talks on Youtube 
Still looking for a long-weekend read? Check out these e-books on sale now