The place where she lives inspired author Paula J Beavan to journey into the history of colonial New South Wales in her debut novel Daughter of the Hunter Valley.
---
Romance.com.au: Daughter of the Hunter Valley is your fabulous debut historical novel. Can you give us a tell us what the book is about in a nutshell?
Paula J. Beavan: Daughter of the Hunter Valley is the story of Maddy, a young woman who is determined to fulfil her parents' dream of a new life in the Colony of New South Wales in the 1830s, despite scandal, social opposition and the harsh Australian environment.
Romance.com.au: It's fair to say Maddie doesn't give up easily. Can you share with us some insights into what makes her tick?
Paula J. Beavan: When she arrives in New South Wales, Maddy is more than a little embarrassed by her father's lack of progress, and part of her determination for her future is to create the Shelby Estate they'd planned as a family. She had always felt as if she didn't quite fit into her own family, that her parents' love for each other excluded her, so when she decides to stay and fight she isn't overly bothered by what people think about her, as she is quite used to being on the outer. She's also fiercely loyal to her parents' memory, even when life reveals they're not the people she thought they were.
Romance.com.au: Maddy faces many obstacles to fulfilling her dream of establishing the home her parents had longed for. If you had to pick one, what do you think was the most difficult to overcome, and why? What are some of the things about trying to establish her property that she never would have guessed have to do?
Paula J. Beavan: While there were many women who ran properties, most did so in fairly remote places, but Maddy was determined to not only keep Shelby, but to live and work beside the convicts assigned to her. While she didn't much care about public opinion, she did struggle with the hypocrisy of the social divide between the wealthy landowners and those who didn't fit their pseudo-genteel ranks: the convicts, the settlers with small land grants, and the Wonnarua people. Though she knew nothing about farming, she was determined to muck in and learn. There was nothing in her sheltered life in England that had readied her for being subject to the battering of the elements, and she never dreamed she be working alongside the men in ankle deep mud as she and her convict servant, Jane, help the men harvest the maize after a gully-raking storm.
Romance.com.au: Can you tell us a bit about a key secondary character or two who are important to Maddie being able to fulfil her dreams?
Paula J. Beavan: When Maddy chose Jane Brooks at the Parramatta Female Factory, she got more than a convict housemaid. Jane turned out to be a friend and confidante whose good sense and practical abilities helped fill the gaps in Maddy's knowledge and experience; and her neighbour Mrs Garrick proved to be an ally and support despite her own misgivings about Maddy's hands-on approach to running the estate.
Romance.com.au: Maddy has a great relationship with her closest neighbours, the Garricks, but she also suffers some negativity from others. What kind of things happened between them, good and bad?
Paula J. Beavan: I had a really clear vision for the characters who disapproved of Maddy's behaviour and I think, like in my story, it's quite true to life that it's often women who are hypercritical of other women. Most of the farming families she knew were actually supportive, and the men, particularly her neighbour and mentor Mr Garrick, had only admiration for her achievements, but she wasn't willing to be confined to the limitations society try to inflict on her, and that didn't always sit well with others.
Romance.com.au: Authors sometimes say their character have a will of their own. Did anything surprise you when you were writing this book?
Paula J. Beavan: When Maddy and young orphan Luke were on the trail of missing socialite Ella, I had intended that she and Luke both go back for help, but without permission Maddy sent Luke to find the search party and set off to release the horses herself. I thought it was a bit of a crackpot scheme, but I let her have her head, and it worked. I've learned not to try to rein characters in when they go off script, because they often come up with a better idea.
Romance.com.au: While this is your first published novel, you've been writing for years. Any advice for new writers?
Paula J. Beavan: Write, write, write; invest in yourself; learn your craft; and find a critique partner who isn't afraid to tear your work to pieces – you usually find they pick up on the stuff you knew wasn't right.
---
ABOUT THE AUTHOR: Paula J. Beavan
An avid reader from childhood, Paula J Beavan grew up on a small property in the Hunter Valley, riding horses, mustering cattle and listening to the tales of local farriers, cattlemen and farmers. Her love of the land and its history together with a curiosity about the challenges faced by the pioneering women of the region led her to seek out stories of the area's early European settlers. Serendipitously, she discovered a family connection to William Harpur, local landowner and one of Australia's early surveyors. Inspired by this connection, she delved deeper to discover when William Harpur lost his sight, his wife Catherine managed their Hunter River property – a perfect illustration of the women she writes about.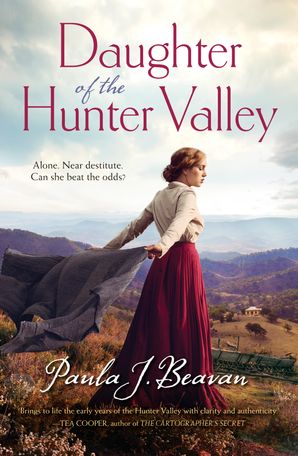 Alone. Near destitute. But brave and determined. Can Maddy beat the odds to create a new home in the Hunter Valley? An exciting Australian historical debut, perfect for readers of Darry Fraser.
1831, New South Wales
Reeling from her mother's death, Madeleine Barker-Trent arrives in the newly colonised Hunter River to find her father's promises are nothing more than a halcyon dream. A day later, after a dubious accident, she becomes the sole owner of a thousand acres of bushland, with only three convicts and handsome overseer Daniel Coulter for company.
Determined to fulfil her family's aspirations, Maddy refuses to return to England and braves everything the beautiful but wild Australian country can throw at her – violence, danger, the forces of nature and loneliness. But when a scandalous secret and a new arrival threaten to destroy all she's worked for, her future looks bleak … Can Maddy persevere or should she simply admit defeat?
A captivating historical tale of one young woman's grit and determination to carve out her place on the riverbank.
PRAISE:
'Richly detailed, inspiring and romantic – this engrossing story of a brave young woman overcoming insurmountable odds brings to life the early years of the Hunter Valley with clarity and authenticity.' – Tea Cooper, author of The Cartographer's Secret