We asked some of our favourite authors to recap a classic romantic or romantic-comedy film, and see whether it lives up to the hype. Here Ally Blake recaps  the 1959 film Pillow Talk.
---
Today I watched one of my faaaavourite movies ever, Pillow Talk, the 1959 rom-com classic starring Doris Day and Rock Hudson.
To start with, the movie has one of the cutest meet-cutest there ever was. Jan Morrow (Doris Day) and Brad Allen (Rock Hudson) share a party line!
What's a 'Party Line?'
For those for whom a 'party line' might mean something quite different, back in the day (in this case New York City in the fifties) a 'party line' was a shared phone line. Meaning only one 'party' could make or receive a call at any given time but either could listen in on one another's calls. (I mean, the hijinks are built in, am I right?)
From the first moment we meet Jan and Brad we come to understand they have lived with this less-than-ideal situation for some time.
Our Jan is clearly a serious and successful young woman. Her home is ultra-chic, and she wakes up with her hair immaculately styled and face made up to the hilt. Because she has a career – interior decorator. Thus she needs her phone in order to conduct business! Which isn't helpful when the other party on her party line seems to be on the phone at all hours.
Brad – a songwriter – uses his phone for less…G-rated means. As evidenced by the opening line of the film – "Oh Brad, Brad darling, I love you" – breathed down the party line to the hero by not-the-heroine, he uses his phone to woo women. Our Brad has many not-heroines on the hook, and sings them the same song, only swapping out the name for whomever is sighing on the other end of the line. And naturally he's also devilishly handsome in that clean-cut tall, dark and handsome matinée-idol look that they did sooo well in the fifties.
Therefore, along with their party line, they also share a deep animosity that has been simmering since before the movie even begun.
This comes to a head as Jan complains to the phone company about the "sex maniac" who shares her party line. The rep from the phone company – delightfully aghast – asks if this Brad fellow has made any overtures to Jan over the phone (as they have, by this point, never actually met). When she replies in the negative, the rep asks if this bothers her. "Yes! I mean no!" she replies.
And here lies the glorious push and pull, the romantic tug that drives the film.

Having never met in person, they imagine one another in the worst possible lights. Uptight career woman. Lazy playboy. They are the burrs in one another's paws. The chasm between them is untraversable.
So how do these antagonists, these polar opposites, possibly get together?
By the most delicious and clever series of accidental meetings, uncanny connections, near misses and mistaken identities, all of which are gloriously implausible yet work a treat! And none of which I will impart here for fear of spoiling it for those who've yet to be swept up in the fun. But, oh, the scintillating web of tension that closes in on our hero (who is the chief instigator of the tension, and whose comeuppance after the most perfect black moment is absolute) till we can barely breathe for anticipation of how it can possibly end well!

The knots of the story are ably tightened by what might possibly be the most incandescent pair of foils in the history of romantic comedies.
Tony Randall as Jonathon – Brad's filthy rich, extremely bored, and utterly endearing best friend – and Thelma Ritter as Alma – Jan's dependably drunk housekeeper who listens in dreamily to Brad's private calls more than she cleans.

Through Jonathon we discover Brad is a good friend, self-made, with a couple of Broadway hits under his belt. Through her relationship with Alma we see that while Jan is a hard-nosed businesswoman, there is a tiny part of her that might not hate being serenaded by a dashing gentleman.
Their wicked humour and marginal natures add grit to the story, pathos, and wicked humour, bringing out sides of the two leads we wouldn't otherwise see.

You know what? Each and every bit player is spectacular. Not a soul held back on making their time on screen memorable and unique. There is not a single moment of wasted screen time. Or one ancillary character. Or a joke that doesn't come full circle later in the film.
As for Doris Day and Rock Hudson, they are true masters of the genre. They put both the comedy and the romance in romantic comedy. The dialogue bounces and sparkles. They can pull off slapstick one second and pure elegance the next. And they do goo-goo eyes like nobody's business.

"But is it dated?" I hear you ask.
Absolutely. In the best possible ways. The clothes! The cars! The duck egg blue velvet couches! The movie is a visual feast.
As far as special effects goes, it boasts a classic fifties montage – hero and heroine on the town, the sites of New York superimposed over their smiling faces. We're also talking fancy split screen, with a big black line down the middle, every time they the party line is in use. The line swishes dramatically to one side when the phone hangs up. And Doris Day did like her fuzzy lens in the smooshy bits. Kitsch, true, but it works!
As for the romance, and especially the gender dynamics, its surprisingly contemporary. Jan is a career woman, comfortable in her own skin, and has a healthy dating life. While Brad turns out to be a good guy gamma in the body of a playboy, who in the end puts everything on the line – career, friendship, dignity – when he realises Jan is the one for him. The times he does go full Alpha are for comic effect and they work.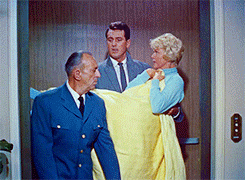 Winner of the Oscar for Best Story and Screenplay and nominated for Best Actress, Supporting Actress, Art Direction and Music – quite the haul for a romantic comedy – Pillow Talk is witty, progressive, a snapshot in time and an utter delight. Built on short, sharp vignettes, punchy dialogue, tongue-in-cheek charm, and actors who carry off each part with aplomb, it also boasts a soundtrack that makes your cheeks hurt from smiling.
Sixty years on, this is still one of the best romantic comedies out there.
---
Ally Blake
Ally is a hopeless romantic. She was born into a family of romance reading women and remembers bag loads of books being passed on at family gatherings from her mother, her cousins, her aunt and even her grandmother. Now as a grown up she gets to sit at the laptop, with a title, a couple of beautiful characters in mind and wait for the fairies to take flight. Constant coffee and bowls full of M&Ms make her job that much more pleasurable! Come visit her at www.allyblake.com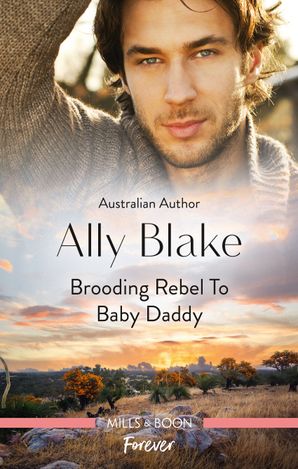 Reunited by a question: will he be her baby's father?
Living in LA brought Sable Sutton everything she thought she could possibly want. Just not what she truly desires — a family. Then she realises the answer could be back in her small Australian hometown with her first love, brooding bachelor Rafe Thorne. He's the only man she's ever felt at home with, but will he be prepared to take a leap of faith on her outrageous proposal?