To celebrate the release of her latest book Allison Butler chats about one of her favourite character types: The thief!
What is a thief? According to Merriam-Webster dictionary, a thief is 'one that steals especially stealthily or secretly'.
In my latest release, The Thief, Laird Lachlan Elliot has spent every night for four weeks braving the darkest hours in bone-chilling misery, desperate to catch whoever has been stealing his cattle. Living on the edge of the border in medieval Scotland, cattle theft (or reiving) was rife, and for many a way of life. Times were hard, and for some their responsibilities to others were great. People needed to eat and to have a roof over their heads, and prized cattle fetched a good price, even when the cattle wasn't yours to sell.
But there are other memorable thieves in popular culture…
In the 1999 movie Entrapment, Sean Connery, an aging master thief, has recently stolen an exquisite piece of art. Catherine Zeta-Jones, an agent for an insurance agency, convinces her firm to allow her to get close to Connery by pretending to be a thief wanting to team up with him to steal a highly valued mask from a chichi party. She then tempts him with the ultimate prize, one that could net them $8 million. The movie has plenty of action and romance, plus a training scene that sizzles on the screen, and much of the film is set in the beautiful and breathtaking Scottish Highlands. Artwork, Connery, action, romance, twists and turns, and Scotland. A thoroughly entertaining thief movie.
Mastermind and recent ex-con Danny Oceans, played by George Clooney, had plenty of time on his hands to plan an impossible heist while serving his prison sentence. With his sidekick Rusty, played by Brad Pitt, he recruits another nine accomplices, hence the title Ocean's Eleven (2001). Most of the movie is about planning to rob three Las Vegas casinos simultaneously, a feat never done before and requiring the unique skills of each of the eleven. Their prize is a cool $160 million. There is plenty of doubt, daring, witty dialogue and riotous humour, which helps build the anticipation to see if this star-studded group of thieves succeed. An impossible challenge taken on by a brilliant cast makes Ocean's Eleven a fabulous fun night in, eating popcorn.
Robin Hood: Prince of Thieves (1991) opens during the Crusades, but when Robin of Locksley, played by Kevin Costner, returns home, he finds all he holds dear has been erased by tyrants. The only way to find justice is by breaking the law. Robin gives the people the courage to fight for the freedom they deserve, and becomes a legend who steals coin, food and treasures from the rich and gives them to the poor. Action, adventure, courage, humour and romance, Kevin Costner, and Alan Rickman as the Sheriff of Nottingham make this movie one of my all-time favourites.
Kenzie Irvine, my heroine in The Thief, admittedly has been stealthily stealing from her neighbouring clan. Kenzie is a thief, but she believes her reasons for taking several cattle from Lachlan Elliot's prized herd are just. Some might even liken Kenzie to a female Robin Hood. But if a thief is caught, there will be consequences. How will Lachlan Elliot punish the dark-eyed, feisty thief he catches not only lifting his cattle but who secretly steals her way into his heart?       
---
ABOUT THE AUTHOR: Allison Butler
Allison Butler is an author of Scottish historical romance. She spent her early years in country NSW building pretend castles with hay bales and leaping white posts with her army of two older sisters and a younger brother. Many years later, with her mother's influence, she discovered a passion for words and history, read her first historical romance and was inspired to create her own. She writes most mornings and cares for the elderly in the afternoons. Her love of travel has given her the gift of many amazing sights but none more heart-stirring than the rugged beauty of Scotland. Allison lives in a small town in NSW, Australia, with her very own Scottish hero. Their two beautiful daughters have left the nest to feather their own and have begun their own adventures. Allison loves spending time with family and friends, travelling, taking photos, reading, dancing like no one's watching and seeing the sights from the back of her husband's motorcycle.
Don't miss Allison's latest book The Thief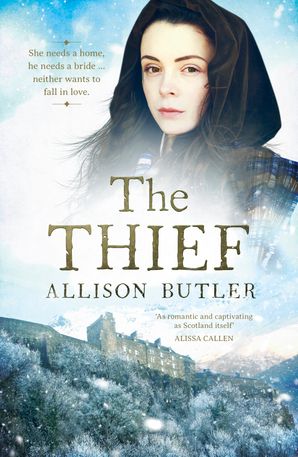 She needs a home, he needs a bride … neither wants to fall in love.
1402, the Anglo-Scottish border.
To fulfil his father's dying wish, border laird Lachlan Elliot must marry and sire a legitimate heir, cementing his family's name in the tumultuous borderlands. But he is determined his marriage will be one of convenience only – he has no time for the pain and betrayal of love.
So even when Lachlan catches a spirited thief stealing his horse, and she turns out to be the breathtaking daughter of a neighbouring laird, he vows to marry her, bed her, but never love her.
Kenzie never wanted an arranged marriage, but to be forced to wed the domineering laird who catches her thieving from his lands is even worse. Feisty, strong-willed and determined to make her own way, she may have no choice but to agree to the marriage, but she will never give up her independence. Lachlan may own her body, but he will never own her heart …
A lush, sexy romance in the spirit of Diana Gabaldon and Darry Fraser.