The Drama
In such a small town everybody knows everybody, which equates to knowing their secrets too. Nothing is sacred and gossip runs rampant, but that's what we love, of course! Virgin River will hook you from the get-go: it's super binge-worthy, steady and has solid storytelling.
The Comedy
Some little gems sneak up on you – like the interaction between Doc and Hope, played beautifully by Tim Matheson and Annette O'Toole – but Virgin River is like that friend who always makes you laugh or leaves you with a smile.
The Town
Yes, it's fictional, but, like many small and remote towns, it's also picturesque. Tall redwoods, looming mountains, green valleys and winding rivers – it's a perfect landscape for romance, and I can all but taste the fresh air from here.
The Main Characters
Jack is the quintessential hero, rugged, handsome, and a stand-up guy you can always rely on. He owns a bar, and I would be so taking advantage of that if I was dating him! Jack is also dealing with PTSD from his service as a marine and is already in a relationship with local girl Charmaine when Mel arrives on the scene. And so, the angst begins!
Speaking of Mel, she's a big city nurse practitioner seeking fresh surroundings in Virgin River. She's also a grieving widow, which offers up some gut-wrenching emotions. At first, she finds it challenging in such a small town, but with a heart of gold and a smile to match, Mel slowly but surely wins the people over…notably Jack.
The Others
Preacher is Jack's best friend and a fierce protector of Virgin River and its people. Ironically, I praise the lord that he's not a preacher because he's hot, an ex-marine and a chef to top it all off. Preacher, you can cook for me any day…or night!
Paige is a single mum and has more than enough secrets to fill her food truck! Danger is lurking close by, and she needs to realise Preacher not only wants to help her, he likes her too.
Doc and Hope are the cranky old-timers that were once married – and technically still are, but have been separated for twenty years due to Doc doctoring a little more than he should, if you get my drift. The interactions between these two are just perfect.
The Author
Robyn Carr has graced the number one spot on the New York Times bestseller list eleven times, and has written more than 60 novels, which have collectively sold over 30 million copies! Robyn writes multigenerational, community-based stories, whether they're set in small towns like Virgin River and Sullivan's Crossing or major cities like San Francisco. Her characters face real-life challenges that readers can relate to.
The Books
The Virgin River series currently consists of 21 books –yes, you read that right – and every one is equally fabulous. The series has sold over 10 million copies sold and is much-loved by all of Robyn's fans.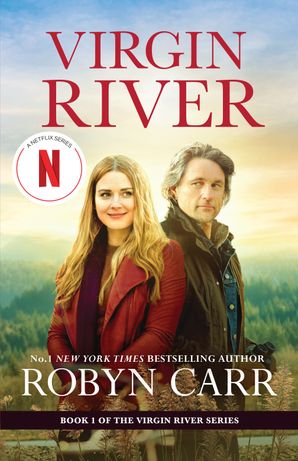 Season 2 of Virgin River is now streaming on Netflix.
You can find all the books right here at Romance.com.au!
Written by Jo-Ann Milne