Author T.M Clark discusses the many inspirations behind her fourth book Child of Africa: growing up in Zimbabwe, ex-servicemen and women, the Invictus Games and orphaned elephants. 
The city of Brisbane is one hour behind me, and I have turned eastward and continued towards the ocean. Abruptly the road narrows down to only two lanes as I approach the bridge. There are expansion joints in the almost one-kilometre bridge that joins my island to the mainland. My car jolts me on each one, playing its own song of welcome. I know I'm finally home.
There's a special feeling knowing that you're home.
It's a luxury that I never take for granted. For much of my childhood, I didn't have a real 'home'. My island is only one of two places in the world where I have this feeling of belonging. The other used to be on my family farm, but that was reappropriated in the Zimbabwe land distribution in 2000. Back then, I felt like I had lost my anchor to something amazing. We were a fourth-generation farming family, to us, the land was our identity.
Now I'm a storyteller and a writer — so when writing my fourth novel, Child of Africa, I decided that I needed a better ending in my head – for me, and for every reader out there who faces momentous adversity.
Protagonist Joss Brennan is a double amputee who was injured while in service in the British Armed forces. I based Joss's mannerisms very loosely on my cousin, Royal Marine Commando Alistair Burton, who thankfully returned home without incident, and whom I constantly used as inspiration for this story.
I also needed a different ending for a certain little elephant (named Ndhlovy in the book) whose story I had heard about from the 1960s, when a mother elephant was killed, leaving her baby an orphan. The Native Commissioner took the little tyke under his wing, but Parks Board demanded that he shoot it too. Sadly, this was a different time where environmental protection didn't have quite the same ethos of care as it does fifty years later. In Child of Africa, Ndhlovy and Joss were both going to get a second chance.
I wanted to ensure that Joss didn't let his personal tragedy defeat him. Instead, he uses it to become a better person. Joss uses losing his legs as a catalyst for growth within not only his own life but also to initiate change in lives around him too. To make his world a better place.
One of the obstacles I faced as a writer was that Joss needed a way to cope with extreme adversity. He had to have a goal, with a stake high enough to inspire an ex-serviceman, to entice him to learn to use to his prosthetics and regain his agility and strength. So, Joss looks to an Ironman challenge.
In real life, so do many heroic recovering servicemen and women challenge themselves at the highest levels of agility and fitness. In 2010 the American Warrior Games began, and today many compete in the Invictus Games – started in 2014, with Prince Harry as the patron, and held this year in Sydney 20–27 October.
Using this goal was the beginning of the building blocks for Joss's character and the growth that happened during his journey – and how it affected his home, and ultimately the people in his life who mattered most, Peta (his partner), Sophia (his adopted child), Bongani (his best friend) and of course Ndhlovy.
I loved sharing the book's journey of growth, exploration and life and I hope you do too.
By T.M. Clark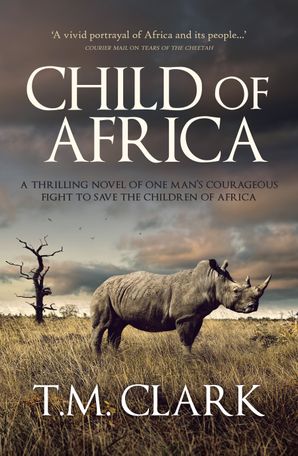 After returning from Afghanistan, ex–British marine Joss Brennan embraces living as a double amputee, but he finds life at his safari lodge near Lake Kariba, Zimbabwe, not quite as idyllic as when he left.
Peta de Longe is a big game veterinarian and no stranger to hard decisions. Working in the messy political society of Zimbabwe, she's engaged in a constant struggle to save the national parks. When she nearly drives over Joss, the reunion isn't joyous – Joss let down her dying sister eighteen months before, after all. But once she uncovers the terrible ordeal that Joss has gone through, can she learn to forgive and move forward?
When a corrupt and dangerous businessman with close ties to government threatens all he holds dear, Joss realises he doesn't need to save strangers in a faraway land. But will he fight to save his own country and the people he considers his family?