We got author Kaneana May to continue her brilliant Bachelor recaps, here are her thoughts on last night's episode. 
---
We're four weeks into this season of The Bachelor. Matt has sent nineteen girls home and nine are left. By now we all have our favourites who we hope will win Matt's heart … and we have a few in mind that we hope he'd turf sooner rather than later.
Tonight's episode kicks off with all the women crowded around the mansion lounge room laughing as though they're at a sleepover rather than all dating the same guy.
In walks Osher, who tells them this is 'Dangerous Romance' week and is all about 'getting out of their comfort zones' and 'staring danger in the face'! Oh, well done, Producers! This sounds a bit exciting.
With four girls who are still yet to go on a single date with Matt, there is discussion of whose name will be on the date card …
But shock, horror. The Producers Matt chose Elly! (We all remember Elly, right – the down-to-earth country nurse who won THE GOLDEN TICKET on the first night and scored herself a one-on-one date to Matt's hometown of Melbourne!) Elly is all smiles but claims 'I'm bloody shocked' and 'freaking out'.
Smiles are pasted on across the lounge room with soft mocking of Elly and Matt's advanced relationship. Has she organised the wedding yet? But in some interviews to camera we learn the other girls are not only annoyed but scared too that Elly's relationship with Matt is only going to get stronger with more time together. Rachael's far from impressed: This is the Elly and Matt show and I'm wasting my time here …
New day  … Drum roll… Matt and Elly's date is …
FIRE DANCING. (Remember this is the week for Dangerous Romance).
Matt opts to wear the leather 'safety' vest and Elly tells him she's never had a fetish until … now! (I think she's kind of serious, kind of teasing, but I'm not entirely sure). Matt laughs and tells her to 'climb aboard'. Steady on, Matt. We're still in a PG timeslot.
Back at the mansion … some of the girls are talking about the fact that Rachael has a crush on someone else. As in, someone other than Matt! Mary makes everyone, including herself laugh with the comment, Rachael's lips are so big, because they are full of secrets!
Back to the Dangerous Romance date … The sun has gone down and it's time for Matt and Elly to perform the fire dance. In a series of voice overs from the couple, we learn that it's amazing/romantic/intense/beautiful/seamless/ignited/powerful. The dance ends with our couple in a passionate kiss … Well, that's a little fire-y, isn't it?!
Afterwards they toast marshmallows (a throwback to their red-carpet meet). Matt loves listening to Elly laugh: it just warms my heart. They say gushy stuff to one another; they both like each other and it's all happening so quickly, they're excited to see where it could go … etc. It's all very lovely and I kind of wish I was watching a rom-com … where Matt isn't dating a whole bunch of other women at the same time. Sigh … Anyway, Elly (of course) gets a rose and we hope that for her sake she is going to get her happily ever after.
Back at the mansion, Rachael tells Abbie that it's too far in (the season) to 'play catch ups' with Matt and she has a Plan B. She has a school-girl crush on a crew member and is not going to miss the opportunity. She's all very upbeat about this other guy … the guy who isn't the Bachelor … and seems very confident that she's going to get things on with him. But, we cut to Mary claiming that she's going to tell Matt at the next cocktail party … Cue drama!
Until then … it's Group Date time! This date revolves around leaving emotional baggage behind you when embark meet a new potential partner. Each girl has to write down one of their biggest fears in going into a new relationship.
Matt reveals that his fear is of heartbreak. Oh, the girls gush at this … and so do the viewers.
The girls reveal their fears;
ending up with someone who doesn't push her out of her comfort zone
being controlled.
trust
losing self-worth
self-doubt
They are going to release their emotional baggage by skydiving! Screams of excitement from all the girls except for Kristen, who we learn has a fear of skydiving … And we all wonder how clearly this was specified in her application form and just how evil cunning clever the producers are for putting her on the date … (insert thinking emoji here).
Matt gives Kristen a pep talk but tells her she can back out at any point. Kristen says she's determined to do it but is happy to hold Matt's hand for the duration of the flight. Smart play, Kristen.
Everyone survived the skydiving and all the girls (including Kristen) are on top of the world. Matt was so impressed with how Kristen pushed herself out of her comfort zone that she scores herself the rose.
At the cocktail party … Rachael says she doesn't care too much about the whole rose ceremony because she's found a Plan B. It's a hot topic of conversation amongst the girls. There are rumours she has written down her number to give to the crew member.
Mary is allocated some alone time by the producers Matt. And, as she promised, she tells Matt about Rachael's feelings for a crew member. (We saw the ads all week, so we're all eager to see how this is going to play out).
Matt talks to one of the producers about it. At first Matt is hesitant about being involved in something that he has very little information about. But then … the producer 'produces' a piece of paper that Rachael gave her Plan B crew member with her phone number on it.
Matt tracks Rachael down, who is in the middle of an interview to camera where she admits she doesn't feel bad having a Plan B and that she plans on messaging Plan B when she gets out of the mansion. Matt overhears her talking about the other guy, so she can't deny it but says she's been doing it for a 'bit of a laugh'.
Matt knows he's being lied to and explains that he wishes she had been honest with him, as he's sent girls home who may have still wanted to be there. Matt asks Rachael to leave. She doesn't seem to really care; she tells us she has plenty of other options, or Plans C, D, E, F so to speak. Rachael is more annoyed with the girls than she is with losing out on her chance with Matt.
Another rose ceremony sees Nikki sent home … and seven women left standing!
Next week promises more drama, but while you wait for the next episode, you can get your 'behind-the-scenes' reality TV fix with my novel The One, which is out now with Harlequin/HarperCollins.
---
Kaneana May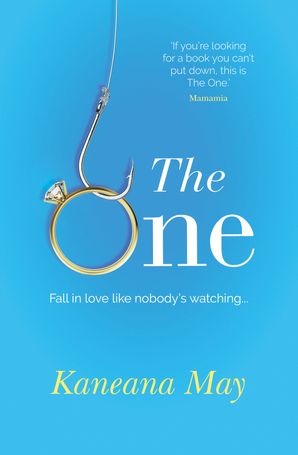 From an Australian TV scriptwriter comes a sparkling debut novel where the quest for love will surprise you.
Fall in love like nobody's watching…
On the wrong side of thirty, Bonnie Yates wants a happily ever after. Problem is, she keeps choosing the wrong guys. When an ex returns to town with a fiancee in tow, history and temptation collide. Unable to shake her inappropriate feelings, Bonnie flees, becoming an unlikely contestant on popular dating show The One. Will she find what she's looking for?
Working behind the scenes, Darcy Reed is a driven young producer dealing with a tyrant of a boss. Despite being surrounded by love at work, her own love-life with long-term boyfriend Drew is floundering. Producing a flawless season is her best chance at a promotion. But with the unrelenting demands of the show, how will she save their relationship while making that shot?
Penelope Baker has relocated to a small seaside town to hide away with her secrets and nurse a broken heart. But with The One beaming across the nation's televisions, she can't seem to quite escape the life she left behind…
Before cameras roll on the final ceremony, all three women will discover just what they're willing to do in pursuit of the one…